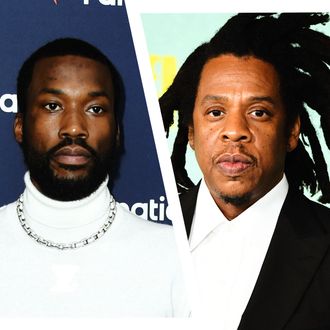 Meek Mill and Jay-Z.
Photo-Illustration: Vulture; JC Olivera/WireImage and Steve Granitz/WireImage
Meek Mill is no longer sharing locations with Roc Nation. Sources told Billboard that the rapper left Jay-Z's label Roc Nation, with the rapper no longer appearing on the label's website and social-media pages. In a statement shared on Twitter, Mill clarified that he still has his label imprint Dream Chasers Records, though he is "personally handling my own business so I can take risk and grow." "We came to that agreement together …" he continued. "I have a label deal with roc for my artist." Vulture has reached out to Roc Nation and Mill's representatives for comment. First signing a management deal with Roc Nation in 2012, Mill inked a joint-venture deal in 2019 for his imprint of which he serves as president. Most recently, Jay-Z and Mill teamed up to support the "Rap Music on Trial" bill, a New York State Senate bill that would limit the use of rap lyrics as evidence in criminal cases, a practice that overwhelmingly impacts Black and brown defendants. It wasn't the first time Hov and Mill worked on criminal-justice reform together: In 2019, the duo created Reform Alliance, a nonprofit organization made to combat unjust sentencing laws, after Mill's controversial incarceration over popping a wheelie while on probation. Mill said that he is still "super tied" to Roc Nation and will continue the Reform Alliance, along with other investments.
Signs that Mill was frustrated with his label were there. After the release of his album Expensive Pain earlier this year, Mill appeared to accuse Roc Nation in a tweet of putting "nothing" into the project. "They didn't put nothing into expensive pain and then said I can't drop another project for 9 months at the end of my contract after I made them 100's of millions," he wrote. "How would can [sic] anybody survive that … most rappers can't speak because they depend on these companies 'I don't.'" The album debuted at No. 3 on the "Billboard 200." After news of his departure broke, Mill said those tweets were actually aimed at Atlantic Records, not Roc Nation or his other label, Rick Ross's Maybach Music Group. In other tweets, he accused Atlantic Records of ruining his relationship with Roddy Ricch. "So look I made Atlantic records 100's of millions and let them rape me out out Roddy a artist [sic] they came to me about in jail … they still saying I can't drop music until 9 months after my last album got blackballed," he said, continuing, "that label separated us instantly when the millions came in from him."
This post has been updated throughout.