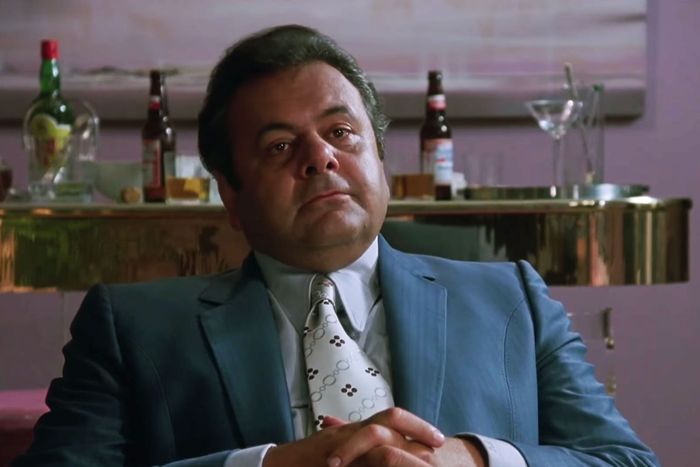 The late actor, known for playing paragons of retrograde masculinity, drew from a well of tenderness unreachable to most.
Photo: Warner Bros./YouTube
Paul Sorvino was an opera singer who acted. He used to tell people that, in so many words, and you knew from his work that he carried an opera inside of him. Like a lot of East Coast Italian American actors of the Silent Generation, he often got typecast as cops and criminals, but he made the most of his assignments. Barrel-chested with a piercing stare, Sorvino always found ways to bring specificity and surprise to roles that might've seemed vague on the page — even when his characters were better described as controlled, contained, repressed.
As the even-keeled Sergeant Phil Cerreta on Law & Order, Sorvino stood out in a stacked cast of veteran character actors. He was a warm and nurturing presence playing the suburban Italian American patriarch on the sitcom That's Life. He radiated serene menace as gang boss Paul Cicero in Goodfellas, who moved slowly because, in the narrator's words, he "didn't have to move for anybody." He channeled that iconic performance into another mob boss in The Firm three years later, as if answering a casting director's question: "Who can we get who will be instantly believable as a man who's spoken of with awe and fear for two hours before he's finally revealed?" Sorvino played the grotesque Lips Manlis in Warren Beatty's Dick Tracy, Los Angeles crime boss Eddie Valentine in The Rocketeer, a corrupt hambone preacher in the 1977 religious satire Oh, God!, and an empathetic but volatile legbreaker in The Gambler. Sorvino didn't merely play roles. He sang them, quietly or boldly.
Born and raised in Brooklyn, Sorvino came into the business at a perfect time for someone with his look and sound. He made his Broadway debut in Bajour in 1964 and played many stage roles over the next few years, appearing in the original productions of An American Millionaire and That Championship Season (almost thirty years later, Sorvino would direct a film version of the latter and play a different role). He started out in movies with small roles in Where's Poppa? and The Panic in Needle Park and worked his way up to plum character roles and the occasional lead. These included the short-lived network cop shows Bert D'Angelo/Superstar (a spinoff of The Streets of San Francisco, on which Sorvino had a guest role), the miniseries Chiefs (about three generations of police chiefs in a small southern town), and The Oldest Rookie (about a veteran cop who asks to be assigned to street patrol again after years of working a desk job).
Sorvino played Gloucester in a 1974 New York Shakespeare Festival production of King Lear (opposite James Earl Jones, Rosalind Cash, and Raul Julia), David Addison's father on Moonlighting, a militia leader in Larry Cohen's horror film The Stuff (with future Law & Order co-star Michael Moriarty), American Communist Party founding member Louis C. Fraina in Beatty's historical epic Reds, and insurance-company agent Graham Crockett in Beatty's political satire Bulworth. He managed the impossible feat of playing Henry Kissinger (in Oliver Stone's Nixon) in a way that gave audiences everything they could have wanted from a Kissinger impression while constructing a layered, psychologically plausible person whose addiction to power was the subtext of every interaction. Fittingly, Sorvino's last screen role was in the as yet unreleased film The Chameleon.
Despite the seeming ease with which he played forceful or menacing men, Sorvino often spoke of how he loved slipping into subtler characters. "Most people think I'm either a gangster or a cop or something," Sorvino told the Orlando Weekly. "It's almost my later goal in life to disabuse people of the notion that I'm a slow-moving, heavy-lidded thug."
Sorvino recognized his potential as an opera singer in elementary school and fantasized about singing at the Met. But that path was thwarted by childhood asthma. (He wrote a best-selling book titled How to Become a Former Asthmatic and founded the Paul Sorvino Asthma Foundation, which closed in 1994 when its tax-exempt status was revoked for failing to file the proper forms with government agencies.) It wasn't until he was over 60 that Sorvino started to realize his dream of singing in a big stage production: in the New York City Opera's The Most Happy Fella at the New York State Theater in 2006; guest-starring on the 2008 album of Neapolitan singer Eddy Napoli, Napulitanata, performing a duet of "Luna Rossa"; and playing the terminally ill genetics mogul Rottissimo "Rotti" Largo in the 2008 musical film Repo! The Genetic Opera.
Sorvino's operatic nature was long apparent outside of his formal work. If you watch any television interview with him, you can sense his intensity as well as the effort it must have taken to hold all those feelings in check. When he let the feelings flow, it could be overwhelming for the viewer. It was remarkable to see a big man with a rumbling voice who had played so many paragons of retrograde masculinity expressing so much.
This was often the case when his daughter Mira Sorvino's name was brought up. Although Mira's fame eclipsed her father's in the 1990s, there was never a hint of competitiveness on his part — much less an attempt to claim credit (even though Mira often called him her first and greatest acting teacher). When she was summoned to the stage to accept a Best Supporting Actress Award at the 1996 Oscars, his reaction was a little aria of fatherly tenderness.
Sorvino was there for his daughter when, two decades later, she came forward to accuse studio boss and admitted sexual predator Harvey Weinstein of harassment and, subsequently, advocated for the state of New York to drop the statute of limitations on filing date-rape charges. Weinstein's behavior, specifically, summoned a righteous anger in Sorvino that would've been at home in a gangster picture. Sorvino was often asked about his daughter's horrific experiences during interviews about his own projects and he never hesitated to offer his opinions. "He's going to go to jail," he told TMZ. "Oh, yeah. That son of a bitch. Good for him if he goes, because if not, he has to meet me. And I will kill the motherfucker. Real simple."
Sorvino was married three times. He and Lorraine Davis were together from 1966 to 1988. In 1991, he wed Vanessa Arico. He got divorced five years later and, in 2013, married Dee Dee Benkie, a former aide to President George W. Bush. He had three children (all with his first wife), all of whom ended up in show business. Besides Mira, he has a son named Michael who has acted in more than a dozen films, and another daughter, Amanda, who wrote and produced The Trouble With Cali, directed by her father and starring her father, both siblings, and cousin Bill Sorvino. Paul Sorvino co-starred in six films with Mira, including The Stuff, Parallel Lives, and Beneath the Leaves.
Sorvino was fiercely protective of his kids. In January 2007 in Stowe, Vermont, Amanda's ex-boyfriend Daniel Snee threatened to kill her after she broke up with him. She called both the police and her father, who was staying at a timeshare nearby. Sorvino, then 67, showed up before the local police — with a handgun. Snee was arrested and charged with disorderly conduct. (Sorvino was entitled to carry the gun as he was a sworn sheriff's deputy in Monroe County, Pennsylvania, where he lived.)
In 1992, Sorvino told Charlie Rose that he was "drawn as a moth to a flame" to performance, because "the sound of the human voice has always been fascinating to me." He believed what acting and singing had in common was that when doing particularly complex and delicate work, the performer needs to concentrate on getting the technique, the timing, and other externals right — not think too much about the feelings. He believed that if the performer was being truthful, the feelings would flow organically. He was blessed, he said, with the ability to summon common emotions without much fuss.
"If you ask me to weep, I will weep for you," he said. "I will not fake it. I won't put glycerin in my eyes. I will find the place in me that causes me to weep."
He must have been blessed with the ability to see the truth, too, something for which he not-so-subtly strove his entire life. Shortly after being cast on Law & Order, he did an interview with Today, saying that he and showrunners had decided it would be best for Sorvino to "do just myself." But he realized that this was in many ways more difficult than playing outsize characters.
"The problem with playing yourself is, the question is, what are you?" he said.
An actor with a song in his heart. That's what.