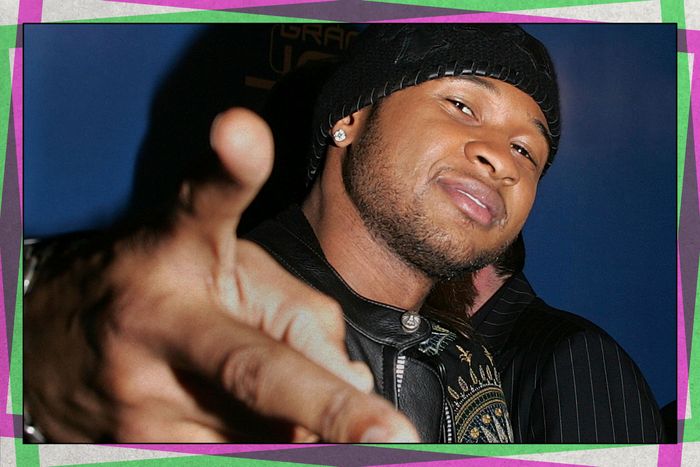 Photo-Illustration: Vulture; Photo by Carlo Allegri/Getty Images
I spoke to Usher on the afternoon that his NPR Tiny Desk concert debuted. The Atlanta R&B veteran was gearing up for a new Las Vegas residency — last summer, he played 20 tantalizing shows in the reopened Coliseum at Caesars Palace; this year, he'll do 23 at the Park MGM — and he had a lot to say about creating a timeless catalogue of records his fans never get tired of. Those ideas would bear out loudly when clips from the NPR set went viral, reminding anyone within earshot that the man with the golden falsetto and stellar dance moves hasn't lost his luster as a performer in the quarter-century since he spelled his name for us in 1997's "Nice and Slow." It's generally a terrible idea to count that guy out. He has had nine No. 1 singles, logged platinum-selling hits in three decades, and seen his 2004 record, Confessions, go diamond certified, an award for albums that manage to sell 10 million units. (Confessions' peers in the diamond club include the Beatles' Sgt. Pepper's Lonely Hearts Club Band, Adele's 25, and Michael Jackson's Bad.)
Usher is garrulous in conversation and unafraid to say he revolutionized some shit. But I was just as interested in the times the singer's meteoric career confounded his audiences. Yes, the late-'90s and early-aughts records went supernova, but it took years for people to warm up to the 14-year-old singer working with Diddy and Jodeci, R&B pioneers who blessed the kid with songs whose themes exceeded his age. The critical reception for Confessions and 2001's 8701, both brimming with passionate performances and state-of-the-art production from hip-hop heavyweights, including the Neptunes and Atlanta's Jermaine Dupri, never matched the audience's enthusiasm either. As much veneration as there may be in fan circles for his classics, Usher often faced noisy backlash whenever he tried to change the formula. He's thrilled about pop fans' renewed interest in dance music this year; he just wishes more people got behind the EDM moves of 2010's Raymond v. Raymond and 2012's Looking 4 Myself. Usher's main takeaway from it all: Artists need to build strong catalogues around the hits — "Don't just make singles, make an experience" — and audiences must give the music the time and respect it deserves.
Most enduring memory of recording 1994's Usher with Diddy
I arrived different. The same way Aaliyah arrived different and Brandy arrived different. I wasn't intended to make music that was just for kids. The culture, how we were moving and living, was different. Now, I can't necessarily say those songs were as successful as my future records, but I think Puffy was toying with something that was creating a new frontier. Till the day I die, he'll always be my brother, and we will always be close. He brought in all of the guys: Al B. Sure!, Kenny Greene from Intro, Kyle West, Faith Evans. Puffy pulled all of the strings. I had Jodeci singing background vocals. It felt good to be welcomed by the guys who were running hip-hop and R&B. But that wasn't traditionally how you launched an R&B artist. Puff was trying to break the mold. All the people I work with are trying to do something that hasn't been done before.
Biggest musical inspirations
I go way back to Ronald Isley, who was not given the respect he deserved. He is the true pioneer. He's up there with Little Richard, man. Those guys were the beginning of R&B. They made the Rolling Stones want to be recognized as an R&B band. Also Luther Vandross, Marvin Gaye, Donny Hathaway, Michael Jackson, Rick James — people who were blending worlds and ideas together. Those guys are the pioneers who created me. Then you have your Keith Sweats and Bobby Browns. Hip-hop was a major influence because I came up in New York. I came up in the scene where hip-hop was being born. So it then spilled into my music. That's why you heard me rapping on "Nice and Slow." It was all of those influences and being in those environments, being around Jodeci, being around DeVante Swing, who was part of my first album. We were singing on street corners. Me and fucking Carl Thomas would be on street corners in New York City just working on music. No one knew who he was. We were just literally two artists enjoying music.
Favorite moments hanging out with rappers in the '90s
I'm looking at a different world than kids who were coming up in R&B from my era. When Puffy did my first album, it was the creation of Bad Boy. I'm around Craig Mack, I'm around Biggie, I'm at Howard Homecoming with fucking Tupac and all that. Tupac was fighting to get into this venue. This is back when things were all good. There wasn't no east-west shit. None of that. We had a great time at Howard Homecoming. I saw Redman. I remember Ice Cube coming to Howard and showing the Afro for the first time. I remember Biggie freestyling at Kenny Burns and Puff's parties. It was a different time, a different era, a different energy, a different frontier for R&B. The day that I decide to write a book and tell my story and show the world what I've been through and things I've seen, you're going to be blown away.
Favorite music video
I don't know if I have a favorite video or favorite song, oddly enough. Like, you don't have a favorite child, do you? But the first of their kind are the ones that stick out more than anything. I would say the first video I ever had that, to me, really felt curated in a different way that wasn't just about the music but also setting a stage was "Nice and Slow." The song was grounded and obviously solid enough to become this huge TikTok challenge that it has become. "Where was Usher at seven o'clock?" We took that bitch to Paris. We were in front of the Eiffel Tower. That was the first time I would have a major video. I worked with Hype Williams. I had Kimora Lee in the video. Man, we were speaking French. I was showing all of the different aspects of what I had to offer as an actor and with the wardrobe. Go back and look at that video and understand how special it was.
Best reason for spelling his name out loud in "Nice and Slow"
I'm a pioneer, bruh. I create lines that then create something people should follow or pay attention to. It was a bit of listening to Po Pimp and Bone Thugs-n-Harmony that made me want to try that and create that new genre of ballads. "Nice and Slow" was the new idea of how you approach a ballad. Spelling out my name was like I'm putting my signature out, the same way that Snoop did when he started with "What's My Name?" or Eminem's "My Name Is." That was my moment to say, "This is who I am, and if you get it twisted, let me tell you how to spell it. They call me U-S-H-E-R R-A-Y-M-O-N-D." People was messing up my name. They didn't know how to say my name. So I was like, "Nah, let me make sure you understand where it is, how to spell it, who I am."
How he felt when Lil' Troy's "Wanna Be a Baller" sampled "My Way"
Well, that was JD. I call him "Classic" because he understands classic moments. Greater than just being able to make hit records, the man makes monumental moments for artists that other artists are inspired by. When I heard "My Way," I was blown away. Man, we created something that was so inspirational that it became something for hip-hop to grab onto in the South. We were breaking barriers, man. We were opening up who we were to a different world. And it was the first time in a long time where an R&B song would inspire a hip-hop record. We had to sign off on it. It was a compliment. Like, "Damn, they see us. They hear us. We're inspiring them."
Biggest inspiration on the "U Don't Have to Call" intro
I actually got it from Biggie. Biggie always paid tribute. It was in "One More Chance" that he said, "Don't leave your girl around me / True player for real, ask Puff Daddy." Funny thing is: I go into the studio with Pharrell, who did the song. I'm being authentic to the original, and me and JD were working on the entire 8701 album. So I go in the booth, and I'm like, "Don't leave your girl round me. True player for real, ask my nigga JD." And Pharrell was like, "Yo, man." So I'm like, "Oh, my bad." I flipped it to "Don't leave your girl around me / True playa for real, ask my nigga Pharrell." But all of it is hip-hop. Every bit of that moment is hip-hop. I'm a baby of hip-hop who happens to be an R&B artist creating a new frontier of music. We were creating a new standard of what R&B is.
Best version of "I Need a Girl"
Puffy was like hip-hop remix royalty. I ain't going to say two was better than one, but it definitely made me feel something different. With part two, the video made me feel like I was literally in the scene. I wish I was a part of it. Now that I look back, I'm like, "Damn, that shit was fire."
Best song on Confessions
There's a song "Dot Com" and a song called "Seduction" that was a part of the repackage that people sometimes miss. For the audience, I think "Confessions II" is always the one. "Bad Girl" is the one that wasn't officially a single. People even feel a way about "Throwback" not being a single. That's what's beautiful about the album. People even love the B-sides.
How he felt about the lukewarm Confessions reviews
I feel it was partially on the story that we were telling and people getting acclimated to this new artist and having respect for or understanding of what it was for the guys who grew up with the Princes, the Michael Jacksons, the Whispers, the Isley Brothers, and the Luther Vandrosses. They were looking at a new frontier. I think things happen the way they're supposed to because here we are talking about this now, and maybe this is the time when we look back and we begin to understand it the same way that as a kid I was influenced by music that I didn't participate in. I wasn't there for Off the Wall. I wasn't there for What's Going On. I wasn't there for Donny Hathaway albums. But I could find them because there was a space to be able to hear them. I do wish critics celebrated what I was working on in that time. It's okay that they didn't because it made me work harder.
"Confessions Part I" or "Confessions Part II"?
"Confessions Part II" is the one for me. "Confessions Part I" was almost like — you know how Star Wars tells stories that happen before the beginning of the series? That was the idea. We started with "Confessions II." You had to come back to get "Confessions I." "Part II" came first.
On the divided response to Here I Stand
I was going through a human moment. I realized in R&B and hip-hop songs at the time, people didn't share the fact that a relationship was the inspiration for the songs. They were only giving you the experience of the player in the nightclub. People didn't celebrate being married. People didn't celebrate being in relationships. And if they did, they were begging for a woman to forgive them or figuring out how to seduce a woman. There was literally this phobia. It was damn near recommended by record companies: "If you talk about your relationship, the girls ain't going to love you. They'll disconnect from you." And I was like, Nah, I think they're going to celebrate. I'll give them something to aspire to, a man dedicating songs to them based off how he feels about them, who ain't hiding the relationship. Now, turn the page. We got the Keyshias and Gucci Manes, all these people who are celebrating their relationships. Here I Stand was the beginning. The type of music they were creating in the '70s and the '80s, when the O'Jays were talking about their love for their wives. That's what Here I Stand was.
Most important lesson he gave Justin Bieber
I shared the same trail, and I made a very deliberate decision to bring Justin to L.A. Reid, who was at Def Jam at the time. He'd just left Arista and was introducing himself to a new era of music, the era that would bring Kanye West and Rihanna, and Jay-Z becoming the head of Def Jam. I wanted Justin to have the best. I knew from having been through what I went through to get recognized as an artist, all the pitfalls that I'd had, that I wanted L.A. to be able to look over him or at least be aware of and available to him. I mentored him in a way, but it was the relationship between myself and Scooter, my partner, that then created the major success that was Justin. I'm happy that I could be a part of being able to orchestrate that. But here's the truth: No matter how much I prepared him, they gotta go through it themselves. They gotta feel what they feel. It becomes inspiration. It becomes the song they sing. It becomes the reality they live in. People want what's real. I'll always be there as an ear and a person who doesn't judge, no matter what. We must have people who will love us through. It's the ones that have been there from the start that continue to push you forward.
Song that should have charted higher
If there's a record that I was shocked wasn't received in the way it was intended, it's "Climax." I chose to work with Ariel Rechtshaid and Diplo because we were trying to make something that didn't exist. And we did, only to have comparisons to other artists and people not understanding what it was, because there ain't been a record like that since, in my opinion. It ain't easy to be an Usher. It ain't easy to welcome people in and try to introduce people to something new. It ain't easy being in the place where you're experimental. Music has always been that for me. Music is about artistry, not just following the standards of the past and things that influenced us. My idea of artistry has always been trying everything until you find what works for you and the world you're trying to bring people to. It didn't chart in the way I thought it would have, but every time we play that song, no matter where we are, they sing louder than they sing any record, whether we're in Japan, in Australia, in Las Vegas, in Canada. They sing their hearts out to that record. But it's a sore spot for me. I ain't even lying.
There was something that came out in Rolling Stone. Paul McCartney claimed "Climax" was the song of the year. It made me feel so good to know that I had cracked a code and made legends hear what it is that I was intending for them to hear. When he said that, I was like, Man, this is it. I did it. I did it. Then to see the response from radio and how people reacted to it. Nevertheless, I also knew people who were like, "Man, there was so much heart put into that moment. Damn it."
Song that should have gotten a music video
It could have been "That's What It's Made For." It could have been "Throwback." It could have been "Bad Girl." It could have been "Superstar." Any of those ones.
Most exciting thing about his new Las Vegas residency
I loved what I saw, heard, and felt when Beyoncé came here, when Lady Gaga was here, when Bruno Mars was here. It gave me an opportunity to really experiment past the music, to have a conversation and create and incubate new ideas and ways to experience cinema and concerts. I teamed up with OTBA, Simon Hammerstein, Amy Allen, Aakomon Jones, and Rio Henderson and curated something that would allow you to feel immersed in it. I love immersive theater, and I know people are coming from all over the world to see The Thunder Down Under or Cirque du Soleil or a burlesque show, and I can bring all those worlds together with my music because my music speaks to all of those places. I can curate for a strip club or a nightclub or for people who are emotionally going through experiences. I find theatrical ways to articulate that through video. I can do all of that shit in one space. If you ever felt Vegas is where you go when your career is over … nah. This is where you begin to create new ideas, incubate new concepts. So many artists have called and said, "I would've never played Las Vegas." You don't understand. You get everything, and you get your audience at the same time. It's Vegas, baby.