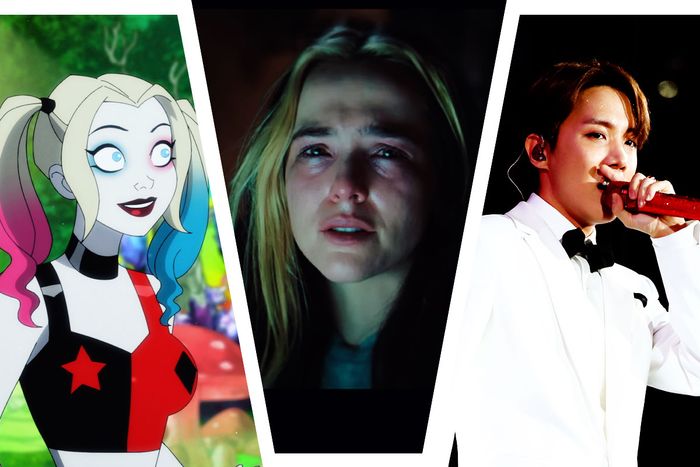 Harley Quinn
;
Not Okay
; j-Hope is going to be at Lollapalooza, babes!
Photo-Illustration: Vulture; Photos by HBO Max, SearchlightPictures/YouTube, and Rich Fury/Getty Images for iHeartMedia
Well, this weekend's recommendations are all on streaming. What did I tell you about the vibe shift?! But why deny a little night in when there's some interesting movies and television to entertain yourself with. I don't know about you, but the heat is still hot and still exhausting. I'll go out, enjoy the world, and then promptly come back home to decompress with RuPaul's Drag Race All Stars, which I'm team Jinx Monsoon. But there's plenty more to see if you're not a Drag Race fan (why, though?). Here are our recs.
Not Okay
The Zoey Deutch– and Dylan O'Brien–starring film had a smart TikTok campaign, attracting Gen Z with videos of bleached-blond O'Brien vaping and Deutch shouting at New Yorkers, which is quite fitting for a comedy about a wannabe influencer. Deutch plays, per the trailer, the "unlikable female protagonist" Danni, who just wants her Instagram to pop off, so naturally she fakes a trip to Paris. The only hitch? A terrifying explosion in Paris during her fake trip unintentionally throws Danni into the center of discussion. I'm sure I'll be cringing at every one of Danni's faux pas, but who am I to deny the delicious pairing of Deutch and O'Brien?
High School Musical: The Musical: The Series Season 3
What time is it?! Summertime, baby. And summer camp, as the Wildcats take on a new location in sunny ol' California. After the, let's admit it, mess that was season two, I can say that season three — or at least the start of the season — feels more carefree. You've got the teens singing like their lives depend on it, some fun guest stars (like Jojo Siwa, Corbin Bleu, and Jason Earles), and a new love triangle bubbling between Gina (Sofia Wylie), Ricky (Joshua Bassett), and E.J. (Matt Cornett). Meanwhile, Olivia Rodrigo returns as Nini, though in a pared-down guest role, as she spends the summer with her moms. Do I wish she was more mixed in with the action singing Frozen songs and doing HSM 2 choreo? Sure. But alas, I'll let it go.
Paper Girls
Prime Video's answer to Stranger Things comes in an adaptation of writer Brian K. Vaughan and illustrator Cliff Chiang's comic series of the same name. Paper Girls is a vibrant sci-fi about a couple of paper girls in the 1980s who stumble upon a mysterious war between time travelers. One of the girls (Riley Lai Nelet) even runs into an older version of herself (played by Ali Wong). Didn't Back to the Future movies teach you anything about meeting your future or past self?!
The Resort
William Jackson Harper and Cristin Milioti together onscreen is a pairing I never knew I needed, which alone has me incredibly intrigued to watch The Resort. The pair star as a married couple who, due to being at the end of their rope, book an anniversary trip to Mexico only to stumble across an engrossing mystery. Fifteen years prior, a family at the resort lost two in their party. The Resort switches from both timelines as Noah and Emma (Harper and Milioti) inch toward the truth. Oh, and did I mention Skyler Gisondo, Nick Offerman, and Luis Gerardo Méndez fill out the cast? Despite some tepid reviews, the mix of comedy and mystery that The Resort is promising is just a combo I can't refuse.
Harley Quinn Season 3
If you love Margot Robbie's take on Harley Quinn, then buckle up, because the animated Harley Quinn is even more balls-to-the-walls fun! And gay! Poison Ivy and Harley forever, baby. Season three debuted this week with three deliciously brash and fun episodes, but seasons one and two are also on HBO Max to help curb your appetite until next week.
Light & Magic
One thing Disney+ does very well is give us great documentaries (or DVD bonus features disguised as docs), but in Light & Magic, the six-part docuseries touches on the storied history and artistry of Industrial Light & Magic — the George Lucas–founded visual-production house. Chronicling its practical beginnings on Star Wars to the CG advancements on Jurassic Park, Light & Magic is mesmerizing stuff for the average movie buff.
RuPaul's Drag Race All Stars 7
Sure, All Stars 7 has been running weekly for a hot second. In fact, the finale is today! Which means that if you have yet to check out the phenomenally fun season, it's time to binge. It's so worth it. I'll admit I thought an All Stars with no eliminations would be lacking, but I'm happy to have been proven wrong. It has turned out to be one of the absolute best seasons of RuPaul's Drag Race simply because all the winners are at the very top of their game. If you've been dragging your heels, well, hurry up and watch! Now, I wonder who Oscar Isaac is rooting for. Probably Monét X Change.
The Americans
Need an all-engrossing series to dive into? There's FX's 2013 series The Americans, which hits Hulu in its entirety today. This gift of a show gave us Keri Russell and Matthew Rhys as sexy, thrilling KGB spies posing as a married couple in Washington, D.C., before the peak of the Cold War. It's gripping television!
Lollapalooza 2022 Livestream
Like Bonnaroo before this, Hulu is also bringing Lollapalooza to your living room. No queuing or crowds for us! And from what I can tell, the livestream is pretty inclusive. The fest and the livestream run from Thursday (yesterday, sorry) to Sunday, with performances from Green Day, Wallows, Machine Gun Kelly, BTS's j-Hope, and more. Sometimes I feel like these livestreams are limiting, but honestly the lineup for us at home is pretty good! For more info, check out our handy how-to watch guide.
Also! Read our streaming recommendations from the weekend of July 22. Vulture's next list of weekend streaming picks goes online on Friday, August 5.