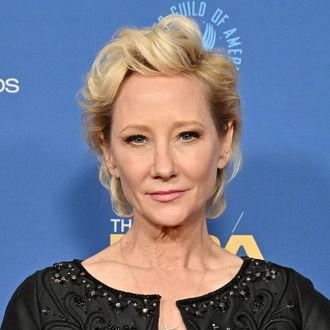 Update August 11: LAPD officials have told Deadline that Heche's blood screen did test positive for narcotics, but that further analysis is required because "we have to rule out any substances that were administered by medical treatment." There was no indication of alcohol in her system. Heche remains in extreme critical condition. Her upcoming Lifetime movie, Girl in Room 13, is still slated to premiere in September.
Previous story follows.
Actor Anne Heche is "extreme critical condition" after getting into a fiery car crash in Los Angeles on August 5. "She has a significant pulmonary injury requiring mechanical ventilation and burns that require surgical intervention," a representative told Deadline. "She is in a coma and has not regained consciousness since shortly after the accident." Heche reportedly crashed her car into a Los Angeles home, according to an LAPD spokesperson. The car subsequently became engulfed in flames and Heche, who suffered burn injuries, was transported to a local hospital. The house also became engulfed, and the resulting fire took 59 firefighters more than an hour to put out. According to TMZ, Heche is under investigation for a felony DUI in connection to the collision. This, upgraded from a previously reported investigation for a misdemeanor hit and run.
It is unclear whether or not Heche was driving under the influence, but investigators did obtain a warrant for her blood on the day of the incident, according to CNN. Heche was seen driving erratically and got into a separate minor accident shortly before she crashed. A podcast episode in which Heche slurs her speech has been the source of speculation; Deadline reports that episode was recorded three days before the crash. Per TMZ, Heche was also reportedly involved in another car accident at a nearby apartment complex minutes before the Walgrove crash. No arrests have been made as yet. "The investigation is ongoing pending the blood result," an investigator told the New York Times.
This story has been updated throughout.