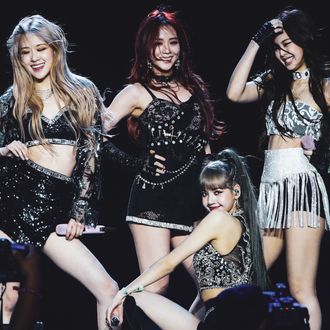 Photo: Rich Fury/Getty Images for Coachella
When it comes to anniversaries, Blackpink always does it big. Last year, members Jennie, Jisoo, Lisa, and Rosé celebrated their fifth year as a band by making a movie, and today, they marked six years together by finally giving fans a comeback date. According to a fanged poster on Blackpink's official Instagram, the group will drop their next single, "Pink Venom," at midnight on August 19. Aside from one track that premiered in a *checks notes* PUBG mobile concert, we haven't heard new group music from Blackpink since their aptly titled 2020 debut studio album, The Album. The group previously teased the release of "Pink Venom" in an announcement trailer that outlined a packed schedule for the rest of the year. According to an Instagram post, "Pink Venom" will be followed by an album, Born Pink, coming September 16. After that, Blackpink will kick off a world tour in 16 cities beginning in October and officially be back in your area. How you like that, Blinks?
Blackpink tour dates are below:
2022
October 15-16: Seoul, South Korea
October 25: Dallas, TX
October 19: Houston, TX
November 2: Atlanta, GA
November 6-7: Hamilton, Canada
November 10-11: Chicago, IL
November 14-15: Newark, NJ
November 19: Los Angeles, CA
November 30: London, UK
December 1: London, UK
December 5: Barcelona, Spain
December 8: Cologne, Germany
December 11-12: Paris, France
December 18: Berlin, Germany
December 22: Amsterdam, Netherlands
2023
January 7-8: Bangkok, Thailand
January 13-14: Hong Kong, China
January 20: Riyadh, Saudi Arabia
January 28: Abu Dhabi, United Arab Emirates
March 4: Kuala Lumpur, Malaysia
March 11: Jakarta, Indonesia
March 18: Kaohsiung, Taiwan
March 25: Manila, Philippines
May 13: Singapore, Malaysia
June 10-11: Melbourne, Australia
June 16-17: Sydney, Australia
June 21: Auckland, New Zealand
This post has been updated throughout.