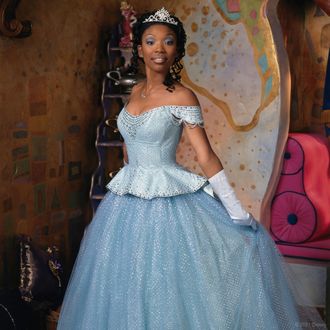 The one and only Cinderella.
Photo: Disney
Thank Fairy Godmother I'm a Gen-Z-millenial cusp baby, because it means I never had to grow up without Brandy's Cinderella. While the made-for-TV movie is one of the better adaptations of the tried-and-true fairy tale, it is also the first retelling to portray a Black princess. And now, in Cinderella: The Reunion, A Special Edition of 20/20, scheduled to debut ahead of the movie tonight on ABC, Brandy reflects on the enormity of her casting from both a personal and cultural point of view. "I thought I was ugly," she says in the trailer below, commenting on white beauty standards. "And I turned out to be the first Black princess. That's pretty mind-blowing."
To celebrate the 25th anniversary of the beloved movie, ABC will air the classic August 23 as part of Disney World's Princess Week. Disney+ subscribers: you may have been special for a time, what with your on-demand access to the masterpiece, but it turns out anyone with a TV and whatever it is people use to access broadcasts nowadays will be able to screen the one-night-only event. Plus, original cast members Brandy, Whoopi Goldberg, Paolo Montalban, Victor Garber, and Bernadette Peters will reflect on the impact of the film, together with Godmother of Fabulous Billy Porter, Todrick Hall, Jade Jones, and more in the aforementioned documentary Cinderella: The Reunion. The special, which also includes interviews with the original production team and rare behind-the-scenes footage, airs at 8 p.m. ET and will be followed by a presentation of the original film at 9 p.m. ET.