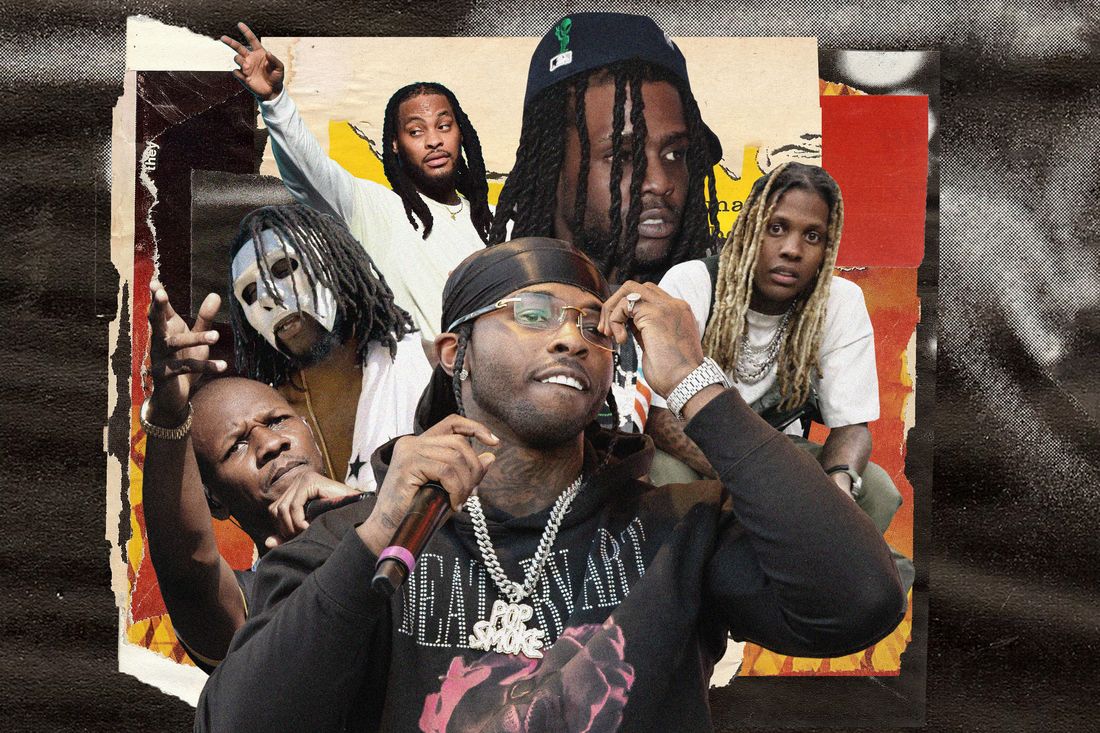 Photo-Illustration: Dakarai Akil; Photos: Getty, Link Up TV,
Drill's takeover of rap's biggest scenes over the last ten years has been hard to beat, having shaped a cultural movement stretching as far and wide as Chicago, the U.K., and NYC. Here are 17 essential songs to guide you through the evolution of drill as it continues to find new homes.
New York drill, as told by …
"Gumbo Mobsters," by King Louie & Bo$$ Woo (2011)
Drill wasn't just alive before Chief Keef's mainstream introduction — Chicago had already birthed a thriving network of innovators that was making the subgenre explode through the streets. Drill pioneer King Louie and Bo$$ Woo's "Gumbo Mobsters" arrived nearly a year before Keef's considered-to-be-seminal track "I Don't Like," and similarly unleashed a tidal wave of bold, bass-assisted threats. It's a bit plain-Jane by today's pace, but it set the tone for a sound and lifestyle that would soon entrance the world.
"Go In," by Shady (2011)
Drill was largely a man's field by the time it made headlines. Excluded from the conversation was Chicago girl group Pretty N Pink, whose member Shady delivered the blueprint for the dudes' future material on the solo song "Go On." Consider it sexism at minimum that the track didn't blow up, save for an early appearance in its video of Katie Got Bandz, a later Chicago drill fixture, waving a gun — a meme used to this day.
"I Don't Like," by Chief Keef featuring Lil Reese (2012)
Ask just about anyone what they were doing when "I Don't Like" dropped and they'll give you a full itinerary. In the span of two months, Chief Keef's breakout song containing a classically simple premise — naming shit he disapproves of — grew to engulf hip-hop and pop culture with it. Vienna-sausage-length dreads, massive white sunglasses, and True Religion jeans became the uniform of a generation inspired by the teen who made the track, while his M.O. of uncomplicated, nihilistic, vivid raps about what he was experiencing on the streets of Chicago set the stage for countless rappers in his city, the country, and abroad. The game-changing moment for "I Don't Like" came when Ye, Pusha T, Jadakiss, and Big Sean remixed it. Suddenly, this fledgling hyperlocal sound got a commercial co-sign from a hometown god, setting in motion drill's reshaping of rap throughout the 2010s. Chicago became the world's most riveting war zone overnight, leading to an almost morbid sense of fascination with how its drill scene and violence fed off each other.
"Lemme Get Dat," by Giggs & Waka Flocka Flame (2012)
With the groundwork laid, drill went from an unheard-of subgenre to rap's most promising yet controversial new face. Everyone everywhere was rushing to lay claim to such fertile ground — and in some cases to establish that they'd been doing this long before Chicago became the hub. Among the latter was Waka Flocka Flame, the Atlanta rapper whose head-banging songs were already famously simple, direct, and vivid. In what looked like an effort to make it known internationally that his version of drill mattered most, he joined forces with Giggs — the godfather of road rap, itself a parent to the U.K. drill scene emerging thousands of miles away that year — to remix one of his songs. It was one of the first instances of drill connecting globally, bridging distinct takes on the sound, and further legitimized the crossover power of drill in the U.K.
"Lets Get It," by Stickz (2013)
When London's Stickz released "Let's Get It," U.K. drill was in its infancy, meaning the song lacks the zooming bass drums and breakneck speed that would dominate the scene's future. Instead, it uses a beat that would fit right in with early 2010s Keef as a precursor to the more original work on the horizon. But this was the bones needed to get there.
"Dis Ain't What U Want," by Lil Durk (2013)
While everyone else was focused on hard-hitting, angry raps meant to convey their aggression, Lil Durk took that same energy and steered it in a melodic direction, one more accessible to the mainstream and performable. "Dis Ain't What U Want" takes full advantage of the aesthetic: He sounds as sincere as Ne-Yo singing about heartbreak on "So Sick." Bringing that softer intensity to drill made Durk arguably bigger than Keef in the modern Chicago drill scene.
"Computers," by Rowdy Rebel featuring Bobby Shmurda (2014)
Rowdy Rebel's "Computers" would probably be cited as the beginning of New York drill if not for Bobby Shmurda's more-viral "Hot Nigga," released the same year. It certainly has greater historical significance. Shmurda's line "Sliding over cars while I shoot / I think I'm Tom Cruise / But bitch, I'm Bobby with that tool" became a cultural smash of a meme, and it was this song that led to his comically cringe performance during a meeting with Epic Records — where he infamously rapped it in front of a boardroom full of gawking white faces — the earliest sign that the labels were in tune with what was potentially next for New York rap. It felt like the scene's audition to Middle America.
"Lets Lurk," by 67 (2016)
When veteran South London collective 67 made "Lets Lurk," U.K. drill was officially on the docket as one of the country's hottest rising rap scenes. It arrived at a time when Chicago drill was becoming like karaoke for suburban American kids (such as Slim Jesus) as more and more started making it. Increasingly, attention turned toward the U.K., where drill was growing into something more exciting. This song would be sampled by comedian Big Shaq for his drill parody, "Mans Not Hot" in 2017.
"Kennington Where It Started," by Harlem Spartans (2017)
The posse cut "Where It Started," by London supergroup Harlem Spartans, is credited among U.K. drill's most iconic songs, the one that transitioned the British derivative further from its Chicago DNA to a trademark sound marked by slick lyricism ("If gang pull up, are you gonna back your bredrin?") and bare-bones but polished production.
"Slide," by FBG Duck (2017)
While other cities, states, and countries were adapting the Chicago style to bring something new, Chicago recaptured its identity by trusting its core musical tenets: be simple, bruise speakers, and discuss untold levels of violence. FBG Duck became one of the city's biggest drill artists in the late 2010s prior to his murder in 2020 with his breakout song, "Slide" — a barrage of wide-eyed screams and pleas for his enemies to come see him — putting him in a position to revive Chicago drill after Chief Keef's 2012 debut album was considered a flop and the scene's momentum slowed.
"Suburban," by 22Gz (2016)
and its response "No Suburban," by Sheff G (2017)
The power of any drill scene often lies in beefs between rap crews and the corresponding onslaught of songs that amp up the rivalries. "Suburban" and "No Suburban" minted New York as the next drill hotbed in the 2020s, one with enough raw energy to stand toe to toe with Chicago as the new epicenter for the sound. By most accounts, it started in Brooklyn with "Suburban," by 22Gz — a diss song that drew a response from a then-unknown Sheff G, who released his own version, "No Suburban." The two records lit New York rap on fire, directly tying in to the formation of the sound that now dominates rap from the state.
"Crazy Story," by King Von (2018)
King Von was around for the birth of drill through his association with Keef and Durk, but the O'Block's own was frequently in and out of jail throughout the 2010s for a multitude of serious charges, making him a well-respected name in Chicago before he ever picked up a pen. Von released his first song, "Crazy Story," after signing to Durk's Only the Family label in 2018. It's firmly in the Chicago drill wheelhouse — about as real as it gets — but instead of just recounting what can happen in the streets, it tells an eye-opening, plot-twisting story of an attempted robbery in vivid detail. It set the tone for Von's career and raised the potential for surreal lyricism in drill, leading him to create multiple sequels and other narrative-driven songs like "Wayne's Story" before tragically being gunned down in 2020.
"Welcome to the Party," by Pop Smoke (2019)
It would ultimately be a few more years until New York drill fully distinguished itself; part of its original style derived from the aesthetic of U.K. drill, now so big that what was once influenced by Chicago was doubling back to the States to influence new spaces across the water. One of its progenitors was Canarsie's Pop Smoke, whose debut single, inspired by a U.K. drill beat he sourced online from producer 808Melo, became the song of the summer three years ago. Multiple remixes followed — its biggest new version featuring Nicki Minaj — that broke Pop into the mainstream in ways reminiscent of Chief Keef, making him the face of this new take on drill that was turning heads in Brooklyn, though he hadn't originated it alone. Pop Smoke was murdered in 2020, but he'd already secured his legacy as a front-runner of New York drill between this track and his equally successful hit "Dior."
"Who I Smoke," by Spinabenz, Whoppa Wit Da Choppa, Yungeen Ace, and FastMoney Goon
and its response "When I See You," by Foolio (2021)
Through drill's ebbs and flows of popularity, one constant has been its prioritization of grim beats designed to make chilling lyrics feel like doomsday prophecies come to fruition. But when Jacksonville, Florida, rappers Spinabenz, Whoppa Wit Da Choppa, Yungeen Ace, and FastMoney Goon released a song sampling Vanessa Carlton's piano-pop classic "A Thousand Miles," they blasted expectations — crafting a satirical, ridiculously optimistic image of violence that got think-pieced and memed across the internet, especially on TikTok — and still succeeded at being one of the darkest in memoriams a recording booth has ever heard. The song recapped years of gang beefs in less than four minutes, setting a new standard for outrageous diss tracks. A response by Foolio (a fellow Jacksonville rap newcomer) followed that elevated the original's spoof sampling; his adhered more strictly to the cadence and lyrics of Fantasia's R&B classic "When I See U" instead of imitating the looser fun "Who I Smoke" had with the style of "A Thousand Miles." They complemented each other and introduced the world to yet another new drill scene, this time out of Florida.
"My Everything (Part III)," by B-Lovee & G Herbo (2021)
B-Lovee, a rising rapper out of the South Bronx's Andrew Jackson Houses, hit the scene in 2020 with his drill-inspired debut project, Courtlandtbaby — but not until 2021's "My Everything" did he firmly insert himself into the same conversation as Pop Smoke, Fivio Foreign, and Sheff G. The sample-heavy track (built on the Mary J. Blige song "Everything") first went viral on TikTok as a leak; the official version ushered the scene's fascination with samples, especially from '90s R&B, into the forefront. Multiple remixes followed, but most important is the third, made with G Herbo, a Chicago drill mainstay who cut his teeth as one of that city's sharpest lyricists shortly after Keef's and Durk's massive early-2010s runs. Just as hip-hop had done, though on a smaller scale, another torch was passed from Chicago to New York to continue reshaping this microgenre as the artists see fit.