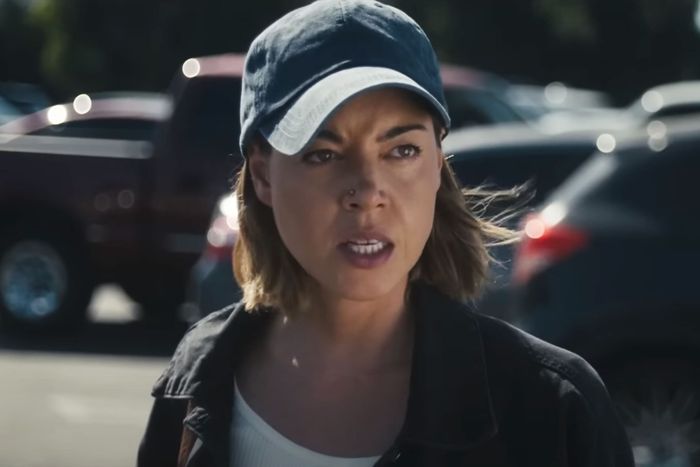 Photo: RoadsideFlix/YouTube
Emily the Criminal has an awfully cute title for a movie so bubbling over with rage. Paired with the fact that its star is Aubrey Plaza, an actor best known for her comedic deadpan, it might bring forth thoughts of twee adventures into minor misbehavior and eventual redemption — as though Emily the Strange grew up and started dabbling in delinquency. But there isn't anything remotely cloying in how writer-director John Patton Ford's lean, effective debut treats its title character's journey into credit-card fraud. To make that clear, Emily gets her face smashed into a car door early in the movie. After her first experience as a "dummy shopper" for a gang of credit-card thieves goes well — $200 to buy a flat-screen using a stolen number — she signs on for something trickier. She's sent to a car dealership knowing she has only eight minutes to get away with the vehicle before the bank calls back to let the owners know the charge isn't legitimate. As she struggles to look relaxed, making small talk and filling out paperwork, time ticks nauseatingly by. She's not out of the lot when someone roughly intervenes, but she makes it anyway, terrified and furious, with blood streaming from her nose after the skirmish. That one paid $2,000, and she needs the money.
A thriller fueled less by an interest in crime than by its protagonist's volcanic anger at her own downward mobility, Emily the Criminal is about someone left just outside the professional class, close enough to peer in — literally glancing into the glass-walled conference rooms at the offices to which she delivers lunch. While she and her best friend, Liz (Megalyn Echikunwoke), grew up in Newark together, went to art school together, and moved to Los Angeles together, Liz now works at a hip ad agency while Emily's kicking around in catering jobs. She's trapped in financial straits she's beginning to understand she'll never get out of, with $70,000 in student loans and a felony-assault conviction that turns job interviews, like the one the movie begins with, into exercises in humiliation. Liz keeps teasing the possibility of getting Emily a job at her company, but it never seems to be the right moment. When one of Emily's co-workers puts her in touch with the credit-card ring, she's skittish but intrigued by the potential for easy cash — enough that when Youcef (Theo Rossi), one of the ring's members, consoles her after her car-dealership encounter, she convinces him to set her up with cards of her own.
Plaza's whole Wednesday Addams persona, with her flat affect and impatient sarcasm, tends to mask a heart of gold in her characters, but that's not the case here. Emily may be sympathetic in her desperation, but she's not nice, and when Youcef, who tells her about a four-unit rental building he's saving up to buy, starts showing more interest in her, it's him we worry about. While the New Jersey grate Plaza gives her sentences is only semi-successful, what makes her performance so compelling is how she plays Emily as someone barely able to bring herself to quirk her lips into a smile or make other efforts to disguise her flintiness, even as she realizes that allowing glimpses of her anger just gets her into more trouble. Well, it gets her into more trouble when she's navigating the white-collar spaces she aspires to, which happen to require more pleasantries and shit-taking than she has a capacity for. In the extralegal underworld she becomes more and more enmeshed in, her intractability and willingness to commit violence turn out to be advantages.
Ford uses handheld camerawork and naturalistic lighting throughout his film and opts for little beauty. Emily's life is unpretty, made up of industrial kitchens, freeway drives, a shared apartment whose common spaces are often claimed by her roommates, and, once she embarks on her life of crime, big-box stores, parking lots, and the strip-mall back rooms where Youcef and his crew operate. The movie is more politically aware than its protagonist, understanding that the various forces dooming her to financial devastation affect huge swaths of people. "I'm sorry, are you an employee? No, you're an independent contractor," Emily's boss sneers when she complains about her shifts getting punitively cut, a line that would be too on the nose if it weren't whipped out at countless workplaces circumventing worker protections. Emily moves among immigrants, fellow ex-cons, and people like Youcef who are striving toward some sort of financial legitimacy, even as she moves in the other direction. But she doesn't show any sense of commonality with them, only fury that she's been made to join them, which is the film's most astringent aspect. The recent satire Not Okay got some attention for starting with a jokey warning about its unlikable female character, but Emily the Criminal actually offers that challenge by presenting a heroine who's been treated unfairly and who's learned from that only to step on others around her to climb up.