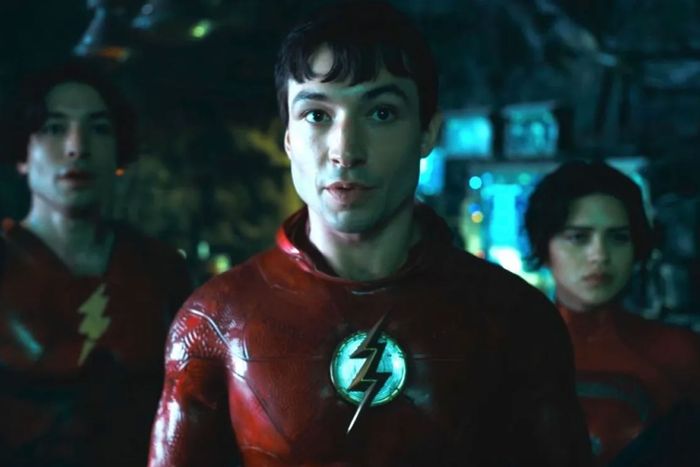 HBO Max and the DC Extended Universe are in for some serious revamping.
Photo: Warner Bros.
Heading into Thursday's second-quarter earnings call for Warner Bros. Discovery, with rumors of layoffs looming, both industry watchers and some employees of the newly behemoth media conglomerate had burning questions about its next moves. Chief among them: Why had the company shelved Batgirl, a $90 million movie that was reportedly almost complete, and what did that puzzling, eleventh-hour pulling of the plug augur for the DC Extended Universe? Were HBO Max and Discovery+ about to conjoin to become a gigantic digital clearinghouse of existing content — home to both 90 Day Fiancé and Succession? What do CEO David Zaslav's austerity measures to save $3 billion — scrapping JJ Abrams's sci-fi series Demimonde, canceling the Ridley Scott–produced Raised by Wolves and a planned sequel to Scoob! — portend for future development?
An unrepentant Zaslav turned up on Thursday to bask in the afterglow of positive quarterly financials: $6 billion in debt repaid since the merger, a combined 1.7 million new subscribers to HBO Max and Discovery+ to total 92.1 million globally. But over his 124 minutes on the line with investors, he made three things abundantly clear. One: Warner Bros. Discovery plans to take the most un-Netflix-like approach possible, doubling down on quality content and re-embracing the theatrical distribution model for films as a revenue driver. Two: That pivot back to theatrical is an implicit repudiation of recently deposed WarnerMedia CEO Jason Kilar's by-any-means-necessary bid to jam subscriptions to HBO Max, specifically his controversial choice to dump every first-run title day-and-date on the streamer and infuriate a wide swath of the entertainment industry. And three: The DC Extended Universe is now a top priority and in for some serious revamping, what with The Flash star Ezra Miller mired in legal jeopardy and personal chaos. So what does that mean for the future of WBD TV and film?
It's All Headed for One Platform
Yes, Warner Bros. Discovery executives are acutely aware that its existing platforms' offerings could hardly be more different: Discovery+ is primarily a showcase for unscripted series such as Naked and Afraid, Selling the Hamptons, and Ghost Adventure; HBO Max is, by many accounts, the gold standard of streaming, with acclaimed original shows like Euphoria, Westworld, and Barry. Specific details will remain under wraps until the company's investors meeting later this year. But JB Perrette, the company's CEO and president of global streaming and games, revealed the combined streamer will come into being in North America next summer (followed by a global rollout into 2024) with three pricing tiers (premium, "ad-lite," and ad supported) and will include shows from CNN, Magnolia Network, HGTV, Food Network, OWN, TBS, and TNT. After crunching the numbers, executives came around to the idea that a single service encompassing a grab bag of both the appointment viewing long associated with HBO and the sit-on-the-couch-all-day viewing associated with Discovery was stronger than two stand-alones.
"We recognize that both our existing products had shortcomings," he said. "HBO Max has a competitive feature set but has had performance and other customer issues. Discovery+ has best-in-class performance and consumer ratings but more limited features."
He went on to describe how the hodgepodge will provide a tactical advantage when it comes to retaining subscribers. "Ultimately the breadth of the offerings matters to get churn down, so that there's something for everyone in the household, everyone in the family," Perrette said, using familiar industry jargon. "We've seen it across all our data points: The more people in a household using the service, the stickier it is. The lower your churn is, the more viable our business is."
But That Platform Will Not Be Another Netflix
To be clear, no one on the earnings call ever referred to Big Red by name. But Netflix's years of profligate spending, its refusal to give movies more than token theatrical distribution, and even its subscription price were subject to implicit critical brickbats as Warner Bros. Discovery executives sought to elucidate the corporate outlook that would distinguish them from the competition. "In recent years, a strategy has emerged that suggests the video business is better off collapsing all windows into streaming, over paying and over investing in content, and offering it all at the same time for a low price," Perrette said. "We don't believe in this strategy."
Zaslav, for his part, piquantly noted WBD has no plans to cheap out; it will continue to invest in original shows and movies "smartly, in ways that will help us grow." (Chief financial officer Gunnar Wiedenfels added: "We are spending as much as we ever have before and plan to keep on spending.") But he contrasted his approach toward the green-light process with an unnamed competitor that is presumably not Peacock, Paramount+, or Amazon Studios. "It's not about how much, it's about how good," he said. "Owning the content that really resonates with people is much more important than just having a lot of content. In other words, at a time when almost every piece of content ever made is available to consumers, curation, quality, and brand have never been more important. And it's what we do best."
Warner Bros. Movies Are Going Back to Theaters
Of all the topics the gravelly-voiced Zaslav filibustered about on Thursday, he grew most passionate at the insistence that theatrical movie distribution should and would function as a chief financial driver for Warner Bros. Discovery. On the surface of it, the head of a major Hollywood studio making strenuous defense of putting tentpole films in multiplexes should surprise precisely no one. But a deeper read is to understand that Zaslav was throwing shade on his WarnerMedia predecessor Kilar who, in the darkest days of the pandemic, panicked virtually the entire cinematic ecosystem by announcing his "hybrid plan": to release the entirety of Warner Bros. 2021 film roster in theaters and on HBO Max simultaneously for a span of at least one month. Those included starry event films with nine-figure budgets including The Matrix 4, Dune, and The Suicide Squad. which all underperformed at the box office.
"We will fully embrace theatrical," said Zas. "We believe it creates interest and demand. It provides a great marketing tailwind and generates word-of-mouth buzz as films transition to streaming and beyond. When you're in the theater, the value of the content is elevated. Then when the same content moves to SVOD, it is elevated again."
And the DCEU Is Resetting
The chief executive also spoke at length about WBD's priority to pour resources into rehabilitating the DC Extended Universe, announcing a 10-year plan to "reset" with a system modeled on the one Disney head honchos Alan Horn and Bob Iger implemented for Marvel. The objective is to "grow the DC brand, to grow the DC characters. But also our job is to protect the DC brand. And that's what we're going to do," Zaslav said. He listed Black Adam, Shazam! Fury of the Gods, and The Flash as some of the "great DC films" on the horizon.
Several studio insiders contacted by Vulture say that Warner Bros. choice to shelve Batgirl came down to two factors: regime change and taxes. The superhero origin story was green-lit under Zaslav's predecessors, Kilar and Warner Bros. chief executive Ann Sarnoff, at a time when the studio's singular focus was turning the nascent HBO Max into a major combatant in the streaming wars. Even before ascending to the C-suite, however, Zaslav made great show of his intention to upend that strategy. With its midrange budget and smaller-than-tentpole scale, Batgirl didn't fit into the new corporate ethos. It was "niche" IP that would have cost nine figures to promote in theaters, yet it was too valuable to the DCEU brand to dump onto its OTT service (and potentially face the kind of outcry that greeted Disney when it sent Pixar's Soul and Turning Red straight to Disney+).
According to sources, the studio preferred taking a hefty tax write-down on the negative cost of the film rather than incur additional costs for marketing. Adds a strategist who consults for many of Hollywood's top studios: The decision to not dump Batgirl onto HBO Max may have been partially dictated by a desire to avoid coughing up stars' residual pay or cash outlays that would only come from streaming. (This could explain why other titles, including 2020's The Witches, have been removed from the platform.)
In the end, a top talent agent (who like others quoted in this story requested anonymity due to sensitivities surrounding ongoing business relationships) feels the move to shelve Batgirl imperils Warner Bros.' already shaky relationship with top-tier directors. In 2020, after the studio announced the hybrid model, Dune filmmaker Denis Villeneuve and Inception auteur Christopher Nolan publicly rebuked WB, with Nolan ultimately junking his 19-year relationship with the studio to go make the prestige biopic Oppenheimer at Universal. "This was a disaster," the agent says of Batgirl. "The only producing deal they have is with Beau Flynn, who has been there a long time. And they do a lot of stuff with James Wan. They lost Nolan. On a studio basis, that's the lowest number of relationships that exists at any studio."
Moreover, the agent feels Warners studio executives' lack of oversight and bureaucratic culture led to Batgirl directors Adil El Abri and Billal Fallah (Bad Boys for Life, Ms. Marvel) delivering an "irredeemable" movie. "Management of filmmakers is a manageable situation," this agent, who does not represent El Abri or Fallah, says. "You say, 'Here are the problems. Here are my issues. Let me bring you into my tent. And let's walk through and do it together.' But that's not what goes on there." (Warner Bros. did not return calls and emails requesting comment for this story.)