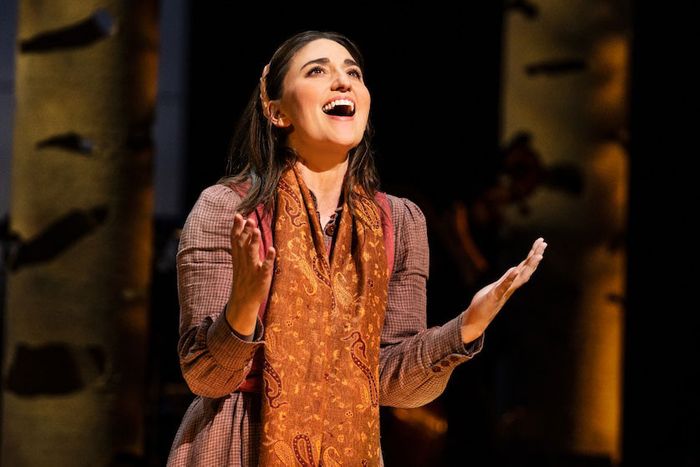 Photo: Matthew Murphy and Evan Zimmerman for MurphyMade
Over the last half-decade, Sara Bareilles, best known as a pop singer-songwriter, has stealthily embraced a life of musical theater. After writing the score for the 2016 Broadway debut of Waitress and later taking on a starring role in the show, Bareilles has been back on the boards this summer starring in a revival of Into the Woods, the Stephen Sondheim–James Lapine dark fairy-tale mélange. She's performing in the show until September 4 and will appear on its cast recording, which was taped in July. Sondheim's tricky, Pointillist songs can be a challenge for any trained stage performer, and yet as the Baker's Wife in this production, Bareilles manages to perform with both exactitude that might please the late composer and a richness of tone that's unmistakably her own. "I feel like I get to sing these songs, not necessarily as 'pop songs,' but as 'Sara Bareilles as the Baker's Wife,'" she told me. It's a potent alchemy.
Ask someone who knows music well to describe that special Bareilles sound and they typically bring up the word "ease." Before the pseudo-concert-style Into the Woods came to Broadway, Bareilles starred in a brief Encores! engagement of the show at City Center in May. She prepped for that with her friend, the composer André Catrini, on how best to think about applying herself to sing Sondheim. "Her voice doesn't seem to have a break, which is insane," Catrini said. For most singers, you'd be able to clock some extra strain as they shift between registers. "She goes from the depths of her chest to her mix and her soprano with total seeming ease."
Ease, however, is not something you think of as native to Sondheim. Like much of the musical-theater canon, Into the Woods is written toward a more "legit" style of vocal performance, which, with exceptions, tends to mean more vibrato and a lack of what are considered modern stylings, like riffs, runs, and other forms of melisma (slurring together several notes in one syllable). Think of it as more your head voice than your chest. Pop performance generally goes the other way, favoring a clearer sound and, often, a lower range; when pop musicals go high, they tend toward the belting you might hear in something like Wicked or Legally Blonde. Bareilles has had to open up the upper reaches of her register, especially in the ensemble numbers where she joins in on repeated refrains like "into the woods, and out of the woods" that reach into the rafters, but hasn't abandoned her typically well-supported timbre. Working at City Center, Rob Berman, the show's music director, "was really encouraging that I bring more of 'Sara Bareilles' into it," she says, "and of the parts of my voice that are more resonant."
That approach comes together in the Baker's Wife's bravura second-act solo "Moments in the Woods." Back in the woods and trying to find a way to stop a vengeful giantess, the Baker's Wife ends up running into Cinderella's Prince. He kisses and seduces her, and then speeds off, leaving her dazed, comparing this dalliance with the prince in the woods (Sondheim is fond of the double meaning of "woods" and "woulds," the magical forest and one's fantasy life) to her ordinary life with her husband the Baker — trying to choose one, wondering if she can have both. Berman suggested bringing the song down a half-step from the original key, a fairly commonplace adjustment, so it would best land in Bareilles's voice's sweet spot. There, she's able to weld together both the character's lower-register self-recrimination, "Back to life, back to sense / back to child, back to husband," with the higher ifs in lines like "Why not both instead?"
"I love that kind of interval singing," Bareilles told me. "I love the melodic dance that gets done that way." There's a kind of similarity between "Moments in the Woods" and one of her own songs, like "Gravity," which contains its own deceptively tricky leaps between registers. That is to say she already had plenty of technical preparation, which allowed her to focus on the acting and see what her voice did naturally. "If you stay with, 'just tell the story,'" she said, "your body follows the intention."
There's a line near the end of the song where the Baker's Wife sings, "Let the moment go, don't forget it for a moment, though," that soars upward, but which Bareilles manages to place with warmth and regret. That's one of the phrases, Berman told me, the two of them focused on in detail, considering whether it should be full or floaty or thick with vibrato. What worked was leaving a little room for her to take the moment wherever it would lead her. "From night to night, she does vary it," Berman said. "Even on the cast recording, she did a couple different takes."
Earlier on, as she's seduced by the prince, the Baker's Wife goes, "This is ridiculous, what am I doing here? I'm in the wrong story." Her voice goes up to high notes on "sto-ry" like she's assuming Cinderella's vocal range along with her lover. The Baker's Wife and her husband are relatively modern characters compared to the rest of the characters in Into the Woods, early modern harbingers of the middle class with a bickering marriage that feels contemporary to the 1980s, if not the present. Perhaps that's why Bareilles's voice is also such a good fit for the role — she sounds modern herself. In the wrong story, but also right at home.