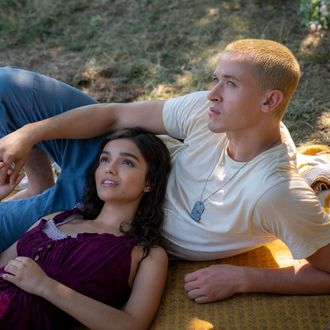 Photo: Murray Close/Lionsgate
Ok, maybe Rachel Zegler's Lucy Gray Baird is lying on top of Tom Blyth's Coriolanus Snow, but it's snow nonetheless. According to the dreamy and romantic first look images and director Francis Lawerence, the upcoming Hunger Games prequel, The Ballad of Songbirds and Snakes, is a "very intimate love story" between Baird and Snow. Set decades before the events in the original trilogy, Snow finds himself mentoring Baird to prepare her for the tenth Hunger Games, led by its newest cast member Viola Davis. Per Deadline, Davis will star as Head Gamemaker Volumnia Gaul. That means that she'll be in charge of the tenth annual Hunger Games, the backdrop for the upcoming dystopian flick. "Dr. Gaul is as cruel as she is creative and as fearsome as she is formidable," director Francis Lawrence said. Central character Coriolanus "Snow's savvy as a political operator develops in no small part due to his experiences with her as the games' most commanding figure."
The Hunger Games prequel will expand on the lore of the Games, including the origins of the music like "The Hanging Tree." Production designer Uli Hanisch shared that they have created a "new version" of Palem and are excited they get to "remake District 12, remake all of the Capitol, and a brand-new arena." As the world of the games unfolds behind the scenes, the film continues to draw today's most exciting actors into the arena. Most recently, Lionsgate revealed that Game of Thrones actor Peter Dinklage will be playing Casca Highbottom, dean of the Academy. Euphoria's Hunter Schafer passed on Lexi's play to join the movie as Tigris Snow, the mentee and older cousin of Coriolanus.
Other Songbirds and Snakes announcements have arrived in a far less straightforward manner. In a Taylor Swift–inspired move, West Side Story and Snow White's Rachel Zegler posted a cryptic tweet (tweet!) on May 30 in which the first letter of each word spelled out "Lucy Gray Baird," a main character in the Hunger Games prequel. The following day, Deadline confirmed that Zegler had been officially cast to join the series as Baird, a tribute from District 12. Starring in another beloved franchise in which you can show off your insane singing voice? It's like killing two songbirds with one stone. Schafer and Zegler join Tom Blyth as a young Coriolanus, the antagonist in the original series, who mentors Baird as she captures everyone's attention by singing during the reaping ceremony. Assassin's Creed and Macbeth screenwriter Michael Lesslie will pen the script for the adaption of Suzanne Collins's book series.
This post has been updated.