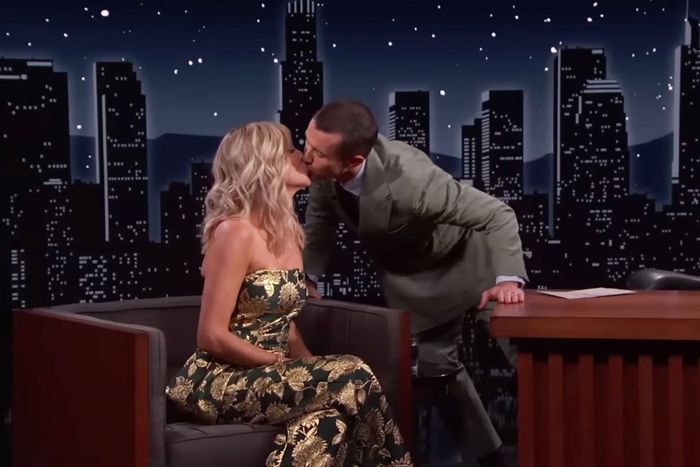 Photo: Jimmy Kimmel Live/YouTube
Late-night hosts picked a bad week to go on vacation. While Seth Meyers, James Corden, and Jimmy Kimmel spent time with their kids, Trump got raided. If we ever needed a "Closer Look" at something, this was it. I'm sure Meyers will get around to recapping what happened while he was gone and figure out how best to twist the narrative towards a "Rudy Giuliani married his cousin" joke. Kimmel did have guest hosts covering his time slot, with David Alan Grier getting a lot of the big Trump news and playing a doorman at Mar-a-Lago about it. He brought all his Tony-winning energy to it — hats off.
In late-night shake-up news (which appears to be a recurring segment this summer), Jon Batiste is leaving The Late Show With Stephen Colbert. Batiste has been off pretty much all summer filming The Color Purple and winning Grammys. But now, officially, he won't be winning the E in his presumptive EGOT from being a bandleader. Louis Cato will be the new lead of Stay Human, The Late Show's band and No. 1 place to hide an Eagle or a St. Vincent or a guy in a cowboy hat. So that covers who wasn't on late night this week. Let's talk about who was.
5. Adam Pally Is Squirmy on WWHL
Some producer said "Let's put Adam Pally, Mindy Kaling, and Andy Cohen together and let the weird energy really flow." They should get a bottle of champagne, or a smack upside the head, because this was a weird WWHL. Pally commented on how much he wants to fuck Ramona Singer, how much Andy Cohen likes to talk about his desire to fuck Ramona Singer, and how bad he wants to be in Legally Blonde 3. Cohen mostly tried to pry deets out of Kaling about the aforementioned threequel, and Pally's wife sat silently in the audience watching it all happen. Live.
4. The Tonight Show Starring Jimmy Fallon and Megan Thee Stallion and Megan Thee Stallion's Dog
Megan Thee Stallion's French bulldog, 4oe, is a star. Let's not mince words. He's knows how to find his light, he does tricks, and he gives great chat as a talk-show guest. Meg co-hosted The Tonight Show on the night her new album dropped, pitching in on recurring desk bit "Thank You Notes" and helping interview Natalia Dyer, but 4oe stole the show. Meg was a fun interviewer of Dyer as well, showing her enthusiasm for Stranger Things and demanding the show's episodes get even longer. Please, Duffer Bros, don't listen to her on this one.
3. Mindy Kaling Loves Money
Kaling is doing double duty on this week's list, because she was an agent of chaos on every show she did. On WWHL, she was mostly Pally's enabler, but on The Late Show, she said she was sad to end Never Have I Ever because she loves money. Not her cast, not the story, not the representation, but cold, hard cash. Hearing herself say those words as they came out her mouth, Kaling immediately (and adorably) started backtracking. She said she likes money fine, joked about editing it out, and even volunteered to show her tax returns to the Late Show audience so that they could determine whether she was in fact rich. She's for sure rich, but it's important to stay in touch with the common man — who also doesn't want his job to end mostly because he likes money. Or at the very least, needs it for goods and services.
2. Is Stephen Colbert's Outie Steve Carell?
A classic talk-show/award-show sketch premise is "Likable Host Is a Pesky Little Shit Inside the World of ______." Carrie Bradshaw entering the Matrix on the 2000 MTV Movie Awards, when basically everybody was on The Office at the 2011 Emmys, and James Corden touring the White House: All of these fall into the Pesky Little Shit genre. Stephen Colbert added a new entry into the PLS (not to be confused with PSL or PLL) canon by invading Severance. Steve C., as his innie is known, thinks he's on The Office and insists on Irving dancing to Smash Mouth. Not since a robot pissed on him has John Turturro been so disrespected.
1. Kaitlin Olson Razzes Her Husband
Jimmy Kimmel had one other guest host this week besides David Alan Grier, It's Always Sunny in Philadelphia's Rob McElhenney. A huuuuuge get for his hosting stint was his wife, Kaitlin Olson. Olson spent pretty much the entire interview dunking on her spouse for how few Emmy noms he has compared to her, how weirdly neggy his dad can be, and how effusive he gets in praising her as an actor/spouse. McElhenney tried to be sweet, but Olson kept it punchy for the rest of us not married to her. If Sunny ever dies, the two could have a pretty great late-night show together. If they can find a babysitter.