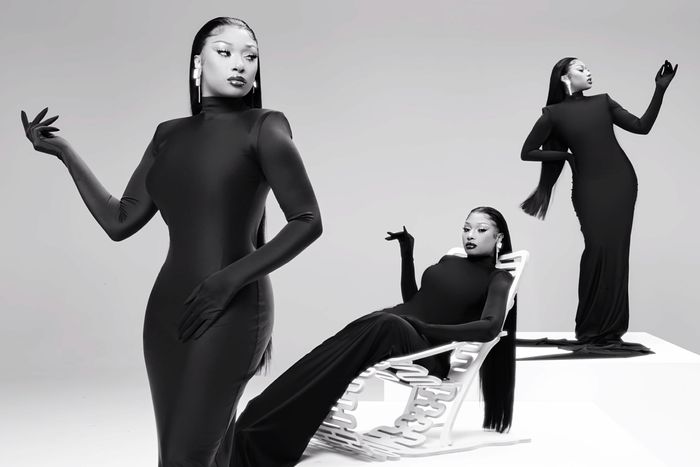 Photo: Megan Thee Stallion/YouTube
Pressure makes diamonds, and Megan Thee Stallion's mountain range of triumphs and tragedies inspires fans who share aspects of her story — loss of a mother and a grandmother, friendships that devolved into violence and court hearings, denial of due respect in an industry long dominated by men — while sparking the interest of guys who think she lied about being shot in 2020 for clout. The schism over Meg is symptomatic of a time when we believe whatever version of events we please, facts be damned; it also speaks to the lengths people go to in order to discredit a successful woman. It's hard to buy that Megan thrives entirely on the negativity. Watching her on television, you get the sense she'd much rather be talking about puppies and Flamin' Hot Cheetos than bullet wounds and betrayal, but listening to her albums, you feel the unbridled joy derived from the art of talking shit. Two things can be true: It sucks when people gossip about you, and it's really fun to embarrass them when you see them. Meg is navigating the peculiar politics of a career as a mainstream rapper unafraid of overt pop plays, for which you need to be enough of a charmer to make Jimmy Fallon giggle and enough of a braggart to keep the L.A. Leakers gasping. In 2020, Stallion's debut studio album, Good News, tried to make sense of the tumult in her life while positioning her as a jack of all trades, someone cool enough to kick it with Beyoncé and SZA, barred up enough to exchange lines with 2 Chainz and Young Thug, and capable enough of a vocalist to handle her own R&B hooks without calling in a pro. Good News succeeded on many counts, misfires like "Don't Rock Me to Sleep" notwithstanding, and Megan had an unbeatable 2021, collecting three Grammys and a bachelor's degree in health administration and keeping the base hydrated with the freestyle tape Something for Thee Hotties.
Her new album, Traumazine, revisits the content and thematic conceit of her debut, updating us on life since shouting out Houston and the Hotties during the Grammys. Like Eminem and Ye, whose early releases were themed series reflecting on the swift changes fame forced on them, Megan is writing ruder, sadder, funnier songs about her relationship with the public. She's trying to showcase more vulnerability; she's getting to rub greater wins into a wider array of haters' faces. The gains seem isolating, the trust issues, more pronounced. There's a loneliness in the snarl on display in a song like the opener "NDA," a cluster bomb of insults and a hail of high-class boasts with a brief face crack ("I gotta watch my back 'cause I forget that I'm the shit now") that relays how quickly success got dark for Stallion and how spooky a career in the stratosphere of American popular music can be. As it challenges our endless craving for celebrity gossip, Traumazine progresses from clapbacks for bloggers who don't fact-check and men who can't seal the deal to musings on depression and anxiety and the lives of Whitney Houston and Marilyn Monroe. The title starts to feel as if it's conveying the sensation of having people spectate your worst moments for entertainment and not just the artist's knack for turning tribulation into encouraging art. Megan Thee Stallion is retaking control of her news cycle — this album's abrupt release comes after the rapper implicated her former label, 1501 Entertainment, in leaking songs and artwork — but her wordplay is so stunning it's easy to lose sight of how many songs are about having an awful time with lovers or listeners or rivals or rap sites. You can get lost in the sleek, post-regional, intergenerational balancing act effected by Meg's mix of new flows and 20th-century-rap fan service, or you can reckon with the implications that fame is a panopticon.
It's a blast listening to the rap history flowing through Megan Thee Stallion's verses as she pays homage to Texas rap forebears and tries on rhyme patterns and production values on loan from '90s East Coast hip-hop and '80s R&B while matching wits with peers from around the country. She can do rapid internal rhymes, as displayed during "Ungrateful," a heat check for backstabbing former friends that features Memphis rapper Key Glock. She can work with laid-back triplet flows indebted to classic southern and midwestern rap, as the bedroom jam "Red Wine" does, and she nails the insistent, impatient tough talk favored by artists like Atlanta rapper Pooh Shiesty, who guests on "Who Me." Stallion loves a changeup: The sex rhymes in "Consistency" shift unexpectedly between normal and double time. The hip-house jam "Her" kicks off with '80s-party-rap bars but switches to Biggie flows in verse two. (The B.I.G. influence is heavy: The beat for "Consistency" gestures to "Big Poppa," and the chorus in "Plan B" references Junior M.A.F.I.A.'s "Players Anthem" and "Get Money.") The rap collabs are a mixed bag; it's great to see Glock and Pooh Sheisty get this shine (though Megan overpowers both), while Future's "Pressurelicious" verse recalls his spot on Kendrick Lamar's "King's Dead," another big-deal collab in which, instead of giving you the bars you want, he flies off the handle in a memorable but divisive performance. Other than the killer Rico Nasty spot in "Scary," the Texas legends in the "Southside Royalty Freestyle," and "Consistency," on which a delightfully no-nonsense Jhené Aiko yearns for "dick and consistency," Meg is head of the class on flows and quotables — a rapper capable of skating on ominous trap songs, Future Nostalgia–style pop, and throwback bops. She can make even a mildly annoying track feel entertaining, as she does with "Gift & a Curse," riding repetitive piano notes in the verses and then playing off the bass notes in the chorus.
Look beyond all of the sidesplitting couplets and mercenary one-liners ("600 on my chain, yes, K, yes, Gs / Looking for a bitch to play with, then you better Ask Jeeves"; "White Ghost rolling through the hood, look like Ku Klux"; "The pussy get stringy every time you get cheesy"; "I'm stomping hoes so motherfucking hard, I'm knocking out Mario tokens") and pop gestures such as "Ms. Nasty" and "Star," and Traumazine has a lot to say about being the object of the probing eyes of tens of thousands of onlookers, a point around which hundreds of hot takes converge. This world of NDAs, plan B's, disrespectful Instagram comments, and fractured friend groups sounds suffocating; navigating it without parents sounds heartbreaking. In her reflections on trying to re-create a family for herself and the acrimonious endings of some of those bonds, Meg seems regretful about letting too many people in. The raps about being one of a kind feel walled off, lived in. "Flip Flop" maps things out in matter-of-fact lines: "Ever since my mama died, 2019 / I don't really know who I can trust / I was looking for anything, anybody / Looking for something to feel like something / I was hanging with bitches I thought really loved me / Whole time they was jealous and judging." "Anxiety" cuts deeper: "If I could write a letter to Heaven / I would tell my mama that I shoulda been listening / And I would tell her sorry that I really been wilding / And ask her to forgive me 'cause I really been trying / And I would ask please, show me who been real / And get 'em from around me if they all been fake." In these moments, Traumazine adds layers of complexity to the trash talk elsewhere in the album, reframing it as a coping mechanism for an artist tiring of being our conversation piece ("People call me rude 'cause I ain't letting 'em try me / Saying I'm a ho 'cause I'm in love with my body"). The album navigates this business carefully, never resorting to mushy motivational pop to get the point across. The lesson of "Anxiety" is just that: "Bad bitches have bad days, too." "Flip Flop" wants us to know that "the loudest is never the realest / And the realest ain't speaking on nothing." Traumazine is your reminder there's a human on the other side of the headlines, and the careless cruelty social media facilitates in users adds up on the receiving end.
A mainstream rap album is a balancing act, a quest to appease heads who've been boosting your music since your early mixtapes and freestyles and the wider audience of casual listeners who'll stick around as long as the hits run piping hot. Traumazine holds to a formula that worked for Meg: 17 to 18 bubbly rap songs, mostly under three minutes, peppered by the occasional R&B jam or Dr. Luke / Calvin Harris–type beat or spirited reimagining of a classic rap song. That means that, structurally and tonally, there's nothing it can do to surprise anyone who spent any impactful time with Good News. It does bring a sharper sense of perspective and an awareness of Megan's strengths and weaknesses as a writer and performer. The second album's not packed with people who've been to the top of the "Billboard 200." It's easing off selling us on Meg's singing — "Star" could've left all the heavy lifting to Lucky Daye, though — without thinning her arsenal of tricks. She's having so much fun that it overshadows half of the guests (though this is business as usual for anyone who can quote "Cash Shit"), so much that you come away from the album trusting that her worst times are behind her. She understands her worth, and she's tenacious about her craft. She's cutting people off and staying away from drugs. What she really needs is for the rest of us to mellow out about famous people we never met, to stop sharing unconfirmed rumors, to put less time into hate-following and demeaning others for the sport of it. It's not an unreasonable ask.