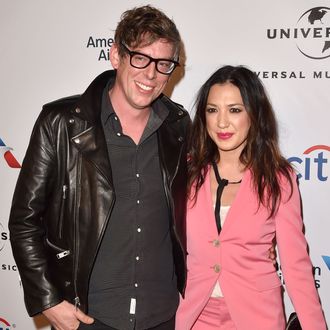 Photo: C Flanigan/Getty Images
Update Wednesday, August 22: Almost two weeks after being arrested for misdemeanor domestic assault, Billboard is reporting that the case has been dismissed "at the request of the state."
Update, Monday, August 15: Michelle Branch filed to divorce Patrick Carney on August 12, a day after announcing their separation, People reports. The date of separation is listed as August 11, the same day Branch claimed online that Carney was cheating and she was arrested for slapping him. Branch's filing claimed "the parties are no longer capable of resuming their marital relationship and living together as husband and wife," citing irreconcilable differences. She is seeking primary custody of the couple's two children and for Carney to pay child support with "reasonable parenting time privileges."
Branch was arrested for misdemeanor domestic assault early on the morning of August 11, Nashville police confirmed to Vulture on August 12. TMZ first reported, after Branch announced her split from Carney, that police had been called around 2 a.m.; in court documents, per the outlet, Branch admitted she slapped Carney "one to two times," and Carney did not sustain visible injuries. As Stereogum pointed out, Branch tweeted claiming Carney cheated on her with his manager around 1:30 a.m. CT on August 11. Branch was released from custody to breastfeed their 6-month-old child, and her bail was set at $1,000, per TMZ. Vulture has reached out to representatives for Branch and Carney.
Original story published August 11 follows.
In a statement obtained by People and TMZ, singer Michelle Branch announced her separation from Black Keys drummer Patrick Carney after three years of marriage. "To say that I am totally devastated doesn't even come close to describing how I feel for myself and for my family. The rug has been completely pulled from underneath me and now I must figure out how to move forward," Branch said. "With such small children, I ask for privacy and kindness." This official statement comes after a much more unofficial one, which TMZ says Branch tweeted then deleted. That now-deleted tweet accused Carney of cheating while she was "at home with our 6 month old baby." Branch is Carney's third wife; Carney is Branch's second husband. The couple share two children, Rhys James (4) and Willie Jacquet (6 months). Branch also has a child, Owen Isabelle, from her previous marriage. The Black Keys are currently on tour, while Branch is set to debut new music next month.