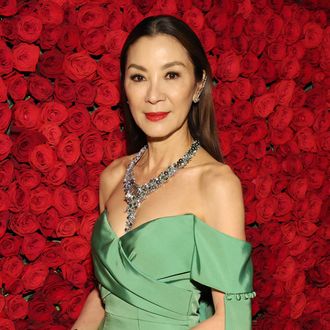 Photo: Cindy Ord/MG22Vogue/Getty Images for The Met Museum/
Update, Saturday August 13 at 7:00 p.m.: Michelle Yeoh is officially a doctorate! The Hollywood Reporter confirmed that the Everything Everywhere All At Once star was awarded the honorary degree at the American Film Institute in Los Angeles. Presented by Daniel Kwan and Daniel Scheinert, also known as The Daniels, they celebrated her work as Evelyn Quan in their most recent film. "I think we underestimated just how risky the script was for her," Scheinert shared during their introduction speech. "We'd find ourselves on set and see Michelle putting her wiggly hot dog fingers covered with condiments into Jamie Lee Curtis' mouth — if you haven't seen our movie, that happens in our movie — and we were like, 'That's brave.'"
During her speech, Yeoh jokes that AFI made her mother "the happiest mother in the world today." She continued, "I think now she actually thinks I'm an adult with a real job. I had to keep telling her, 'I'm not a real doctor, I don't write prescriptions, mom.' But she can go around telling everyone, 'My daughter is a doctor.'" The full speech is below, beginning at the 1:11:20 mark.
Original Story Follows.
Michelle Yeoh has it all. She has an incredible film career, strength for days, AND is incredibly organized. In about a week, she'll be able to add doctorate to the list. Yeoh will be awarded an honorary doctorate of fine arts from the American Film Institute for "contributions of distinction to the art of the moving image," according to The Hollywood Reporter. She has over 70 screen credits, including Crouching Tiger, Hidden Dragon; Memoirs of a Geisha; Tomorrow Never Dies; and the awards-season contender Everything Everywhere All at Once. Will doctorate Yeoh discover how to attach hot dogs to our hands to transition us to the alternative universe fully? Or will she figure out what hair a raccoon needs to pull in order to become the Raccaccoonie universe? The answer truly only lies in the future. The ceremony will take place next week on August 13 at the TCL Chinese Theatre in Hollywood.