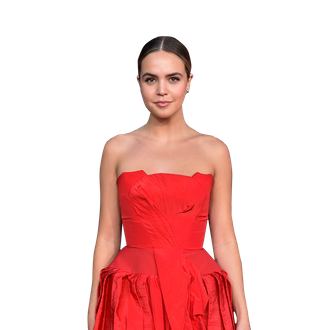 Photo: Rodin Eckenroth/WireImage
Major spoilers for the season-one finale of Pretty Little Liars: Original Sin below.
Bailee Madison loves to scream. On HBO Max's slasher-fied Pretty Little Liars spinoff, Original Sin, the actress plays Imogen Adams, a 16-and-pregnant Millwood High student who constantly tests the limits of her vocal cords. In the premiere, her mom, also a Millwood alum, dies by suicide after receiving an eerie '90s "Y2K" dance flier signed by "A," kicking off Imogen's bloody quest to unmask the town's Creeper. Co-created by Lindsay Calhoon Bring and Riverdale's Roberto Aguirre-Sacasa, this new take on the 2010 PLL series is camp (see the needle drop of "Ironic"), features a more diverse cast, and feels way spookier than the original. It also name-drops Cole Sprouse.
As Imogen and her four classmates uncover the secrets of their sketchy mothers' pasts, they also have to deal with the murder of mean-girl classmate and blonde twin Karen Beasley while navigating friendship, bullying, grief, and sexual assault. The season culminates in a finale face-off that involves (duh) a freaky cemetery chase between Imogen and the town's very own Michael Myers–like monster. "I heard so many different endings, I didn't know what to expect," Madison admits of the season's brutal end and of all the rumors she heard on set. By the end of it, she says, the crew "was ghost white after hearing us scream and fight."
Those last 20 minutes of the finale are so intense. Tell me about the process of filming them.
We filmed the show for nine months in upstate New York, and by the time the finale hit, everyone was at their most vulnerable. It mirrored how the girls were feeling: It's all or nothing at this point. I remember freaking out when I read about the scene with "A" and the fight sequence. I didn't know what was gonna happen. It's funny — our show is called Pretty Little Liars, but we joke that the rumors on our set fly like no other.
I remember calling up Lisa Soper, who directed five of the ten episodes, and I said to her, "I'm so excited for this fight. You know I love stunts. I also wanna make sure it's not just a fight scene." They allowed me to step in for the choreography of the stunts and suggest some things that were Imogen-motivated. It was very emotional; we filmed that final fight pretty much all day. By the end of it, the crew was ghost white after hearing us scream and fight. We started from the bathroom of Imogen's house and went down the hallway, just trying to give it every single time. Travis, who was the man behind the mask who did all the stunts, put himself through hell with me, and I definitely messed him up and hurt him a couple of times.
What was the most outrageous rumor you heard on set?
There was a rumor about a hospital chase, so the baby being born and then A taking it. It would've been fun!
Was it difficult to do stunts with a fake belly? 
The only difficult part of it was realizing that Imogen's adrenaline is really hitting, so maybe she's not as cautious about protecting the stomach because she's on survival instincts. I think that's why she can run so fast: At the moment someone is out to kill you, it doesn't matter physically where you're at — you're gonna book it. I'm sure the baby has a few bruises as well, but she did the best that she could.
Talking about Imogen's story line, it starts out really dark after her mom dies in a bathtub …
[Laughs] … It's not funny. It's awful.
It's camp! Throughout the season, she has flashbacks to her mom, especially when she's being chased by the Creeper. Do you think Imogen would be right to blame her mom for almost getting her and her baby killed? 
I mean, for sure valid, but people are very different in high school. If all of us were held accountable for who we were at 14, 15, 16, that would be super-unfair. Imogen has so much sympathy and care and love that I don't think she would ever blame. Her moment of hatred and blaming happened in episode four, when she was able to really feel that anger toward her mom. As heartbreaking as it was, all Imogen wanted to know was the truth. Her mom was her rock. And she was carrying so much guilt and so much shame that ultimately even the love for her daughter wasn't enough to stay. That was heartbreaking on Davie's end and heartbreaking for Imogen as well.
Do you think Imogen's arc would have changed if her mom had been alive?
The only thing that would've been different is she would've been able to confront her mom in person. But that strips away the pain and the isolation Imogen was dealing with when we meet her. She's holding on to this literal physical weight of pain and trauma, and the only person who was by her side, who still didn't know the full truth, left her. If her mom was there, would she have been too quick to believe her mom? Would she have searched for justice the way she did? We've learned that our moms have a lot to learn, and they're very, very flawed. There's a lot they need to redeem themselves for.
I want to talk about Pretty Little Liars and the notorious twin-switch plotline. This show keeps that tradition alive with Kelly and Karen. Did you think Kelly was actually Karen after Karen was murdered, or was that too obvious?
It was too obvious. A big part of the show is honoring the tropes but trying to flip them on their head. I also think Kelly is such an interesting person because there is a Karen inside of her. She desperately wants to be seen and has never been seen. That sets up so many possibilities moving forward rather than having Karen there. But I'm also like, watch us be four seasons down the road and be like, I knew it! It is Karen!
Were there plot twists you didn't see coming?
So many. We weren't told anything about the season until we got the scripts, so we were discovering the story in real time. The finale blew all of us away, especially the way they tied in the moms and what they did to Angela.
Obviously, there's A — did you guess correctly who it was? 
I did. I had a gut instinct. I think around episode eight, I had this moment, and I looked at Robert Stanton, who plays Principal Clanton, like, "You're A." And he was like, "No, I'm not." And I was like, "You are." And he goes, "I mean, that'd be a big role for me." It was so sweet. He was like, This would be really exciting. I had no clue who the masked Creeper was. I still didn't know even with all the hints.
How long did it take you to nail the Scream Queens scream? 
I don't know if it's a Scream Queens scream!
I think so! I was scared … 
I think there's different levels. I love the scream when she sees her mom in the dream sequence. It's this very slow, guttural, overly dramatic, pain-chilling horror nod of a scream where the jaw is very slowly opening. And then the scream at the finale when she's attacking A is her equivalent of, I have nothing left in me to give. This scream is gonna propel me to go and release everything onto you. I love screaming.
You mentioned watching the original show. Was there a pressure to imitate those "liars"? 
I don't think so. Obviously there was a pressure to please the OG fans. I am an OG fan. They are so iconic, and because of that show, we're able to carry on the PLL name in this new universe. If anything, the pressure was to try to remove all of that, respect the original, and then move forward with these characters.
How did you approach handling the violence and trauma that not only your character and Tabby experience but also that you learn Angela Waters went through?
It was thankfully something I can't relate to, and I don't have anyone in my life that had to go through that. It was very, very clear that I had to listen and make sure it was handled with delicacy, knowing that someone might watch it and it's going to strike a nerve and bring up a memory or thought. We had so many beautiful women on set, many conversations with Lisa Soper, our director, and our first AD.
There were a lot of safe spaces and check-ins — we were very mindful that whenever we were filming a scene like that, our crew members had the option to not work for that moment or for that scene, and if they wanted to step away, they could. When those scenes came up, it was bigger than just filming and completing a scene that day. We were dealing with something that really mattered.
The scene in which Imogen and Tabby confront Chip is one of the climaxes of the finale. What was it like to film that?
It was exhausting, to be honest. My back gave out during that scene. I was in extreme rib pain because the pregnancy stomach messed up my ribs. It was so funny. I'd done all the stunts by then, and I literally went like that — this little motion — and my whole back ached. I couldn't walk. I was pretending I could walk the whole time filming.
But that scene meant a lot. I was having this moment of being really pissed at Chip. I was genuinely really mad about it, and I got on the phone with Roberto and Lindsay and was like, "I wanna make sure people don't forget that, on top of everything he did, he got closer to Imogen and the baby." The only source of trust she has given another guy in her life since her mom was taken away happens to be the same person that took her mom from her. That is sick and twisted. A lot of what Imogen says to Chip when she's walking toward him was created after the call we had together.
Out of all the girls, Imogen has the most face-to-face — and almost intimate — encounters with the masked A, whom we learn is Angela Waters's secret brother, Archie. Was there a favorite one you had? The dream sequence in the cemetery was terrifying for me.
It's such a disturbing episode for Imogen — a lot of dream sequences, a lot of horror flashes that still feel grounded and real — but the cemetery was so much fun to film. We filmed in the middle of the night, pouring-down rain, like 20 degrees, and everyone was in their puffer jackets. I was in the dress soaking wet, but I live for that stuff. That makes me so happy.
In the Orpheum scene after confronting Chip, did you feel that Archie showed a bit of compassion? Or was it more, This isn't Imogen's time to die yet? 
Both. Archie is always there with the girls, but he is clearly toying with them and trying to get in their heads. In that moment, Imogen plays a mind game and knows quickly to do so. When Archie decides to leave, I think he's like, Well, I like to kill the bad ones anyway. So I'll go get this one for fun, and I'll see you two in a minute. I don't think Archie's too concerned about leaving us there. I think Archie knows the plan is coming. He is also listening to orders from someone. He might act compulsively at times, but he knows not to touch them until he's supposed to.
In regards to Archie, do you think we'll ever find out what happened to the janitor in episode one? 
I don't, actually. It's Millwood. People unfortunately disappear all the time.
I want to also ask you about the Rosewood-Riverdale-Millwood multiverse crossover. Did you expect that going into filming? 
I know Roberto just talked about this in an interview, and obviously social media went into an uproar. I wasn't surprised because I know our show isn't going where Riverdale is. Roberto made it very clear the other day, so I can say it, too: There are no plans for a Riverdale crossover. It's really fun as creators to get to nod to something you work on and you're passionate about. We're not gonna go to Riverdale, but for any fans, and out of respect for something Roberto's worked so hard on for so long and is entering its final season, it was just fun.
So is Chip dead?
I don't think so. I don't know why I don't think so, but I don't think so. Or if he is dead, it's going to set the girls up for something. I don't think it's gonna be as great as like, Okay, A killed Chip, and it's Tyler again. It has to mean something more if that's gonna happen. Watch Chip team up with him. Anything could happen.
Last question: How many times do you think Imogen says the name "Angela Waters" this season?
I wanted to do a drinking game when the show came out. People would be so drunk ten minutes in with how many times I say "Angela Waters."
This interview has been edited and condensed for clarity.