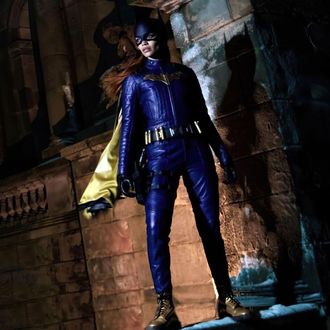 So picture this, but live action, and tens of millions of dollars.
Photo: DC Entertainment/Warner Bros./Album/Alamy Stock Photo
In "lighting almost $100 million on fire" (no, this isn't about crypto): Warner Bros. is treating its Batgirl movie like a rabid flying rodent and exterminating the poor creature. The Wrap reports that the studio will be shelving the nearly completed project. The DC Comics adaptation was originally originally conceived and produced as an HBO Max release, was later being considered for a theatrical rollout, and will now have neither. Batgirl began production long before Warner Bros. merged into Warner Bros. Discovery in April 2022. According to The Wrap, the new management wants to gear its focus toward "big theatrical event films" rather than smaller stories. Insiders suspect that Discovery Warner higher-ups are seeking a tax write-down from shelving the film, as well as some of the other moves they've made since the merger.
Although the movie was announced with a $70 million budget, reports say that COVID shutdowns caused the budget to inflate to over $90 million, which we guess counts as a "smaller" story in this era of superhero entertainment. The movie was meant to star In the Heights breakout Leslie Grace, and DC even released first-look images of her in the Batsuit back in October 2021, complete with a throwback utility belt and Barbara Gordon's signature red hair. Batgirl had some heavies filling out the ensemble, with Michael Keaton returning to his Batman role, J.K. Simmons playing Commissioner Gordon, and Brendan Fraser as the villain, Firefly. It was directed by Ms. Marvel's Adil El Arbi and Bilall Fallah.
Warner Bros. also canceled the release of the upcoming Scoob! spin-off film, Scoob!: Holiday Haunt. "Why cancel a 95% finished holiday movie this close to Fall, when you are guaranteed kids watching it from right after Halloween until at least New Year's?" asked co-writer of the film, Paul Dini, on Twitter. "Makes no business sense esp. as both kids & parents dug the WIP screening."
Batgirl directors Adil El Arbi and Bilall Fallah released a joint statement on Instagram responding to the film's cancellation. "We are saddened and shocked by the news," said the directors. "As huge fans of Batman since we were little kids, it was a privilege and an honor to have been a part of the DCEU, even if it was for a brief moment. Batgirl for Life." Leslie Grace also posted to Instagram, giving big "don't cry that it's ending, smile that it happened at all" energy. "I am proud of the love, hard work and intention all of our incredible cast and tireless crew put into this film over 7 months in Scotland," she wrote in part. "I feel blessed to have worked among absolute greats and forged relationships for a lifetime in the process!"
Six Warner Bros.–produced HBO Max original films were also pulled from streaming on HBO Max, including the Anne Hathaway–starring The Witches, amid speculation in the industry. Ankler reports the decisions stem from the new strategy under David Zaslav, who took over from Jason Kilar and Ann Sarnoff in the spring, while Variety suggests the company could be looking to take advantage of a tax write-down. However, that would mean Batgirl, Scoob 2, and other canceled films won't be able to be sold to another distributor. So you can ask "Scooby-Dooby-Doo, where are you?" all you want, but no amount of Scooby Snacks are worth more than cold, hard cash.
News of Batgirl's costly shelving comes days after a Bloomberg report about how Warner Bros. Discovery's new president and CEO David Zaslav has mostly been appointing white men to top positions at the congloma-studio. It also comes on the heels of Nasim Pedrad's Chad being shelved on the day it was supposed to premiere, as well as the cancellation of Full Frontal with Samantha Bee. It looks like Batgirl's greatest nemesis of all … was corporate mergers.
This post has been updated throughout.