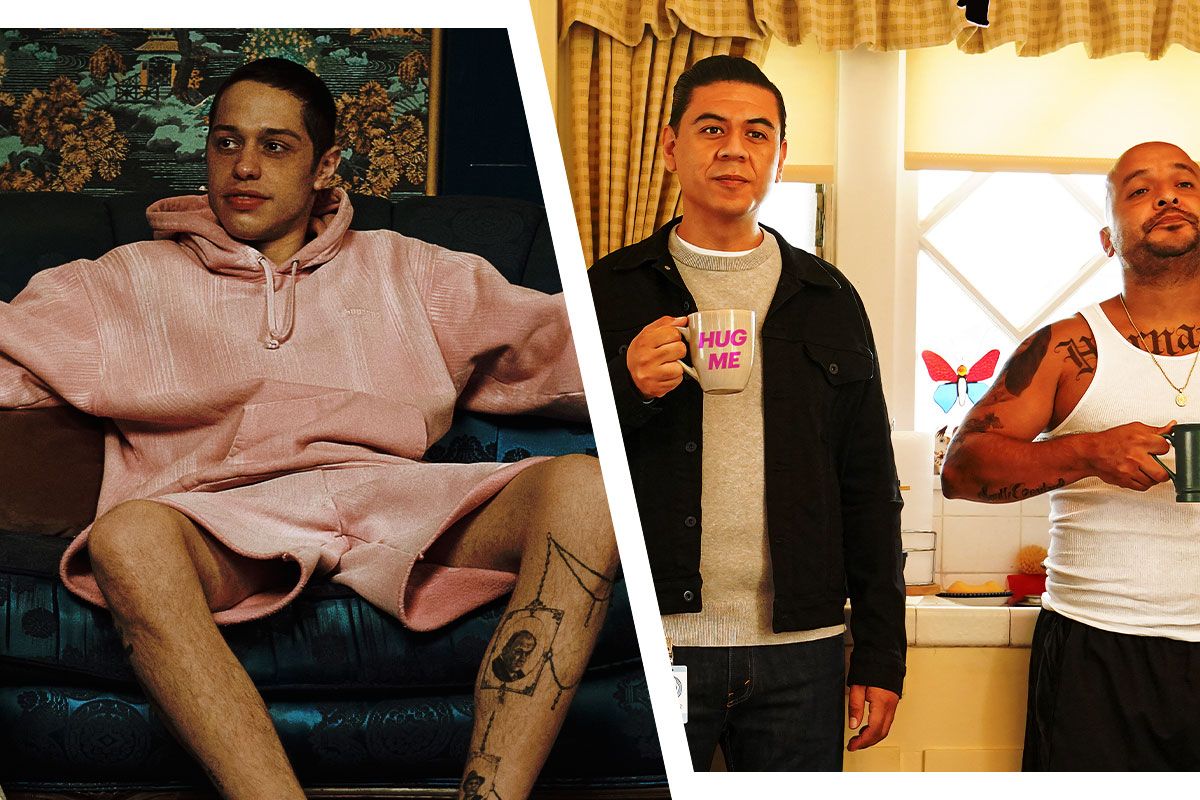 Photo-Illustration: Vulture; Photos Courtesy of A24 and Hulu
Leo season has blessed us with many things — Beyoncé's new album, for one — but thanks to the arrival of director Halina Reijn's viciously cool Bodies Bodies Bodies, we've got our Leo anthem, "Hot Girls," by Charli XCX, which, as I say below, really nails the whole vibe of that movie. But along with Reijn's new movie expanding its release nationwide, we've got a pick honoring the late Olivia Newton-John, a pick that'll make you bust a gut with some fools, and a pick to heal your inner (or actual) child. Here are our recommendations:
Bodies Bodies Bodies
The latest from A24 is a little hard to describe. A whodunnit? Sure. A slasher? Kinda. But really, Bodies Bodies Bodies is a slightly twisted dark comedy about a group of sharp-tongued rich kids (and Lee Pace) who gather together for a hurricane weekend. Rachel Sennott is a riot, Amandla Stenberg is unpredictable, and Pete Davidson is fun as a wealthy asshole. My best litmus test for this movie is Charli XCX's song, made for the movie, "Hot Girls." If you love the song, you'll have a blast with Bodies Bodies Bodies. And if you go, definitely take your friends.
Grease
Olivia Newton-John's passing this week felt like a gut punch. She's an absolute star known for many accomplishments, yet one of the most notable films in her portfolio was a movie that needs no introduction: Grease. It's not as quirky as Xanadu or her Glee cameo performing "Physical" with Jane Lynch, but the story of two teenagers from the '50s is a damn fine piece of pop-culture history. "Hopelessly Devoted to You" is and will always be wonderful.
This Fool
I blew through This Fool, and let me tell you, it was the hardest I laughed while watching a TV show in a long time. Created by comedian Chris Estrada, and loosely based on his own life, This Fool follows Julio Lopez (Estrada) as he helps his cousin Luis (Frankie Quinones) re-acclimate to life outside of prison through their nonprofit Hugs Not Thugs. The highlight? Episode two, "Putazos," in which Luis tries to reassemble his crew to fight his longtime foe, only to realize — in hilarious fashion — that he and his friends aren't the young guys on the block no more. Anyway, This Fool is a blast.
A League of Their Own
Penny Marshall's beloved 1992 film is getting a television retelling led by Abbi Jacobson and D'Arcy Carden, so naturally I'm in. Intertwined with Jacobson's character Carson's story of joining the Rockford Peaches and flirting with Carden's Greta is Chanté Adams as Max, a Black baseball player desperately trying to get into a league. A League of Their Own promises to be queerer and more diverse, and while the premise sets itself up for that, I'll be interested to see how well the series can pull that off.
Never Have I Ever Season 3
Season three of Never Have I Ever has hit such a great groove. Devi (Maitreyi Ramakrishnan) remains extremely messy and complicated, though this time with Paxton (Darren Barnet) by her side and a more relaxed look ("Oh my God. That's why popular people age better.") But this is teen television, baby, so while team Paxton may be hyped heading into the new season, there's still more drama coming, even a new possible contender for Devi's heart, Des (Anirudh Pisharody). And I guess there's Ben. Although while y'all are busy dissecting the Devi love triangle, I will gladly be wherever Trent and Eleanor are.
The Princess
The Princess Diana content keeps coming, and as much as I hate to admit it, I'll keep eating it up. The latest comes from HBO in the form of a documentary exploring Diana's life from her engagement to Charles up until her death in 1997 through archival audio and video footage. I doubt The Princess will reveal anything new about her much-documented royal life, but as we know, Diana is an intriguing enough subject to keep you interested.
Bluey Season 3
I may not be the demo for Bluey, but real recognizes real as our own TV critic Kathryn VanArendonk named Bluey the "best kids' show of our time." With season three hitting Disney+ this week, I took some time to watch an episode (each one is usually only eight minutes) about Bluey and her sister, Bingo, moving into their new bedrooms, and reader, it's eyes-watering-level cute. From the music to the family's sweet and kind interactions and soft Australian accents, Bluely is just pure bliss and comfort.
Also! Read our streaming recommendations from the weekend of August 5. Vulture's next list of weekend streaming picks goes online on Friday, August 19.