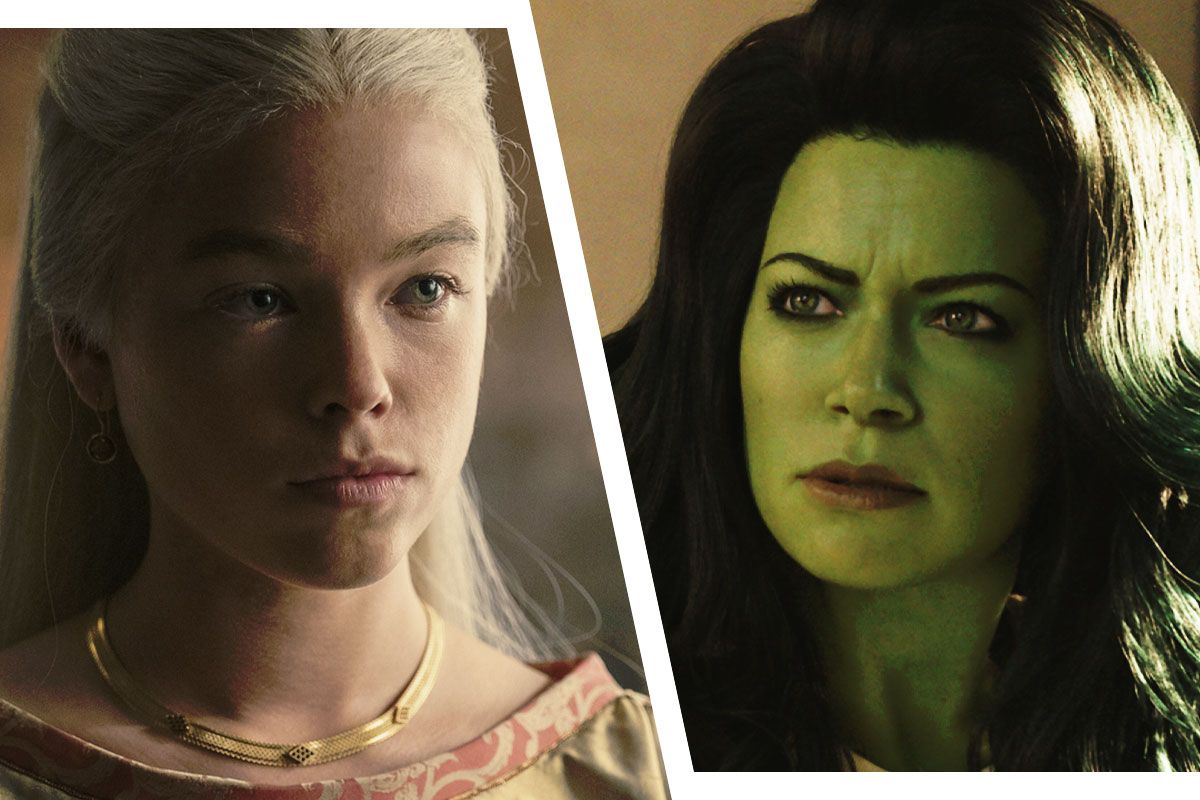 House of the Dragon
;
She-Hulk
.
Photo-Illustration: Vulture; Photos by HBO Max and Disney+
This week is just the start of a deluge of huge IP hitting television screens. Not like the MCU has left us for long, but the massive franchise is back with another Disney+ show, She-Hulk, while HBO is premiering its first Game of Thrones spin-off series about Daenerys's ancestors. (And this is all before we take a trip back to Middle-earth and a galaxy far, far away next month.) Till then, enjoy!
Orphan: First Kill
Remember Orphan? The scary movie with a semi-hilarious, unsettling twist. Well, Isabelle Fuhrman is back as Esther, the titular (adult) killer who poses as a young child. Orphan: First Kill revisits Esther's first murderous encounter, only alluded to in the 2009 film, as she acts as a wealthy family's missing daughter. I'm sure it'll make for a great movie night.
House of the Dragon
Will House of the Dragon give me the same giddy feeling I had when I binged five seasons of Game of Thrones in college? Well, this Sunday's one episode may not do the trick, but HBO is sure hoping its new GOT prequel on the chaotic Targaryens will elicit the same awe and obsession as its predecessor.
She-Hulk: Attorney at Law
You know what, She-Hulk is fun! It's also the first MCU/Disney+ project in a while to actually feel like television — okay, low bar, I know. Released weekly with nine 30-minute episodes, essentially tackling the case of the week in the four episodes I've seen, She-Hulk tells the origin story of Jennifer Walters, Bruce Banner's cousin, as she navigates her career as an attorney with her newfound superpowers. Tatiana Maslany crushes (smashes?) it as Jen, even when her She-Hulk form doesn't serve her quite as well. There are also fun cameos from Benedict Wong, Mark Ruffalo, Tim Roth, and — yup, eventually — Charlie Cox himself.
Pretty Little Liars: Original Sin
If I'm being honest, before Original Sin came out, I was ready to cast it aside. It didn't quite look like the Pretty Little Liars of old, and tonally, it seemed creepier and more terrifying than the teen melodrama I wanted, but as soon as I flipped the new series on, I was completely obsessed. It's a whole lot of fun. Original Sin is like if you mixed Pretty Little Liars with MTV's Scream series and added a dash of The Chilling Adventures of Sabrina. Set miles away from Rosewood, this new generation of teen liars is haunted by a mysterious bogeyman-esque figure named A. The whole first season is out now, and trust me, you're in for a fun binge.
Also! Read our streaming recommendations from the weekend of August 12. Vulture's next list of weekend streaming picks goes online on Friday, August 26.