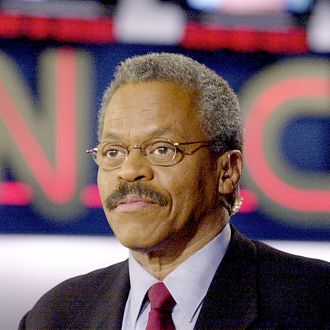 Bernard Shaw.
Photo: Erik S. Lesser/Liaison/Getty Images
Bernard Shaw, a CNN top anchor for over two decades, is dead at age 82. CNN Communications confirmed his death on Twitter. "Bernie was a CNN original and was our Washington Anchor when we launched on June 1st, 1980," said Chris Lichtman, CNN chairman and CEO, in a statement. "He was our lead anchor for the next 20 years from anchoring coverage of presidential elections to his iconic coverage of the First Gulf War live from Baghdad in 1991. Even after he left CNN, Bernie remained a close member of our CNN family providing our viewers with context about historic events as recently as last year. The condolences of all of us at CNN go out to his wife Linda and his children." He died of pneumonia, according to Variety. Along with his wife, Linda Allston, Shaw is survived by two children, Amar Edgar and Anil Louise, according to CNN.
When the network began airing on June 1, 1980, Shaw was its first chief anchor. In 1981, he led CNN to an early major triumph: It was the first news network to report the assassination attempt on President Ronald Reagan. Shaw helmed general reporting on the story, making CNN a leader of the 24-hour news cycle for the rest of the century.
One of the most notable moments of Shaw's early life as a reporter occurred while he was in the Marine Corps and his idol Walter Cronkite came to a hotel in Waikiki near where Shaw was stationed in Hawaii. "I called the hotel 34 times," Shaw later recalled to NPR, saying he talked to Kronkite for 40 minutes. "It was a very uplifting and a very inspiring conversation." Shaw went on to win the Walter Cronkite Award for Excellence in Journalism in 1994.