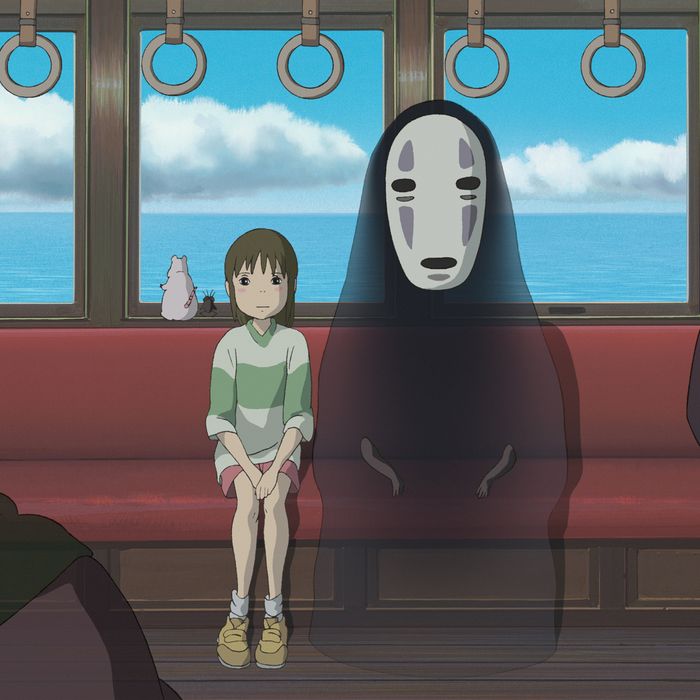 Spirited Away
.
Photo: Studio Ghibli
This article is updated frequently as titles leave and enter HBO Max. *New additions are indicated with an asterisk.
Is this one of those nights when the whole family wants to watch a movie together? Or maybe you want something to distract the littles one tonight? The deep HBO Max catalog that can draw on classic cinema and years of Warner Bros. history allows its family section to be one of the richest out there too, offering a little something for everybody in just the 20 movies below. We will keep this list constantly updated, so come back often for new recommendations for the whole family on HBO Max.
A Christmas Story
Year: 1983
Runtime: 1 hour, 34 minutes
Director: Bob Clark
It doesn't have to be Christmas time to enjoy one of the most beloved holiday films in history. Bob Clark directed a slice of nostalgia that didn't make much of an impact when it was released but has become a massive hit in the eras of VHS and seasonal cable showings that turned it into an all-time favorite. Peter Billingsley, Melinda Dillon, and Darren McGavin star in this sweet and hysterical story of an average American family around Christmas time.
*Elf
Year: 2003
Runtime: 1hr 36m
Directors: Jon Favreau
It doesn't have to be the holidays to watch one of Will Ferrell's most joyous and lovable movies either. Before Iron Man, Jon Favreau directed a glorious fable about a human raised by Santa's elves and the trouble he gets into on a trip to New York City to find his biological father. It works any time of the year.
*Free Willy 2
Year: 1995
Runtime: 1h 37m
Director: Dwight Little
What an odd box office phenomenon that Free Willy turned out to be in the early and mid-'90s, spawning two sequels in 1995 and 1997, both of which are on HBO Max. Oddly enough, the whale rescue movie that started it all isn't on HBO Max as of this writing, so consider the sequel a placeholder until the original, and still-best, returns.
Year: 1985
Runtime: 1hr 54m
Director: Richard Donner
Richard Donner's adventure film became one of the most beloved original properties of the decade with its family fun mixed with legitimate scares. The story of a group of kids who try to save their homes from foreclosure and discover an old treasure map in the process blends humor and action in a way that doesn't really happen in family movies anymore. It's held up wonderfully.
*Happy Feet
Year: 2006
Runtime: 1h 48m
Director: George Miller
George Miller would have a place in movie history if he only made the Mad Max movies, but he also directed two pairs of family classics in the Babe movies and the Happy Feet movies, tales of a penguin who needs to learn his heartsong. The winner of the Oscar for Best Animated Film, this is a joyous musical, and the sequel is arguably just as good. Note: the second film is also on HBO Max.
Year: 2011
Runtime: 2hr 6m
Director: Martin Scorsese
Nominated for 11 Oscars (and winning five), Hugo is one of Scorsese's most acclaimed and beloved films, which should further put to rest any of those dumb insinuations that the legendary director only knows how to make mob movies. It's a whimsical, delightful film that you can watch with the entire family, and while it may not be in 3D on HBO Max, you can still enjoy its endless visual glory.
Year: 1999
Runtime: 1h 26m
Director: Brad Bird
Before The Incredibles, Brad Bird made a different kind of superhero movie, a 1999 masterpiece that pays homage to Americana and entertainment from generations before while also remaining timeless. The story of a boy who finds a literal giant robot in the woods has only gained popularity and power in the two decades since it was released.
*Kung Fu Panda
Year: 2008
Runtime: 1h 31m
Director: John Stevenson and Mark Osborne
The movies about Po (Jack Black), the martial arts-loving panda, have a habit of bouncing around the streaming services. As of right now, the only film in this mega-franchise that's on HBO Max is the original 2008 comedy hit, although fans would probably tell you its' the best one anyway. Kung Fu Panda was massive, spawning two sequels, a spin-off TV series, and more. See where it all began.
Year: 2017
Runtime: 1hr 44m
Director: Chris McKay
More than just a child's version of a superhero movie or a spoof of the genre, this family flick is a legitimately clever and well-crafted action film. Will Arnett spins off his version of the Dark Knight that premiered in The LEGO Movie for a film that unpacks the clichés about Bruce Wayne and Batman in a manner that's funny and very smart.
Year: 1994
Runtime: 1hr 58m
Director: Gillian Armstrong
Louisa May Alcott's beloved 19th century novel has been adapted to the screen a few times but Armstrong's is one of the more popular versions, a family film memory for a generation of people who were kids in the '90s. Winona Ryder, Claire Danes, Kirsten Dunst, and Susan Sarandon headline a film that earned the future Stranger Things star her second and last (to date) Oscar nomination.
*The NeverEnding Story
Year: 1984
Runtime: 1hr 34m
Director: Wolfgang Petersen
Why not watch Dustin's favorite movie? Wolfgang Petersen adapted Michael Ende's book with results that impacted an entire generation unwittingly scarred by intense emotion and complex storytelling. Adapting the first half of the book, Petersen's film tells two stories, that of the bullied Bastian in the real world and his counterpart Atreyu in the story that he reads.
Year: 2018
Runtime: 1hr 44m
Director: Paul King
What a charming movie Paddington 2 is for the whole family. Paul King returned to direct the sequel to the 2014 original, a film that actually outpaces its predecessor in both humor and heart. Ben Whishaw returns to voice the marmalade-loving bear in a story that takes Paddington to prison and teaches him lessons about community that feel like they never talk down to children. It truly works for all ages.
Year: 1985
Runtime: 1hr 31m
Director: Tim Burton
Yes, everyone loved Pee-Wee's Playhouse, but it really was the amazing 1985 comedy that made Pee-Wee Herman a beloved icon. Directed by Tim Burton, making his feature debut, it's a clever road trip comedy about a boy trying to get his back bike, but it's also about so much more, including never being afraid to express yourself. It's joyous, hysterical, and has held up perfectly.
Year: 2011
Runtime: 1h 47m
Director: Gore Verbinski
Gore Verbinski directed an incredible animated film, one that later went on to win an Oscar, as it features some of the most inspired visuals in any animated film this decade. Featuring voice work by Johnny Depp, Rango is a chameleon who stumbled into a town called Dirt in this inventive riff on the Western genre that plays equally to children and adults.
Year: 1993
Runtime: 1hr 41m
Director: Agnieszka Holland
There are multiple versions of the 1911 novel by Frances Hodgson Burnett (including one with Colin Firth in 2020) but the one on HBO Max by Agnieszka Holland is arguably the best. It stars Kate Maberly as Mary Lennox, the orphaned girl who goes to live with her rich uncle and discovers that he has a secret garden on his grounds. It's a moving fantasy film that doesn't soft-pedal the real issue of grief for the little ones.
*Spirited Away
Year: 2001
Runtime: 2h 4m
Director: Hayao Miyazaki
Almost all of the Studio Ghibli films are on HBO Max, the now exclusive home to them when it comes to streaming. The truth is that we could devote about 10% of this list to Hayao Miyazaki and his colleagues, but we'll give up some that space and just point you here to the ranking of the entire output of the most important modern animation studio in the world. Start with Spirited Away, My Neighbor Totoro, and Castle in the Sky. You won't stop.
Year: 2005
Runtime: 1hr 17m
Director: Tim Burton and Mike Johnson
The beloved director returned to stop-motion storytelling with his hit 2005 film co-directed by Mike Johnson but unmistakably a Tim Burton creation. It's a wonderful slice of dark comedy featuring voice work by Johnny Depp and Helena Bonham Carter in the story of a love triangle between a man, a woman, and a ghost. Like all of Burton's animated work, it couldn't have been made by anyone else.
Year: 1981
Runtime: 1h 56m
Director: Terry Gilliam
Between his Monty Python era and the production of Brazil, Terry Gilliam got the financing for a fantasy family film that would end up like no other. Casting some of his Python buddies (Michael Palin, John Cleese) and legends like Sean Connery, Ian Holm, David Warner, and many more, Time Bandits is an imaginative fairy tale about a boy who travels through time with a group of rowdy thieves. It's like nothing else.
Year: 1971
Runtime: 1h 39m
Director: Mel Stuart
It was announced in January 2021 that creatives are returning to the well again and telling a story of Willy Wonka's early days before he opened his famous chocolate factory. There's a reason this 1971 musical has stood the test of time for five decades, passed down as a beloved family film from generation to generation. Gene Wilder gives one of the most timeless performances ever. It will work its magic on kids forever.
Year: 1939
Runtime: 1h 41m
Director: Victor Fleming
Maybe you've heard of it? Seriously, what could possibly be written if you're on the fence about The Wizard of Oz? Maybe you haven't seen it since you were a little kid? Revisit the journey of Dorothy over the rainbow if that's the case and appreciate this wonderful fantasy on a new level.
If you subscribe to a service through our links, Vulture may earn an affiliate commission.