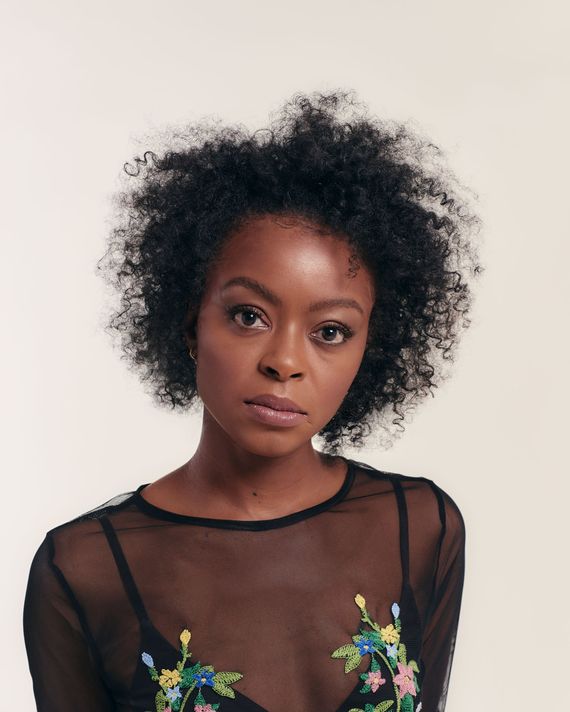 Danielle Deadwyler auditioned for the part of Mamie Till-Mobley in 2021 over Zoom in a closet down the hall from where her 12-year-old son, Ezra, was playing on the computer. Her upcoming film, Till, directed by Chinonye Chukwu, dramatizes the true story of 14-year-old Emmett Till, a Black boy from Chicago who was tortured, murdered, and dumped in a river in Mississippi after offending a white woman in 1955. The audition scene was the one in which Mamie sees her son's corpse alone for the first time. "You might hear some noises," Deadwyler warned Ezra, "but it's going to be okay." ("Yeah, yeah," he replied, unfazed. "Okay, Mom.")
Deadwyler's sister was visiting, and Ezra had to reassure her that his mother's anguished cries were not an emergency. That kind of spillover became normal once filming started in Atlanta, where they live, the material fusing naturally with conversations she and her son were already having about the world. "I'm very, very honest with him," she told me, sitting at a café table on the patio of MetroFresh, a fast-casual restaurant in that city's Midtown neighborhood. "He has been able to witness Buffalo. He's been able to witness Uvalde. He is like, What the fuck is going on?, without saying, 'What the fuck is going on?' " Talking face-to-face with the 40-year-old actress — known for her minor but memorable roles in Atlanta and Watchmen and her devastating lead turn in Station Eleven — can be a dissonant experience. In person, she is small and wiry, with doelike eyes and a quick, full-bodied laugh that punctuates her frequent exclamations. "I have not made nothing!" she said, cackling, when I asked if she felt she'd finally "made it" as an actress. Her exuberance cools on a dime when the topic gets heavy, as it often does onscreen. Her signature characters are plagued by inner turmoil — Deadwyler's first feature role was as a homeless alcoholic mother in the 2012 made-for-TV movie A Cross to Bear — and simmer with unpredictable energy. She uses eye-catching angles and gestures to create memorable images with her body: a wounded sway to signal foreboding, a fluttering eyelid during a moment of psychic agitation. Few movies have consumed her life like Till has, eating at her mother-son dinners and body alike. "There's an impact on your knees," she said. "It's sitting in your back. It's sitting in your shoulders."
Deadwyler's portrayal of Mamie Till-Mobley — a career-making turn, equal parts fragile poise and barely checked rage — owes a lot to her upbringing in Southwest Atlanta. She lived with her parents, an older sister, and two brothers in a 1920s bungalow off what was then Stewart Avenue and is now Metropolitan Parkway. "My sister wrote this play about our community," she said. "It's a simple place. It has drugs, it has prostitution, but nobody's malicious." (Two of Deadwyler's closest friends had sex workers for moms.) She was involved from an early age with Total Dance Theatre, a local institution whose educators — people, like Terrie Axam, I had to Google but whom Deadwyler talks about with a reverence typically reserved for celebrities — she credits for her exacting standards. She formed a commitment to theater in her magnet program at what was then Henry W. Grady High School. (The real Grady, a 19th-century journalist and orator, was an enthusiastic white supremacist, so after the George Floyd protests, the school was renamed Midtown High.) Deadwyler kept acting in plays after enrolling at Spelman College, the storied women's HBCU within walking distance of her childhood home, but still did not consider acting a long-term pursuit. She flirted with an academic career, majoring in history and African American studies, then got a graduate degree at Columbia University in American studies and an M.F.A. in poetry and creative writing at Ashland University in Ohio ("because I like student loans"). Her thesis at Columbia was almost parodically Atlantan: a paper about women who worked at strip clubs, which involved a mix of theory ("a Lacanian approach to understanding identity and mirroring") and ethnography, time spent in clubs conducting interviews. "Any woman who was walking profoundly erect in their sexuality was compelling," Deadwyler said, describing her subjects as women who were "not necessarily on a fucking pedestal" but who chose to " 'pedestalize' themselves."
These traits proved useful, not just for shaping her approach to performance — which she committed to as a job-job in 2008 — but to Till specifically. If there is a common theme among Deadwyler's acting roles, it is women who insist on space for themselves and on setting their own terms for propriety, pushing social boundaries in the process. Famously, and against the wishes of local authorities, Till-Mobley had her son's waterlogged corpse shipped home to Chicago — his head mangled by a gunshot wound, his limbs and torso bloated to elephantine proportions — then insisted it be photographed for publication in the press and displayed in a public viewing, a decision that is credited with galvanizing the civil-rights movement. But more intimately, she demanded to see her son in his state of decay, kicking everyone else out of the room, and left early from the trial of his killers because she already knew the verdict.
That verdict — "not guilty," though Roy Bryant and J. W. Milam confessed the following year — has garnered renewed interest in light of revelations about the woman at the center of the case, Carolyn Donham Bryant. In June, an unserved 1955 warrant for her arrest for helping kidnap Emmett was discovered in the basement of a Leflore County, Mississippi, courthouse. The boy's relatives called for the now-88-year-old to be detained and charged, which a local grand jury declined to do in August. Till is unequivocal in its stance toward Bryant. Most historical accounts of what happened between her and Emmett inside the convenience store where she claimed he violently assaulted her are vague on details. But in the movie, Emmett gives her an innocent compliment, then whistles at her when she storms out after him. The film's sympathies were hardly in doubt to begin with — Keith Beauchamp, who wrote and produced Till, was a mentee of Till-Mobley's, and the crew put on custom T-shirts the day it filmed the morgue scene out of respect. Deadwyler reiterated its stance anyway: "What the family is desirous of, which is a specific justice, is what should be yielded for them."
When Deadwyler resettled in Atlanta 12 years ago to be closer to family while raising her son, after stints in New York and Vancouver, it was with the modest belief that her hometown's creative scene had "a rugged, DIY quality" that would make its institutions more "penetrable" for someone like her. In a later conversation, she brought a list of terms to describe what distinguishes southern art to her: "old next to new, antiquated next to the modern, sex adjacent to domestic. Urgency, tense in the body but the movement is slow. Crowds, crowds, crowds." Professional stability has not made her any less omnivorous in her creative aspirations. ("You're playing," she said when I asked if there was anything she hadn't tried but wanted to, like woodworking. "But … yeah!") Nor has it changed how she wants her audience to feel when she performs. She puts it like this: "You're riding with somebody down I-75/85 at the Grady Curve and they're doing 100" mph. The music is "something exquisite — of trap origin. You feel the bass in your body; you smell whatever the hell that car smell like. It might smell like air freshener. It might smell like fucking Chinese food." Her goal is for "all the senses to be aroused" — a feeling anyone who has experienced immersive art can relate to, only the audience Deadwyler is talking about is herself. "I want to be surprised. And if I surprise myself, then it'll probably surprise you, too."
Till is in theaters October 14.