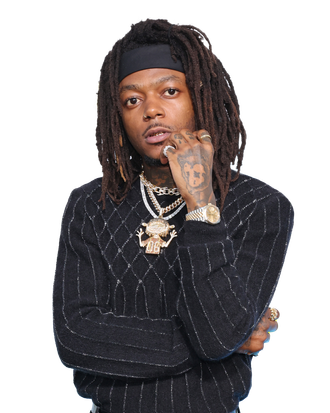 Photo: Cindy Ord/WireImage
For a rapper who's worked with everyone from J. Cole and Denzel Curry to Imagine Dragons and Dua Lipa, it's not surprising to hear that J.I.D's tastes have been all over the place lately. He's been listening to Arctic Monkeys' comeback song "There'd Better Be a Mirrorball," Steve Lacy's hit "Bad Habits," fellow Atlanta rapper Young Nudy's new mixtape EA Monster, and of course, his own music, with the recently released The Forever Story. The admitted perfectionist took breaks from playbacks while working on the album to keep the songs "fresh," but he probably didn't need to. "They're still hitting home for me," J.I.D says. "Some of these songs are two years old and I haven't really got tired of them, or made me feel like it was something wrong that I need to fix."
The Forever Story builds on the 32-year-old Atlantan's 2017 debut The Never Story, with more impressive, dexterous rapping, more features, and most of all, more autobiographical bars. This time, J.I.D focuses on his upbringing, as the youngest of seven siblings. On "Sistanem," the record's six-minute centerpiece, he tries to mend a broken relationship with one of his older sisters, rapping, "I could be on the way soon as I finish this song / So you can see I'm still true in everything that I been doin'." After spending the past several years showcasing the full breadth of his skills — he also has his DiCaprio series going and makes regular appearances on compilations for his label Dreamville — The Forever Story finds him going deeper. As he returned home from performing at the VMAs (where he was nominated for Best Rock with Imagine Dragons for "Enemy"), J.I.D spoke to Vulture about the album and his creative process.
I loved the beginning of your "Surround Sound" performance at the VMAs, when you walked through the song's elements: Here's the Aretha Franklin sample. Here's the Mos Def song. Now here's this song that I built on top of it. Tell me more about the original sample and what drew you to it.
Of course, I'm familiar with the song by Mos Def — well, Yasiin Bey — "Ms. Fat Booty." I always been a fan of him. His soundscapes, everything he rapped over was always iconic in my ears. When I got that beat, I was immediately familiar, even of the Aretha song — like, I've heard that song so many times growing up. So I just felt like I could do it justice with the pocket that the producers made. It felt refreshing to the sounds of how I'm hearing things today. It was just good for the moment for me.
You also got Yasiin Bey later on the album too. How did that come about?
When I first signed in 2017, I dropped an album and I did some freestyles and got some pretty good reception. I guess he heard or caught wind of what I was doing. In an interview he spoke about me pretty highly. So from then on, I was on a mission. [Laughs] Like years, from that moment until a little bit before we really got in contact, I was just on a mission to speak to him and try to pick his brain. Through the process he's been super cool. It was tight having somebody [who's] a unicorn of an artist to be a part of one of my most important bodies of work.
This album has been in the works for a long time. What does it feel like to actually have it out in the world?
I feel a bit open and exposed, but not in a bad way. It was just overcoming fears to get this music, not done, but to get it out. It was hard, in this process, trying to do everything I wanted to do. You can ask my team, my management, the label — this album is one-fourth of the things I was trying to do. It was so many things that I couldn't necessarily accomplish, just because I maybe was trying to reach for too high of a sample or something. I was going as hard as I can with it.
How do you know when to let go of it and be like, "All right, we're going to stop trying for that sample, we've just got to release this thing"?
I hate that; I hate not trying to go the length for the music. It's all about trying to push everything forward. That's where I live at. I'm always trying to make sure what I'm doing feels fresh to me. Also the name alone, "Forever" — it's so many artists that have said that word. I tried to tap in to use it in different ways.
The songs in the middle of the album dig into some difficult territory. How did you know that you even wanted to go there on a song like "Sistanem"?
The song was kind of beating me up for a minute. Just trying to figure out how to go about it in the most real but not disrespectful [way]. But at the same time it has to be real. It was a fine line that I was teetering.
It felt like growth too, just me opening up a little bit more. I know a lot of my music can be like — well, it's intentional, the way I even came into letting people know I can rap. So that was me from, I guess, 2017 to about 2019. Just me trying to show that, "Hey, look at this. Look at these skill sets. Look at this technical ability. Look at the wordplay." But 2020 gave me a chance to sit back and analyze everything I've been through and what I was going through at the time. Then just try to be intentional in my attempts for what I'm saying. I don't even think the direct person that "Sistanem" is about has even heard that. But I know it correlates to a lot of people's situations in their life, having rough family situations or whatever comes with that. The way I ended it was very abrupt, because it's an ongoing thing. It wasn't a resolve to the issue.
It's real.
Yeah, that's the way I am with that right now. The dial tone, the echo saying, "That's fucked up" — that's what I was saying in the background. That's how I feel to this day.
You were saying it took you a bit to figure out how to say it. How does it feel then, once you're in the studio and you finally get it out?
Well, me personally, I still have a little pushback about literally everything. I'm such a stickler of how things are said. It's a bunch of different versions of this that I did, and I'm not a hundred percent sure when I figured out the one was the one. But when I did, it came with a lot of chiseling out what exactly I wanted to be said. It was a weird process. I wrote the song in, it's going to be weird, but maybe 30 minutes, then three months. You know what I'm saying?
Let's talk about something new on this album, which was hearing you sing. What made you want to do that?
I always could hold a tone. I just wanted to dive deeper into it. A lot of the work I've done, it's a lot of melodic elements. Specifically "Kody Blu," I was just pressing the button and trying to take it as far as I can, pushing my vocals. I was around some of my homegirls who could sing, some of the homies who got the vocals, and trying to bounce off of them.
It's funny, you know the yodel boy who was singing in the Walmart?
Yeah.
If you hear, at the end of, "I hope a change is coming," I tried to do a little yodel thing at the end. Just pulling inspiration from everywhere. I think I did it right too.
This project has significantly more features than your past albums. Who were you really excited about, once you got the call that they were going to be a part of it?
James Blake was a big part of it. Thundercat being a part of it, super huge for me. Those two guys, just because I have a relationship with them. I've been a fan before I was even any type of name or in this position.
I know James Blake has done work in hip-hop, but it's still a bit of a surprise since it's not his background. Can you tell me more about what you wanted to get out of working with him, and working with Thundercat?
Me and James tapped in around 2020, when everything was going on with the world. We were just breaking down the different emotions that was going on, between different communities and cultures and everything. We really was getting deep into it. Along the way we was just making music and building through that process. Thundercat was a part of DiCaprio 2. He played on the late night show that I did and we dedicated to Mac Miller, because we were all supposed to go on tour together: me, him, and Mac. So me and Thundercat had a rapport immediately. I was just hoping to pull the best music out of the whole situation. The relationships is priceless that formed around making the music — being able to create and then have real conversations, real human experiences with each other.
You've guested on a lot of different types of songs in the last year or two: Imagine Dragons' "Enemy," "Not My Problem" with Dua Lipa, "Options" with Doja Cat. What makes you want to jump on a song for a feature?
It depends on the artist. Knowing I can stand beside them morally. I try to make sure it's somebody I can really respect. If you got that, it's pretty much over with me. I just want to work with good people and in return share these great experiences. It doesn't matter if you're the biggest artist or the smallest — if you're amazing and you're just a good person, I'm down. The business is going to be the business at the end of the day, but it's got to be something genuine and real.
The Imagine Dragons song and the Dua Lipa song are more out of your wheelhouse, but then your verse still really sounds like you. How do you think through rapping for a song like that?
Even the music I listen to is pretty genreless. I really find it and go for it though. That's my thing. I think I'm pretty fluid in finding a pocket where I could do what I'm best at. I think it's just because I like a lot of different stuff, and if you give me the right sound or the right pocket, I can add a melody or some type of rap or hip-hop thing, or whatever needs to be done. That's been something that I've been proud about and been able to stand on.
This interview has been edited and condensed for clarity.