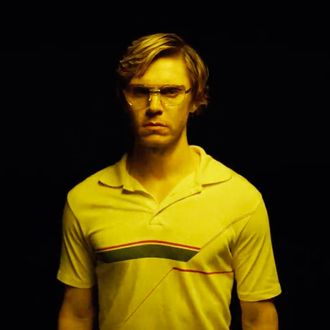 Photo: Courtesy of @netflix via Twitter
Reading the title for the upcoming Ryan Murphy Netflix series DAHMER — Monster: The Jeffrey Dahmer Story feels like playing that "What's wrong with this picture?" game. If you were to play along, you would start by circling the LAST NAME that is in all caps for no discernible reason. You would also circle the clunky ordering of the full title: It starts with LAST NAME, followed by a descriptor word, followed by the "full name," and ending with the word "story." (This is Ryan Murphy, after all.) You would then circle the overpunctuation, including both an em-dash and a colon, a privilege reserved for Legally Blonde: The Musical — The Search for the Next Elle Woods. The bad title is associated with the upcoming Murphy series about the serial killer Jeffrey Dahmer. The series stars Evan Peters as Dahmer, a man who killed 17 people, largely young gay men of color, between 1978 and when he was caught in 1991.
In Netflix's first trailer, Peters as Dahmer is shown with multiple victims, looking incredibly eerie. Luckily, Niecy Nash as Dahmer's neighbor Glenda Cleveland is on the case — despite the police being completely oblivious. It will be "a series that exposes these unconscionable crimes, centered around the underserved victims and their communities impacted by the systemic racism and institutional failures of the police that allowed one of America's most notorious serial killers to continue his murderous spree in plain sight for over a decade," according to Tudum.
The second trailer goes even harder on the "law enforcement bungled this case" thing, showing the police letting Dahmer off, a judge setting him free, and the police returning a victim to Dahmer after an escape attempt. Molly Ringwald, Richard Jenkins, Michael Learned, and Penelope Ann Miller will also star in the series. DAHMER — Monster: The Jeffrey Dahmer Story is premiering September 21, 2022. Until then, Peters has big serial-killer shoes to fill following Disney baddie turned sex symbol Ross Lynch's performance as Dahmer in the much-better-titled My Friend Dahmer.
This post has been updated with additional information.