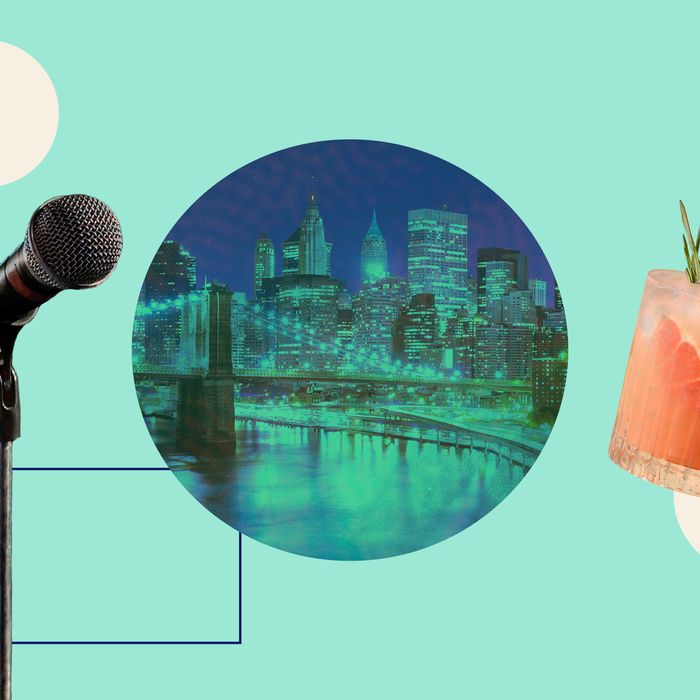 Pre-pandemic, it seemed like the New York stand-up scene had it all. Club regulars were becoming household names, making appearances at big-name comedy festivals, and regularly getting half-hour specials — the traditional way of breaking into the big bucks. (Big bucks being a relative term, in an industry that isn't always lucrative.) Big-name drop-ins at clubs made headlines, while streaming services competed to see who could out-discover new talent from the Big Apple.
Then, of course, it disappeared overnight. Unlike previous stand-up busts, like the early '90's period where stand-up was suddenly branded as corny, 2020 actually shut down the scene for a good reason. Comedy retreated to Zoom, TikTok, and Twitter, and when live shows finally returned, they were confined to rooftops and backyards. Now, however, stand-up is back in a big way, and the scene finally feels ready.
According to the up-and-coming comics I talked to, the things that made New York special for stand-up comics never went away. "The best comedians in the world are all working in one place," says Maddy Smith, a regular on MTV's Wild'n Out. "You can be on stage with legends and also people who are about to blow up, and the amount of stage time you get makes everyone good." Gianmarco Soresi, a club regular around the city, called in from LA (ironically) and compared the two: "I'm doing everything I can here to get a few spots a night and it's still not the same."
In New York, the commitment to pure stand-up sets comics apart. "In LA, you have people writing, doing movie deals. In New York it's just about stand-up," said Soresi. He compares it to theater actors and movie stars: "You have a lot of great movie actors, but some of them are just hot. In theater, you actually have to be good."
There's also been a shift in how audiences react to live comedy. Both Smith and Soresi talked about audiences "learning" how to be back at live shows, and how it wasn't the same for a while. Martin Urbano, a comic and writer for The Tonight Show, said that at first, audiences seemed more eager to hear dark jokes. Once the trauma of the pandemic had died down, however, he had to choose his material more carefully. Heckling, at least in New York, seems to have disappeared entirely. "Audiences haven't been acting up as much because they know we all took live shows for granted," jokes Smith. "We all 'respect the arts' now."
Comics and audiences alike seem to be ready to move past the doom-and-gloom phase of the pandemic, and it's giving shows an even better energy than before. Michael Rowland, a regular at the Cellar, gave this sage advice: "Winding down the Covid material is probably a good move."
Rowland, like the others I talked to, seemed optimistic about the culture shift in comedy. Gone are the days of  "civil war" thinking that dominated comedy coverage pre-pandemic, which focused on the divide between liberal Brooklyn alt rooms and more conservative Manhattan clubs. "At the end of the day, when people are like 'those hipsters in Brooklyn don't understand me' — it's the same people, they happen to go to the Whole Foods in Brooklyn instead of Chelsea," says Smith. Urbano had an even more zen approach: "If I do well, it's a good room. If I bomb, they're too sensitive. No matter where it is. I would never take a stand on anything." Everyone seemed to agree that the old divisions within stand-up circles were starting to fade.
Clubs both new and old have reopened, and they're picking up new fans. Over the course of interviews I heard shoutouts to BKLYN Comedy Club, Union Hall, Asylum Theater, and more. Even the "less respected" NYC clubs were praised by Soresi: "There are clubs where people are barked in off the street in Times Square and [the audience is] international, they might not even know what a comedy club is. But those rooms make you better too – it's the closest thing to working the road in the city."
Also gone are the days where comics felt an (unfair) competition with online-centric comedy. Smith and Soresi both speculated that TikTok humor was reaching a saturation point, something that live comedy was insulated from. "The algorithm's end goal is never to make good art," said Soresi. Live shows, on the other hand, presented an opportunity for connection that had been missing.
Whether New York stand-up is poised to "boom" again is now up to audiences, but the stand-ups are definitely ready for a new golden age. "There are killers out here, man," says Rowland. "And half of them, I'm scared of how good they are."
This advertising content was produced in collaboration between Vox Creative and our sponsor, without involvement from Vox Media editorial staff.