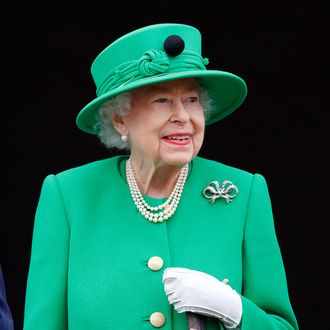 Queen Elizabeth II
Photo: Max Mumby/Indigo/Getty Images
Queen Elizabeth II died at the age of 96 on September 8, PopCrave confirmed, leaving behind a legacy of many corgis. After days of tweeting about another member of British royalty (One Direction's Harry Styles), the internet turned its attention to the Firm and began to mourn the death of the woman Claire Foy once won an Emmy for portraying. As "hundreds" gathered at Buckingham Palace, those with internet access gathered somewhere much more meaningful: on Twitter, where truly no one had any idea how to act. "Everyone" at Domino's U.K. shared their "thoughts and condolences," Legoland Windsor honored the late queen by turning her into a Lego, and Paris Hilton honored her as the "original girl boss."
It was as funny as it was weird and chaotic to see brands and social-media accounts take the queen's "peaceful," very expected death and turn it into content, especially when the queen's own social-media team couldn't even get it right. (The royal family's Twitter account screwed up a tweet with its official statement on the monarch's death — it originally said, "A statement from His Majesty His King" but was swiftly deleted and replaced by "His Majesty The King.") American brands showed their respect in more grandiose ways: The NFL announced it would honor the queen before the season kickoff (for whom and why?), and the Empire State Building chose to portray its grief by possibly getting asexual. Donuts, fictional bears, British Peloton classes, and others around the world are sad. The rest of the internet, however, has jokes, adding to what Slade Sohmer, the editor-in-chief of the Recount, called a day of "iron chef twitter, where everyone gets the same ingredient and has to make something out of it." Below, a categorized roundup of reactions to Queen Elizabeth II's death from celebrities, shit-posters, and real companies alike.
Social-media managers hit send.
Ironic truths.
Celebrities inserting themselves.
Memes that ask, "Too soon?"