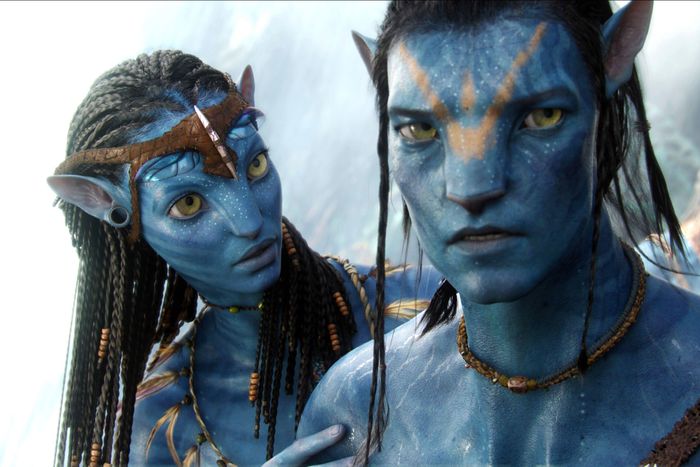 "It's expensive to be me." — James Cameron
Photo: AJ Pics/Alamy Stock Photo
In 2009, James Cameron made film history and reminded the world of what a little weirdo he is when he released his passion project, an original concept (well, "original" if you didn't have Pocahontas or FernGully on VHS) called Avatar. The sci-fi blockbuster pioneered technological innovations in motion capture, rendered CG environments in synchronicity with human performances, and spawned a wave of studios releasing their tentpoles in RealD 3D. It cost $237 million to make, was nominated for Best Picture, and remains the highest-grossing movie globally of all time, earning more than any single film from the Star Wars, Lord of the Rings, and Marvel franchises (although Avengers: Endgame has it beat domestically). It was a behemoth. Everyone saw it. I saw it. You saw it. But can you quote a single line? Do you remember the villain's whole deal, or even his name? If you saw Sam Worthington on the street, would you think, Hey, that's Sam Worthington, star of the most successful film of all time, or would you not recognize him at all?
Was Avatar just a half-remembered mass hallucination?
It wasn't, but it is actually a feat of sorts for something so massive to have so little cultural penetration, like Facebook in 2022, or Hudson Yards. (Of course, many people are genuinely fans of Avatar … this quiz will be a breeze for those.) This December, Cameron will release the first of four sequels, building on the story introduced to audiences 13 years ago. Avatar: The Way of Water follows the last film's main characters and their daughter as they fight a new war against those pesky humans. With around 100 days to go before the film's release, it's time to start boning up on your blue-alien lore.
How Much Do You Actually Remember About Avatar?
Most present-day middle-schoolers were not born yet when this movie came out. Have you seen it since then?