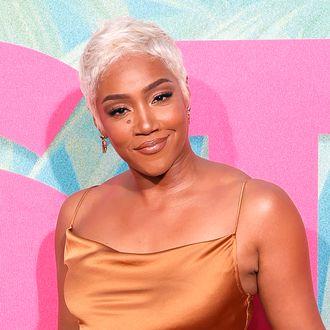 Tiffany Haddish
Photo: Frazer Harrison/Getty Images
Update, September 20, 2022: The child-molestation suit against comedians Tiffany Haddish and Aries Spears has been dismissed, per court documents obtained by TMZ. According to the new filing, the Jane Doe who filed the suit asked the judge to dismiss the case with prejudice, meaning that the plaintiff cannot refile the suit again. "My family and I have known Tiffany Haddish for many years — and we now know that she would never harm me or my brother or help anyone else do anything that could harm us," the plaintiff wrote. "We wish Tiffany the best and are glad that we can all put this behind us."
Original story, published September 7, follows.

Tiffany Haddish has broken her silence on the lawsuit brought against her and Aries Spears. The suit, obtained by People, alleges that Haddish "groomed" underage Jane and John Doe and that Spears molested John Doe on-camera. Haddish was present for the filming of a sketch called "Through a Pedophile's Eyes," and per the lawsuit, she "aided, abetted and watched Spears sexually molest a child." On Instagram, Haddish said she couldn't speak fully on the impending court case but regrets the sketch now. "While this sketch was intended to be comedic, it wasn't funny at all," she wrote on September 5, "and I deeply regret having agreed to act in it."
The alleged footage was published on Funny or Die in 2014 but was taken down last May. Jane and John Doe's mother claims, in the suit, that she was told the footage had been deleted when she asked to review it in 2014. Attorneys for Haddish and Spears also made statements on the lawsuit with Spears's attorney calling it a "shakedown" and the attorney for Haddish said that the claims were "bogus."
Two days after Haddish responded to the grooming allegations, Spears made his first statement since being sued for molestation. Spears made his comments in an Instagram promo for his podcast on September 7. "Obviously for legal reasons I really can't talk about anything at this time," Spears said. He then characterized the lawsuit as "extortion" and "a shakedown case."
This post has been updated throughout.