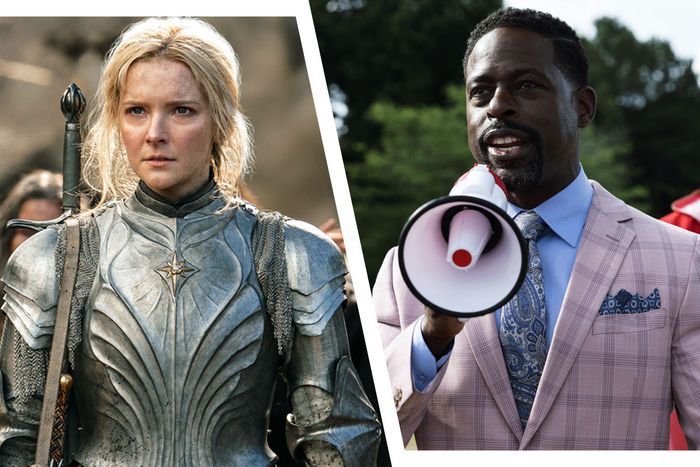 Photo: Focus Features/Prime Video
O, summer, we hardly knew ye. Okay, despite fall not technically starting for another month, Labor Day weekend just feels like the end of the sun-kissed season anyways. It is the end of a rocky August. Who knew that we'd be marking the end of the summer with Top Gun: Maverick still triumphing, and Jaws and Spider-Man: No Way Home coming back to Imax theaters, just 'cause? But as summer comes to a close, fall movie and TV season is opening up to a really exciting start, especially with The Lord of the Rings: The Rings of Power kicking off soon. Now, here's the rest of our picks to relax to this Labor Day weekend:
Jaws
Jaws is back in theaters to bring back the creeping thought that there could be a terrifying shark in the waters as you swim at the beach. But really, it's poetic that the movie that became the first summer blockbuster closes out this weird movie season. Jaws will not only be in theaters, but in Imax and in 3-D, so most of us will finally get to watch Steven Spielberg's classic on a huge screen.
Honk for Jesus. Save Your Soul.
Sterling K. Brown and Regina Hall star as a prominent pastor and wife fallen out of grace after a cheating scandal in Honk for Jesus. Save Your Soul., and Brown and Hall together are magic. Not surprising news, but the two together can act the house down and are both comedically great, making this mockumentary-style film worth a watch.
Elvis
If you're feeling lonesome tonight, how about flipping on HBO Max for a little Elvis? Baz Luhrmann's flashy biopic on the King of Rock and Roll is firing on all cylinders of what makes a Baz film such an experience. It hits the familiar beats in the rise and fall of Elvis Presley, but its dizzying and grandiose energy is what makes Elvis stand out from the other boring biopics. Plus, Austin Butler is actually pretty good in this.
A Cinderella Story
Sam Montgomery works hard! She's a high-schooler who works at a diner under her evil stepmom and is in the midst of wooing her crush who can't even figure out who she is because she curled her hair and wore an eye mask when they met. Because every Cinderella story is romantic, yes, but is also about a girl who has to do all this labor, so why not use Labor Day as an excuse to rewatch this Hilary Duff, Jennifer Coolidge, and Regina King–starring 2000s throwback?
The Twilight Saga
Pumpkin spice is back, and where I live, the storm clouds are rolling in and the temperature is finally down from the triple to double digits; in other words, it's almost fall (a.k.a. hoa hoooa hoa hoa haa season). If you don't know what any of those words mean, you must not be a Twihard, sad. But to remedy that, Peacock is getting the entire Twilight saga back into its library this weekend, so get in the mood for fall with this iconic vampire saga.
Austin Powers trilogy
All three Austin Powers films are on one streaming home, and to that we say, "Yeah, baby!" A parody of James Bond and the countless other spy movies of the '60s, Austin Powers is one of Michael Myers's most famous characters and set of movies — though to be honest, Shrek and Wayne's World are pretty neck and neck too. So if you want to have a good laugh this weekend, check out these three hilarious comedies, or if you think about it like Luis in This Fool (another hilarious watch), check out these poetic tragedies.
The Lord of the Rings: The Rings of Power
Welcome back to Middle-earth, nerds. Prime Video's biggest show to date debuts two episodes today as it attempt to try its hand at franchise fantasy television. Set thousands of years before J.R.R. Tolkien's novels and Peter Jackson's The Lord of the Rings and The Hobbit trilogies, The Rings of Power is set in the Second Age during a great battle between the Elves and Morgoth. Morfydd Clark stars as Galadriel, a younger version of the royal Elf Cate Blanchett plays in Jackson's films.
The Patient
FX's latest series from The American creators Joel Fields and Joe Weisberg is thrilling and unnerving. Steve Carell stars as therapist Alan Strauss, who is kidnapped and held captive by his patient, Sam (Domhnall Gleeson). From there, it's a tense game of cat and mouse as Strauss is forced to help Sam get to the root of his homicidal tendencies.
Game of Thrones
I know I'm falling into the nostalgia trap Warner Bros. Discovery is setting. House of the Dragon is out! With the exact same Game of Thrones theme song in the opening credits! "Don't you wanna watch that and Game of Thrones again?" they say! To that I say, "Yeah." It's been a long time since a lot of us have done a GOT rewatch, and a long night weekend seems like the best time to revisit the Starks, the Lannisters, and one Daenerys Targaryen.
The Vampire Diaries
How about a double dose of teen-vampire content this weekend? While The Vampire Diaries may be leaving Netflix on Saturday, it'll already be popping up on HBO Max by Sunday, so if you have both services, you can just switch over. Because eight seasons of a vampire love triangle can't be watched all in one day! Though I'd like to see someone try.
Also! Read our streaming recommendations from the weekend of August 26. Vulture's next list of weekend streaming picks goes online on Friday, September 9.