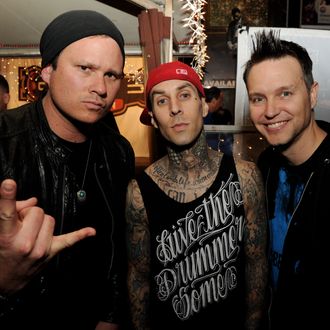 The boys.
Photo: Kevin Winter/Getty Images
Update, October 14: Blink-182 is done edging us — their new song is here. "Edging" is the band's first song to feature Tom DeLonge since 2012. Produced by drummer Travis Barker, it's the sort of playful, jaunty rock song you expect from classic Blink, with DeLonge and Mark Hoppus trading verses. "I'm a punk-rock kid, I came from hell with a curse / She tried to pray it away, so I fucked her in church," DeLonge sings in the signature teen-boy whine we missed. The song comes after DeLonge shared a message to his replacement, Alkaline Trio's Matt Skiba, who sang and played guitar on Blink's last two albums. "To be honest, the band would not even be here today if it were not for your ability to jump in and save the day," DeLonge wrote, thanking Skiba. And now, the Blink we grew up on is back.
Original story follows.
Did you miss them? After months of speculation, Blink-182 is back with its longtime lineup. The band announced the news with a cheeky video about them coming back — a good reminder that, though well into middle age, they still share a 12-year-old's sense of humor. They'll release a new song called "Edging" (of course) on October 14 and are set for a yearlong world tour beginning March 2023 with hardcore heroes Turnstile to open in the U.S. and Canada. The song and tour will be Tom DeLonge's first time performing with Blink since 2015 after he left to focus on his other project Angels & Airwaves and his other other project of hunting aliens. Mark Hoppus and Travis Barker released two albums, 2016's California and 2019's Nine, with Alkaline Trio's Matt Skiba filling in for DeLonge. Since then, Barker has become one of the most in-demand producers of the pop-punk boom and a Kardashian in-law, while Hoppus has recovered from cancer. Hoppus told GQ last year that his cancer diagnosis prompted DeLonge, Barker, and him to start talking about the band again after DeLonge and Barker visited him at the same time. Thank God — we really needed them to see this through.