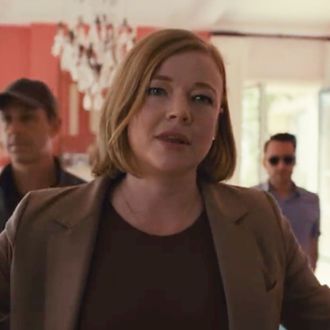 Sorry, Connor.
Photo: HBO
To be read in the voice of Rickey Thompson: "Success(ion)!" It's back, baby! Last night, the House of the Dragon finale offered up some excitement even for those of us who don't care to see multiple grisly childbirths each season. Namely: our first real trailer for the upcoming fourth season of Succession. We've got shots of the three Roy kids (sorry, Connor) striding together. We've got Logan hissing, "These people are pygmies." And, most importantly, we have Tom asking Shiv, "Do you want to talk about what happened?" We are not yet privy to her response, but one can assume that it is juicy. We still don't get a more specific release date than "spring 2023," but we look forward to smelling budding tulips and watching these billionaires clobber each other.
This trailer follows a brief HBO trailer that comes with every show David Zazslav hasn't canceled. Snuggled cozily amongst The Last of Us and The White Lotus was fans' first look at Succession season 4. The footage shows a robustly healthy Logan Roy giving a pep talk to Tom and Cousin Greg, as well as four shots of the Roy children in the same bisexual lighting. Presumably they are all together, licking their wounds? "This is not the end," Logan says. "I am going to build something better, faster, leaner, wilder. I love it here. I fucking love it here!" His kids seem to fucking hate it here. And the fans? They're wildly speculating, as per usual.
This post has been updated.