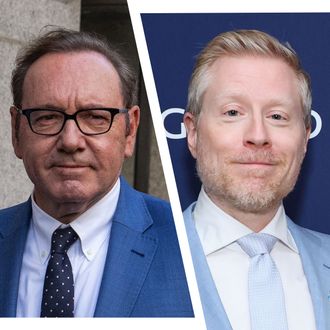 Photo-Illustration: Vulture; Photos by Carl Court/Getty Images and Cindy Ord/Getty Images for GLAAD
Kevin Spacey will face a New York jury on October 6 for allegations that he sexually assaulted Anthony Rapp some 25 years ago, when the Star Trek: Discovery actor was just 14 years old. Rapp filed a civil lawsuit against Spacey in 2020, accusing him of making an aggressive, unwanted sexual advance in 1986; the disgraced House of Cards star would have been around 26 years old. Rapp, who first accused him of sexual misconduct in October 2017, filed his suit amid mounting allegations against Spacey.
Rapp's case has been characterized by twists and turns. At first, Rapp was not alone in suing Spacey in this suit — the civil complaint actually included another accuser who went by C.D. in court papers. C.D. was dropped from the suit less than one year later, however, after refusing to publicly reveal his name. And as Rapp's case progressed, Spacey faced increasingly serious legal scrutiny that came to a crux in May, when the U.K. Crown Prosecution Service announced it had authorized criminal charges against him for several alleged sexual assaults across England. The case and lawsuit have the potential to change the narrative around naming accusers and "the broader cultural implications on society's refusal to accept sex assault and the grooming of children as a normal part of life," Winter Wheeler, a mediator and arbitrator who previously practiced as a litigator, told Vulture. Here, what you need to know about Spacey's upcoming civil trial.
Why did Anthony Rapp sue Kevin Spacey?
Rapp and C.D. sued Spacey on September 9, 2020, in Manhattan federal court; both men claimed that he sexually assaulted them on separate occasions when they were 14 years old. Rapp, who was acting in the Broadway play Precious Sons when he met Spacey, said the alleged incident unfolded at the older actor's home during a party. Spacey, Rapp's suit said, "intentionally and voluntarily and without plaintiff's consent engaged in an unwanted sexual advance with a 14-year-old and grabbed then infant plaintiff, Anthony Rapp's, buttocks, lifted him onto a bed and laid on plaintiff's body." Rapp claimed in court papers that he "was forced to extricate himself and, fearing for his safety, ran into the bathroom of defendant's apartment." After Rapp left the bathroom a few minutes later, Spacey attempted to get him to stay, but he said no and quickly left the apartment, per court papers. Rapp's lawsuit echoed the claims he made during a 2017 BuzzFeed News interview — the first time he spoke out about Spacey's alleged misconduct.
What happened with C.D.?
C.D. alleged in this lawsuit that he met Spacey in 1981 when he was about 12 years old. Spacey was teaching an acting course in Westchester County; C.D. was a student in his class. Around two years later, the then-teen ran into the actor in New York City. Spacey then invited C.D. to his apartment, where he "engaged in sexual acts with the plaintiff, C.D., while the plaintiff was 14 years old, including, but not limited to, the infant plaintiff performing anal intercourse on defendant Spacey and oral sex." According to the lawsuit, this was not an isolated incident. Spacey kept engaging in sexual acts on separate occasions, the suit alleges. "During the final sexual encounter, the defendant, Kevin Spacey, for the first time, attempted to anally sodomize the plaintiff, C.D., who was then a minor," the suit claims. "The plaintiff, C.D., resisted and said 'No' multiple times, but the defendant, Kevin Spacey, continued to attempt to anally sodomize the infant plaintiff despite the plaintiff's verbal and physical resistance." C.D. managed to get free and escaped Spacey's apartment, the suit claimed.
Wait, wasn't C.D. dropped from the lawsuit?
Yes. The judge overseeing Rapp's suit threw out C.D.'s legal claims on June 17, 2021, because he refused to openly use his real name during court proceedings. C.D. spoke with Vulture in November 2017 about his alleged encounters with Spacey. While Spacey's attorneys did learn C.D.'s identity, they contended that he shouldn't be allowed to sue anonymously and specifically mentioned the interview with Vulture during a February 2, 2021, proceeding. "He disclosed his name, obviously, to the magazine," they said. "He also allowed the magazine to use his name to speak with people close to him." They said that C.D. "used the media to advance his case strategically" and contended there was "no compelling reason" to let him go forward anonymously. C.D.'s attorneys maintained that "Kevin Spacey attempted to rape a 14-year-old boy, and that's what this case is about … The plaintiff C.D. never disclosed his name to the general public." Judge Lewis Kaplan ruled on May 3, 2021, that "the threat of significant media attention — however exacerbated by the modern era — alone does not entitle a plaintiff to the exceptional remedy of anonymity." In explaining his ruling, Kaplan also said: "C.D.'s privacy interest — despite the publicity this case may generate — does not outweigh the prejudice to Spacey and the presumption of open judicial proceedings." So jurors in Spacey's upcoming trial will only weigh Rapp's allegations, not C.D.'s.
What about Spacey's case in England?
Spacey is facing criminal charges in the U.K. The Crown Prosecution Service announced on May 26 that it had authorized criminal charges against Spacey for four counts of sexual assault and one count of "causing a person to engage in penetrative sexual activity without consent." These charges, which involve three accusers, are for alleged incidents that took place separately between March 2005 and April 2013 in London and Gloucestershire. Spacey pleaded not guilty to the charges on June 14, 2022. His trial is expected to start in June 2023 and last between three and four weeks, according to CBS News.
Does Spacey face any other legal problems in the U.S.?
In addition to the Rapp trial, Spacey has to pay the House of Cards production company, MRC, $31 million. Spacey was fired from the Netflix show in 2017 amid ongoing accusations of sexually inappropriate behavior against young men, including a production assistant on the show. MRC contended that the company lost millions in profit because it had to remove the man playing the main character, Frank Underwood, from the series. MRC also said it had to cut the final season by five episodes as a result of the Spacey scandal. The damages were determined during arbitration and upheld by a judge in August. Still, Spacey has had some legal victories. In Nantucket, Massachusetts, prosecutors dropped a sexual-assault case against Spacey on July 17, 2019. Spacey had been accused of groping an 18-year-old man in July 2016; prosecutors decided to scrap the case after his accuser invoked his Fifth Amendment right against self-incrimination over questions about a cell phone that allegedly had evidence. The accuser had told investigators that he sent his girlfriend video of Spacey touching him, but his mother possibly deleted data from the phone that could have cleared Spacey. This accuser also wound up dropping his civil suit against Spacey. While not a legal problem per se, Spacey's career does not appear poised to recover anytime soon. In July, Variety reported that Spacey will no longer star in the forthcoming Genghis Khan movie 1242: Gateway to the West.
What could be the outcome of Spacey's trial?
If the jury decides in favor of Rapp, then that means it also would decide on monetary damages Spacey would pay Rapp. If the jury sides with Spacey, then he will not be responsible for damages for Rapp. Neither outcome affects his U.K. trial.
But beyond possible damages, this trial speaks to the shifting cultural attitudes that empower people to come forward. "While this has an obviously personal impact on Mr. Spacey and the accusers, the manner in which the public discusses these issues will weigh heavily on those who feel they have been victimized in a similar fashion by people who aren't Mr. Spacey," Wheeler told Vulture. "The tone of the discussion surrounding these matters could push some toward naming their accusers in the future or push others back into the shadows."