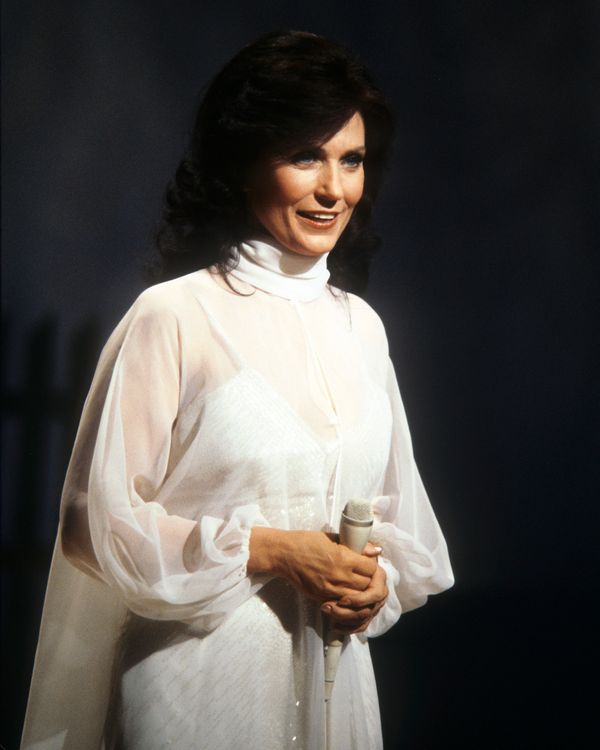 Photo: ABC Photo Archives/Disney General Entertainment Content via Getty Images
This article was featured in One Great Story, New York's reading recommendation newsletter. Sign up here to get it nightly.
It was the 2014 Country Music Association Awards, and Loretta Lynn knew what she was doing.
Though Luke Bryan would take home the now somewhat amorphous Entertainer of the Year award, it was Kacey Musgraves, a relative newcomer on the scene, who would create the evening's most memorable moment: Her song "Follow Your Arrow," which casually endorsed girls kissing girls ("if that's what you're into"), won Song of the Year, and she accepted the honor flanked by two openly queer songwriters, Shane McAnally and Brandy Clark. It was a triumph for some and a threatening development for others: Conservative broadcasters claimed it would lead to a "dismantling of the Christian faith in the heartland" or worse. Country Radio mostly refused to play it, just as they previously had refused to play Lynn's "The Pill," Rated X" or "One's on the Way," among others.
But Lynn loved it and loved Musgraves. In fact, she stood alongside her earlier that night, both in teased hair and sequined dresses that flickered in the stage lights, singing a very specific message from Lynn's classic LP Coal Miner's Daughter: "If you're looking at me, you're looking at country." Country so firmly was Lynn, who died this morning at the age of 90 and left a lifetime of songs about real life, real women, and rural people in her wake. And here Lynn was, letting the whole world know that country music could look like Musgraves, too, a performer who wasn't afraid to sing about the broken promises of small-town existence or weed or same-sex love or one-night stands. Musgraves could write about those things not because some fetishized version of a male country outlaw did but because Lynn created a world where women could permission to tell their truths.
Lynn, who was famously born to a coal miner in Butcher Holler, Kentucky, in 1932 and gave birth to four of her six children with her husband, Oliver, known as "Doolittle," by the time she was 19, has meant many things to country music. She was insistent on writing her own songs at a time when even the genre's closest thing to a feminist anthem, "It Wasn't God Who Made Honky Tonk Angels," was written by a man. She was adamant about being an entertainer and reframing the idea of what that could look like: not only a man in a suit (or, now, a trucker hat and jeans) but a woman wielding a guitar and directing her own band. And perhaps most importantly, she wrote true stories ripped from real rural life about what it meant to be a woman: the red letter of divorce, the freedom of birth control, the desire to clock a feisty husband who is philandering around town and the refusal to cater to his drunken desire to get laid when he stumbles home. That fearless path birthed everyone from Miranda Lambert to Mickey Guyton to Margo Price, Carly Pearce, Kelsey Waldon, Musgraves, and everyone in between. She also proved that fearless truths could sell: 24 of Lynn's songs were No. 1 singles.
But what made Lynn work within the Nashville Establishment — and made her resonate so strongly across the country — was that all of this subversive stuff lived alongside stories of country hams and bleeding fingers in the coal mine and true Kentucky girls who weren't ashamed of their accents or upbringings. In fact, they were damn proud of it because Lynn was proud of it. The movie about that life and raisin', Coal Miner's Daughter, would be nominated for an Oscar, with the album of the same name transforming Lynn into a full-scale star following its 1971 release. She became the first woman to win Entertainer of the Year at the CMAs and, in 1973, the first country artist to appear on the cover of Newsweek. Yet even after achieving that bit of crossover fame, Lynn followed it up with a record called Back to the Country, onwhich she made sure the fiddle, banjo, and sounds of Appalachia were just as prominent. She needed it known that she was a country girl, through and through, because giving voice to rural women was always foremost in her mind.
Back the Country contained a surprise, though: a song called "The Pill" that praised birth control, an invention that Lynn herself never got to partake of during her prime reproductive years but that she openly endorsed ("If I'd had the pill back when I was havin' babies I'd have taken 'em like popcorn," Lynn told People in the '70s, when the song was released). "Miniskirts, hot pants and a few little fancy frills," Lynn sang. "Yeah I'm makin' up for all those years / Since I've got the pill." Not only was she praising the effectiveness of the pill against a surprise pregnancy, she also praised something even more taboo: female pleasure.
"The Pill" wasn't her only statement on reproductive freedom. In her memoir, she made it clear that she supported the choice to have an abortion. "Personally, I think you should prevent unwanted pregnancy rather than get an abortion," she wrote. "I don't think I could have an abortion. It would be wrong for me. But I'm thinking of all the poor girls who get pregnant when they don't want to be, and how they should have a choice instead of leaving it up to some politician or doctor who don't have to raise the baby. I believe they should be able to have an abortion."
Her beliefs were more complicated than her most controversial songs would have you believe, however. Lynn rejected the idea of being a "feminist" in name — despite firmly believing that a woman should be front and center as a performer, write her own songs, and have control over her own body. She sang about the pill but didn't take it herself. She performed for Richard Nixon but also became friends with Jimmy Carter (and supported Donald Trump in her later years). Some called her the liberal side of country for writing songs about contraception, while others saw her as emblematic of conservative stereotypes in her floor-length gowns and as a young mother of multiple children. Neither was exactly true: It is easy to simplify all this into contradictions, but it was only a contradiction if you thought you knew and understood women, specifically rural, Appalachian, or southern women. Lynn was complex, not a contradiction. And so are the women who love and are inspired by her songs.
I thought of Lynn when Kansas voters rejected an amendment that would have outlawed abortion — the collective shock that a "red state" could side with women's bodily autonomy felt patronizing but unsurprising. We'd heard this before, when Georgia went blue in 2020, as we heard it any time it's discovered that a church has changed their signage to declare "All are welcome here" or "Y'all means all" (the one around the corner from my house in Nashville has often gone viral for such). We are routinely surprised when rural or "red" or religious people defy our expectations and fail to then change our own understanding of these people, instead maybe classifying them as outliers or outlaws.
Lynn was the complex southern woman incarnate, and nothing expressed that like her songs. She was from the holler but she understood women's liberation in a nuanced way that made sense to her and her rural neighbors; she held her faith and certain conservative beliefs close while actively platforming and upholding women like Price and Musgraves; she stayed country, through and through, while partnering with Jack White for her 2004 record, Van Lear Rose. "Well, this here girl's been there and done that, they call me hillbilly but I got the last laugh," Carrie Underwood sang alongside Reba McEntyre and Lynn on the title track of Lynn's 2021 release, Still Woman Enough, which would be her last.
Country music, and country people, are rarely properly understood outside of their own channels. Lynn didn't just change what was acceptable for them to talk and sing about publicly; she helped to change the way the rest of the world saw them in return. To honor her legacy and her gifts is to not only play her music but to continue to do this vital work: to look so much deeper when you're looking at country and to give her that last laugh, again and again.
Marissa R. Moss is the author of the book HER COUNTRY: How the Women of Country Music Became the Success They Were Never Supposed to Be