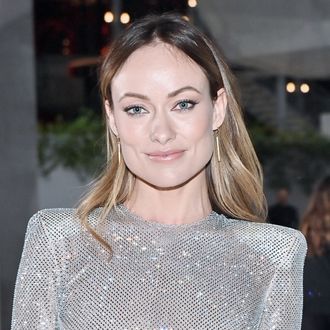 Chef Olivia Wilde.
Photo: Stefanie Keenan/Getty Images for Academy Museum of Motion Pictures
One thing Olivia Wilde has in common with Florence Pugh's Alice, the protagonist of her film Don't Worry Darling? They both make a damn good salad. At least that's according to a new Daily Mail report on her split from Jason Sudeikis. The couple's former nanny, who says she was abruptly fired with no severance, told the outlet that things came to a head after Wilde left their home with a salad for her new beau, Harry Styles, made with what Sudeikis allegedly called "her special dressing." The nanny claimed Sudeikis lay down in front of Wilde's car to prevent her from leaving to eat the salad with Styles. Both Wilde and Sudeikis are attempting to distance themselves from this nanny with a joint statement to Vulture. "As parents, it is incredibly upsetting to learn that a former nanny of our two young children would choose to make such false and scurrilous accusations about us publicly," they said, describing the story as the "unfortunate apex" of a "now 18-month-long campaign of harassing us, as well as loved ones, close friends and colleagues." The statement continued, "We will continue to focus on raising and protecting our children with the sincere hope that she will now choose to leave our family alone." No official word on the salad, though. The report raises many questions, but let's focus on the simplest: What is Wilde's special salad recipe?
Wilde's social media doesn't give many clues as to how she makes a salad. In 2010, she tweeted about a veggie salad with grilled tofu that she made for Meatless Monday, but the photo has been lost to link rot. In 2015, she tweeted about her affinity for tater tots with ranch dressing. She didn't seem that interested in salad in a 2013 food diary for Food & Wine, preferring pasta and deep-fried peanut-butter-and-jelly sandwiches. (Same.) Her foodie boyfriend Styles didn't slip any lyrics about salad into his latest, Harry's House. Her salad-loving ex Sudeikis praised the salad options on film sets in a conversation with Michael Keaton for Interview in 2013, saying they have "the most beautiful cherry tomatoes you've ever seen." Could that be the secret to Wilde's salads, too? You can question the veracity of the Daily Mail report, but Wilde did seem to have salad on her mind during the reporting for her Vanity Fair cover profile, when she made "a beautiful, display-worthy salad bowl" in a pottery class.
One of the best clues may be Wilde's appearance on the 2020 Food Network special Questlove's Potluck, on which she made a roasted-salmon salad with zucchini and potatoes. Per an online recipe, she dressed it pretty simply with red-wine vinegar, Dijon mustard, honey, garlic, and olive oil. Basically, it's a riff on a classic French vinaigrette, which sounds good but probably isn't much different from those on-set salads Sudeikis raved about. Doesn't sound very special to us — definitely not "worth allegedly getting run over by a car" special.
A day later, Wilde finally decided to give a glimpse of what her special dressing might possibly be. Or most likely, she's just trolling us because why not at this point? On Instagram stories Tuesday night, she posted a single page from Nora Ephron's novel Heartburn that detailed a vinaigrette with red wine vinegar, Grey Poupon mustard, and olive oil. She did not confirm if the recipe was, in fact, the rumored one that led her to her relationship with Styles, so the official recipe remains a mystery for now. But hey, Olivia, if you ever want to drop the recipe in a "Grub Street Diet," we're sure we can help arrange something.
This post has been updated throughout.