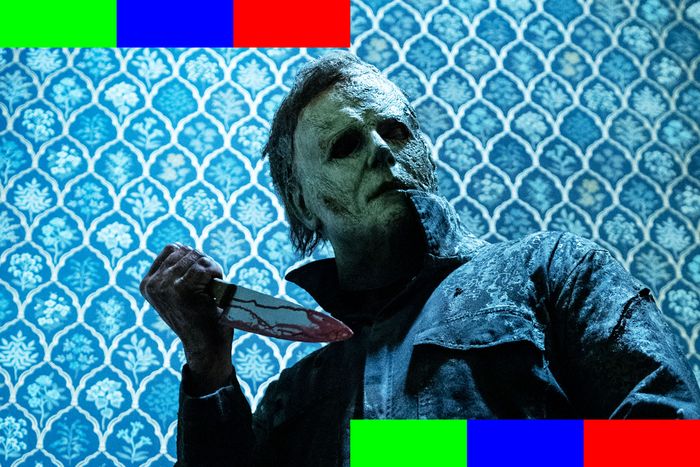 Michael Myers of
Halloween Ends
, streaming soon on Peacock.
Photo-Illustration: Vulture; Photo by Ryan Green/Universal Pictures
Peacock parent Comcast typically uses its quarterly earnings reports to issue performance updates on the NBCUniversal-run subscription platform, whether the numbers are good (like last winter's big 4 million subscribers spike) or awful (July's big fat zero). That's why it was a bit of a Peacocktober surprise when NBCU CEO Jeff Shell decided to go on one of his own cable channels Tuesday to let the world know Peacock's paid subscriber base was once again growing, telling CNBC's David Faber the streamer now boasted "over 15 million" paid users, 2 million more than the 13 million it claimed at the end of June. "Up" is undoubtedly good, but the bigger question facing Peacock is whether these latest gains are good enough. I don't think they are.
For one thing, the streamer got those 2 million subscribers only after implementing what felt like an everything-but-the-kitchen sink strategy to boost its numbers following the disastrous second-quarter stall. Consider all the actions Shell's underlings at NBCU and Peacock took over the last few months to goose the numbers, as well as some of the other factors that helped drive sign-ups:
➽ As had been expected since last winter, NBCU ended a decade-long deal that allowed Hulu to stream NBC network content hours after it aired on television, turning Peacock into the exclusive SVOD home for the programming. It also clawed back thousands of hours of Bravo content that had been happily housed on Hulu for years in order to make Peacock the one-stop streaming home for Real Housewives, Below Deck, and other unscripted franchises. (Last spring, Peacock started streaming next-day episodes of all major Bravo series as well, allowing cord-cutters a level of in-season access to the network's content they had never enjoyed previously.)
➽ In August, the start of a new multibillion-dollar deal gave Peacock streaming rights to Premier League soccer, likely attracting a slew of sports fans since many of its games are available exclusively on the platform.
➽ In September, NBCU shifted iconic soap opera Days of our Lives to Peacock, uprooting it from NBC, its home for more than a half-century. While the strategy was one that has been employed by other platforms — Dancing With the Stars jumped from ABC to Disney+ this season — Peacock didn't announce the move until just a few weeks after the bad second-quarter numbers were released. It's hard not to interpret the last-minute call as a reaction to the subscriber slump.
➽ Last month, Peacock also continued to take advantage of the increasingly short window between when Universal movies arrive in theaters and start streaming, premiering two of the year's biggest box-office hits — Minions: The Rise of Gru and Jurassic World Dominion — within the space of two weeks. It also had the Sundance sensation Honk for Jesus. Save Your Soul., which streamed on Peacock the same day it premiered on nearly 2,000 theatrical screens. (The streamer will execute a similar day-and-date strategy next week with Halloween Ends, the latest, and supposedly last, chapter in the Michael Myers saga.)
➽ Finally, the last quarter saw Peacock unleash a heavily marketed end-of-summer promotion allowing new users to get a full year of the service for $20 — or less than $2 per month. For the nearly 2 million regular viewers of Days on NBC, or any Premier League stans who hadn't yet signed up for Peacock, it was a steal of a deal and the sort of loss leader designed to drive a slew of new subscriptions.
Save for the panicky nature of the Days switcheroo, all of the above actions can be viewed as smart strategy on the part of NBCU execs. Investing in sports, not selling off your best-known content to a third party, moving well-known franchises behind a streaming paywall — these are plays we've seen executed by numerous streamers over the years. Even basically giving away your service for a year, as Peacock essentially did by selling it for the cost of a single premium-screen movie ticket in most major cities, is not in and of itself some sort of desperate act. Hulu has repeatedly cut its price to a ridiculously low level on Black Friday, last year giving newbies the chance to grab a year of the service for $1 per month.
The problem is, despite arguably doing so much right over the summer to turbocharge subscribers, Peacock still only added 2 million more paid users. That's half as many as it gained during the first three months of 2022, when the combination of the Olympics and the Super Bowl temporarily inflated Peacock's subscriber base by 4 million subscribers. In other words, while Peacock once again proved it's able to boost its paid numbers by pulling out a bunch of stops — as it did last winter — these stunts are yielding diminished returns.
Plus, while slow or stalled growth is obviously not unique to any one streamer this year, particularly in the U.S. market — just ask Netflix — unlike most of its rivals, Peacock is starting from a very small base and is priced to move. Even at 15 million paid users, Peacock is only one-third to one-fifth the size of Hulu, Disney+, HBO Max, or Netflix, which in theory means it should have a lot of room to attract new users. And because its premium plan is priced at a modest $5 per month, there isn't the sort of barrier to sign-up that HBO Max (cheapest plan: $10) or Netflix ($15.50 for the most popular tier) face. Shell is not wrong when he notes that Peacock has seen its paid user base grow by 70 percent so far this year, but it started at such a comparatively tiny base — 9 million subscribers — that it's hard to get all too excited about the net addition of two million paid users within the past six months. Peacock's rate of growth simply isn't all that impressive.
What's more, streaming industry analyst Rich Greenfield of LightShed argues it's almost "irrelevant" at this point whether Peacock added two million or four million new subscribers last quarter because the streamer actually has a bigger headache: Audience engagement — or lack thereof. "What matters is daily time spent watching per Peacock subscriber," he says. "From what I've seen, it's very little. It makes it hard to drive ad dollars and/or raise the price if you don't have engagement. The problem is, nobody just turns on Peacock to watch it." Indeed, in his interview with Shell, CNBC's Faber quoted from a Bank of America investor note which warned that because of the "small amount of net [subscriber] ads and lack of buzz around hit shows we worry that Peacock may struggle to hit engagement figures of 10 hours a month." Shell acknowledged the importance of engagement — and then responded by changing the subject to revenue.
Peacock's sluggish start these past two years stands in marked contrast to how quickly Disney+ grew early on. Barely three months after its November 2019 launch, the Mouse House streamer had amassed 26.5 million subscribers, the vast majority of them in the U.S. Peacock has been around for a bit more than two years now, and its paid user base is barely half of what Disney+ attained within a single quarter. You can argue that Disney is a much bigger brand and spent more on content, or that its bundling deal with Verizon inflated its early numbers. You can point, as Shell did on CNBC, to Peacock's pretty strong average revenue per subscriber ($10, about twice what Disney+ makes). All of these things are true, as is the fact that Peacock might yet stage a rally if it's (finally) able to launch a steady cadence of big breakout scripted series hits beyond last spring's modestly successful Bel-Air. There are plausible scenarios where Peacock turns things around.
But at some point soon, these excuses will start to wear thin. Peacock doesn't have to be as big as Disney+, even in the U.S.; it doesn't need to have the reach of Hulu, which has been around forever and spends more on original content; it certainly doesn't need to match Netflix, which is playing a whole different game. Yet you would think that after two years and billions of dollars invested, not to mention multiple exec shakeups and restructurings, Peacock would at least be dramatically bigger than the streaming holdings of the relatively tiny AMC Networks, which is about 1/100th the size of Comcast if you measure by market capitalization. And yet AMC, with just under 11 million global streaming subs for AMC+ and a collection of niche streamers such as Acorn and Shudder, isn't that far behind Comcast's signature streaming service.
The reality is, Peacock needs to amass some sort of scale and dramatically up its audience engagement— and do so relatively soon — if it's going to be taken seriously. Momentum needs to be steady, and not swing wildly based on stunts or special programs like the Olympics. So far, however, even when offered all sorts of incentives, streaming consumers haven't been taking the plunge on Peacock in the sort significant numbers the streamer so badly needs. For Peak TV audiences overwhelmed with so many choices, Peacock is just not Must-Stream TV.