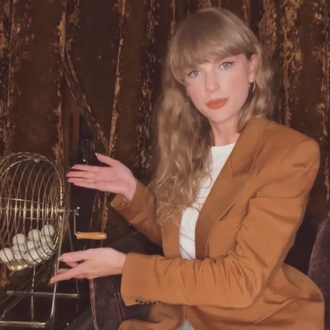 The Riddler (Taylor's Version).
Photo: TikTok
A few weeks ago, Taylor Swift released her most cryptic, impenetrable riddle yet. On TikTok, Swift posted that track 13 of her latest album, Midnights, would be called "Mastermind." Like, what could that even mean? Okay, let's think it through, Batman '66 style. She said the track title into a red phone. Red is an album that she has already done the "Taylor's Version" of. Repetition. Reputation? "The old Taylor can't come to the phone right now. Why? Oh, 'cause she's dead." Taylor Swift is a clone. It's the only thing that fits. No possible other meaning could come from "Track 13 is called 'Mastermind.'"
In all seriousness, Taylor Swift has been dropping straightforward announcements of Midnights' track names on TikTok. Now, we've cracked the full track list. Swift revealed the first eight tracks (at midnight, naturally) with the help of a bingo-ball cage to randomize which track names get announced when. Then, on October 7 (with 13 nights left to Midnights), she decided that she wanted to "mayhem til the morning" and began announcing a track every hour. For the majority of her reveals, she had the same nails on as she did at TIFF, so make of that what you will.
Track 11 is titled "Karma," which may be a reference to the alleged secret unreleased 2016 album of the same name. Meanwhile, the album's first track, "Lavender Haze," is inspired by her six-year relationship with Joe Alwyn. And the final reveal, "Snow on the Beach" (No. 4), is her long-rumored collaboration with Lana Del Rey. Below is the album's full track list — yes, including track five.
1. Lavender Haze
2. Maroon
3. Anti-Hero
4. Snow on the Beach (featuring Lana Del Rey)
5. You're on Your Own, Kid
6. Midnight Rain
7. Question … ?
8. Vigilante Shit
9. Bejeweled
10. Labyrinth
11. Karma
12. Sweet Nothing
13. Mastermind
The special (sigh) Lavender Edition, exclusive to Target, will have three bonus tracks: "Hits Different," "You're On Your Own, Kid (Strings Remix)," and "Sweet Nothing (Piano Remix)."
This post has been updated.