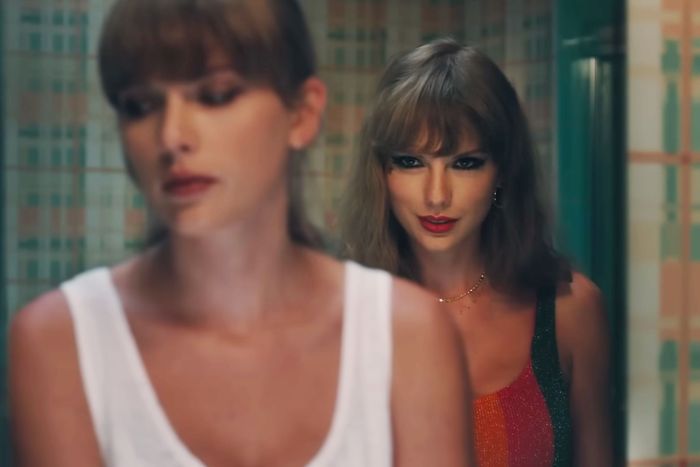 Photo: Taylor Swift/YouTube
Babe, wake up. Taylor Swift's highly anticipated tenth album, Midnights, has finally arrived and encapsulated all of our late-night thoughts. With the release, she has once again confirmed that she's a night owl, dropping emotional lyrics that have us dusting off our dictionaries and grabbing a glass of wine for the long evening ahead. Swift has always been vulnerable about the relationships in her life, whether they are romantic, platonic, or business, as well as open about being burned by those closest to her. That all gives Swifties motivation to dig deeper into her lyrics, in an attempt to figure out what keeps their favorite singer up at night. In the days leading up to the record, Swift told Spotify the five feelings she had when writing the album: self-loathing, fantasizing about revenge, wondering what might have been, falling in love, and falling apart (she loves to categorize songs). Below, we have organized the album's best lyrics based on those guiding principles.
Self-Loathing
"Anti-Hero"
Did you hear my covert narcissism I disguised as altruism /Like some kind of congressman
The ideal night of swimming in your own sadness and pity definitely includes calling yourself a narcissist and then considering every nice thing you've ever done a big evil scheme to make you look like a good person. It's also the perfect lyric to get you in the mood for the upcoming November elections if you want to think about actual narcissism.
Sometimes I feel like everybody is a sexy baby

And I'm a monster on the hill
Sexy baby has to be an inside joke, right? Like, I totally get feeling not as hot or confident as everyone else in the room, but for everyone else to be a sexy baby is giving Jacob from Twilight vibes.
"Sweet Nothing"
Industry disruptors and soul deconstructors

And smooth-talking hucksters out glad-handing each other

And the voices that implore, "you should be doing more"

To you I can admit, that I'm just too soft for all of it
Swift is entering her traveling-salesman era by using the term "huckster"; she's also leaning into what I assume to be Britishness with her co-writer William Bowery, while forcing every overachiever to flinch at the line "you should be doing more."
Fantasizing about revenge
"Vigilante Shit"
She needed cold hard proof so I give her some

She had the envelope, where'd you think she got it from?

Now she gets the house, gets the kids, gets the pride

Picture me, thick as thieves with your ex-wife
Swift wasn't kidding when she said she'd be up late fantasizing about revenge. Also, if you're losing sleep over it, it has to be juicy. Assuming this song is about her feud with Scooter Braun, she's taking no prisoners by bringing up his divorce and a $200 million dollar lawsuit. Stop, Taylor, he's already dead.
"Bejeweled"
Baby love, I think I've been a little too kind

Didn't notice you walking all over my peace of mind

In the shoes I gave you as a present

Puttin' someone first only works when you're in their top five

And by the way, I'm going out tonight
When you're stuck in a controlling relationship and finally regaining your self-worth, there's nothing better than telling someone off, even if they're still wearing the gifts you've given them.
I think it's time to teach some lessons

I made you my world (Huh?), have you heard? (Huh?)

I can reclaim the land
As Swift continues to regain her power throughout the song, the invasive middle of the night thoughts creep back in: What if she wants the toxic person back? She's stronger now, she could take him on. (Though careful, Taylor, with how you phrase it; you don't want to become a meme like Rosalía did.)
"Karma"
'Cause karma is my boyfriend, karma is a god
Sexist jokes have been thrown at Swift throughout her career, specifically those who called her a serial dater during her late teens and early 20s (honestly, who wasn't at that age?). She pokes fun at those criticisms by calling karma "her boyfriend," her longest relationship to date. It doesn't hurt too that she's been with William Bowery Joe Alwyn since 2016.
Wondering what might have been
"Question…?"
Did you leave her house in the middle of the night? 

Did you wish you put up more of a fight? 

When she said it was too much? 

do you wish you could still touch her?

It's just a question
This is for every anxious attached person that gets slightly comfortable with their partner. It is our time to rise up and ask them a million questions knowing the answers will be painful no matter what. I mean, it is just a question.
"Midnight Rain"
Still I got myself in your flames

I can't seem to wash you away

Another season I hear your name

Feels like midnight rain
Swift is no stranger to singing about all of the elements and for taking advantage of the moodiness of being depressed in the middle of the night, with the rain pouring down.
Falling in love
"Lavender Haze"
I feel a lavender haze creeping up on me

Surreal

I'm damned if I do give a damn what people say

No deal

The 1950s shit they want for me
Swift has been battling marriage rumors almost as long as she's been battling serial dater rumors. Pick a side, people! Swift challenges the antiquated ideas of weddings here, addressing the "weird rumors" surrounding her relationship, even when she's in the thick of being in love.
"Snow on the Beach"
But your eyes are flying saucers

From another planet

Now I'm all for you like Janet

Can this be a real thing? Can it?
For someone who isn't afraid to write songs about those important in her life, Swift shows a new vulnerability by being too afraid of admitting that she's falling in love. While Lana Del Rey did not get a verse in the song, her presence is definitely there with the "all for you like Janet," line that celebrates Swift's love for her muse.
Falling apart
"You're On Your Own, Kid"
From sprinkler splashes to fireplace ashes

I gave my blood, sweat and tears for this

I hosted parties and starved my body

Like I'd be saved by a perfect kiss

The jokes weren't funny, I took the money
I, too, will never forgive or forget if someone said I wasn't funny. Similar to "Never Grow Up," Swift recounts her transition into adulthood and the loneliness that comes with it. She references her eating disorder that she revealed during her Miss Americana Netflix documentary, able to see her destructive behavior with larger clarity as a 32-year-old woman.
"Maroon"
The burgundy on my t-shirt when you splashed the wine into me

And how the blood rushed into my cheeks, so scarlet, it was

The mark they saw on my collarbone, the rust that grew between telephones

The lips I used to call home, so scarlet, it was maroon
Jake Gyllenhaal may never rest as long as Swift is awake at midnight. Since the track was announced, people were quick to make connections to last year's Swift release, Red (Taylor's Version), as she describes the various shades of red, all in a darker hue.