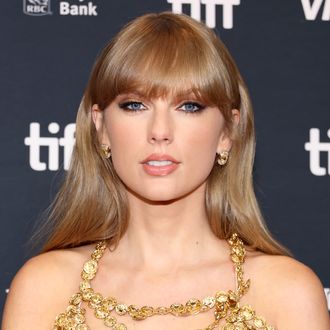 Miss Taylor.
Photo: Amy Sussman/Getty Images
Taylor Swift doesn't believe in sleep anymore; she is endorsing late nights with her new album Midnights, which is out now. For this rollout, she finally caught up to her fans who religiously stay up all night waiting for new social-media clues, legitimate fan theories, and, lately, TikToks from Swift herself, dropped at midnight with no warning. The latest project for Swifties? Trying to figure out what dates leading up to the Midnights release might be an Easter egg. May 13 cannot happen again! But just because the album has finally now dropped doesn't mean that the Easter eggs and theories have to stop. In a teaser trailer aired on Prime Video on October 20, Swift announced that she will be putting out Midnights "music movies" that visually explore the world of this album. She also dropped a new version of the album with seven surprise bonus tracks at 3 a.m. The Swifties are likely already searching for clues for other upcoming content. We will be updating often — probably around midnight.
When are we staying up till midnight for Midnights?
After making a surprise album announcement at this year's VMAs, Swift dropped her tenth album, Midnights, at midnight ET on October 21. But that doesn't mean that this era's album rollout is over.
On October 17, Swift revealed a fun little schedule on her social channels for the other components to her album release, animated to look like a bullet journal because of course Taylor Swift is a bullet-journal girlie. On October 20, during the third quarter of Thursday Night Football on Prime Video, Swift shared a teaser trailer announcing and previewing the visuals she made for this album. Then, after blessing the world with a new Taylor Swift album at midnight on October 21, she scheduled a "special very chaotic surprise" — at 3 a.m., she dropped seven surprise bonus tracks.
A music-video for the first single off the album, "Anti-Hero," is next set to premiere at 8 a.m., with Midnights lyrics videos following at 8 p.m. Woo! Big day. Not that she stops there, of course. On Monday, October 24, she'll be appearing on The Tonight Show With Jimmy Fallon, and then at midnight the next day, she'll be releasing a second music video. She'll be capping off this round of publicity with an appearance on The Graham Norton Show on October 28, for all her Bri'ish folk. Is that enough Taylor for you Swifties?
Who will be in the Midnights music videos?
Or, in her own words, the "music movies." According to an introduction played before her Prime Video teaser trailer, Swift is once again collaborating with All Too Well short film director Rina Yang for the visuals for Midnights.
And Swift won't be the only one appearing in these videos (she didn't specify how many there will be). According to the trailer, her co-stars will include Jack Antonoff, Laith Ashley, Mike Birbiglia, Laura Dern, John Early, Mary Elizabeth Ellis, the Haim sisters, Pat McGrath, and Dita Von Teese.
How many songs are on Midnights?
Swift announced Midnights would have 13 tracks, but she didn't initially share the names of the actual songs. Some fans speculated that the names of the songs would be "Track One," "Track Two," etc. However, when she posted a TikTok of limited-edition vinyls, parts of the video were blurred to hide the names of the songs. If you closer at the blurred tracks, you can see they are way longer than in the mock-up photo.
She has a history of working with Target for exclusive merch. The Reputation era had Swift-themed magazines, and the Lover era had the Lover journals. Target announced it'll be selling special-edition lavender vinyls and CDs; the latter will have three bonus songs: one original song and two remixes (please don't let this be a "willow" part two).
At 3 a.m., she announced a surprise new edition of Midnights that includes new bonus tracks. Seven previously unannounced songs were added to Midnights (3am Edition).
What's the vibe?
Glad you asked! Shortly after the midnight release, Swift provided a helpful summary on Instagram. "Midnights is a collage of intensity, highs and lows and ebbs and flows," she wrote. "Life can be dark, starry, cloudy, terrifying, electrifying, hot, cold, romantic or lonely. Just like Midnights. Which is out now."
Based on the three special-edition records with new album art, fans speculated that Midnights might be inspired by the music of the '60s, '70s, and '80s. TikToker @mrperfectlyfine13 pointed out that the electric piano (a Wurlitzer 206A) Swift is laying next to in the jade-green cover was manufactured between the mid-'70s and early '80s. If used, the sound of Midnights may be more like the Carpenters or the Mamas & the Papas, as TikToker @kelseylikesthings pointed out. Swift revealed that the back covers of the special-edition vinyl become a clock, and the newly released images seemingly confirm the '60s-to-'70s sound.
Target classified the album as pop, but as TikToker @thethriftyswiftie noticed, folklore, evermore, and Fearless (Taylor's Version) are categorized as pop albums despite their sounds being very different from one another. At midnight on October 17, a Times Square Spotify billboard shared the first lyric to the upcoming album: "I should not be left to my own devices." Spotify posted the occurrence on Insta with the caption "Where to next?", which seemingly implies that there will be more lyrics released on billboards throughout the globe. The next lyric was revealed in Londontown (home of a certain "London Boy") and reads, "I polish up real nice." In São Paulo, Brazil, Swift debuted the line, "Just like clockwork, the dominoes cascaded in a line." Then, Swift went to her career beginnings in Nashville, with the ("Story of Us"–adjacent) line, "Did you ever have someone kiss you in a crowded room?" The final lyric arrived in Mexico City — hola, Swifties! — 24 hours before the album is out. "Breathe in, breath through, breathe deep, breathe out," it reads, which fans were quick to notice has already been used in her NYU commencement speech. Better hop on a private jet to make it back home by midnight, Swifties. Surely, Taylor has one she'll lend you.
Who's on the album?
Swift credited Jack Antonoff on Instagram as her Midnights "co pilot," noting that despite a decade of music-making history together, this album is the first one where they were the two main collaborators. "We'd been toying with ideas and had written a few things we loved, but Midnights actually really coalesced and flowed out of us when our partners (both actors) did a film together in Panama," Swift recalled. "Jack and I found ourselves back in New York, alone, recording every night, staying up late and exploring old memories and midnights past."
But Swifties might have already guessed as much — a September 16 TikTok that Swift dropped during daylight hours revealed Antonoff worked with her on the album. An unidentified birthday boy also worked on the album in some way, but fans are shown only a man's arm in the corner of the video. Could it be Justin Vernon? Probably. After rumors went around that the 1975 would be making a cameo, Matt Healy denied he would be on the album. The only formal feature to be confirmed is with Lana Del Rey, who lends her voice to "Snow on the Beach," even though she sings less than 20 words. "Snow on the Beach is about falling in love with someone at the same time they're falling in love with you," explained Swift in an Instagram reel. "Sort of in this sort of cataclysmic, fated moment where you realize someone feels exactly the same way that you feel."
Swift prides herself on leaving Easter eggs well in advance, which is why the song in the background of that TikTok is interesting — "life you lead" looks like a debut track from a mysterious new artist named "niceboy ed." Is he a potential featured artist? Did Swift have something to do with the song? Is he … Joe Alwyn?
What's on the track list?
Swift has been dropping track names every night at (what else?) midnight, in a TikTok series she's been calling "Midnights Mayhem With Me." She started on September 21, telling her fans that track 13 would be called "Mastermind." On October 7 — 13 nights before the release of Midnights — she dropped the final five tracks in a spree at a rate of one per hour. That included the double reveal that track four, "Snow on the Beach," would be her long-rumored Lana Del Rey collaboration. However, Swift has yet to release the name of the bonus track and the two remixes, which some suspect to be "Vigilante Shit" and "Anti-Hero," as Swift is holding the phone upside down during her announcement videos. The songwriters, including Jack Antonoff, Lana Del Rey, and Zoë Kravitz, were found on iTunes ahead of the album drop. Below, the compete track list for Midnights.
1. Lavender Haze: Taylor Swift, Jack Antonoff, Zoë Kravitz, Mark Anthony Spears, Jahaan Akil Sweet & Sam Dew
2. Maroon: Taylor Swift & Jack Antonoff
3. Anti-Hero: Taylor Swift & Jack Antonoff
4. Snow on the Beach (featuring Lana Del Rey): Taylor Swift, Jack Antonoff & Lana Del Rey
5. You're on Your Own, Kid: Taylor Swift & Jack Antonoff
6. Midnight Rain: Taylor Swift & Jack Antonoff
7. Question … ?: Taylor Swift & Jack Antonoff
8. Vigilante Shit: Taylor Swift
9. Bejeweled: Taylor Swift & Jack Antonoff
10. Labyrinth: Taylor Swift & Jack Antonoff
11. Karma: Taylor Swift, Jack Antonoff, Mark Anthony Spears, Keanu Torres & Jahaan Akil Sweet
12. Sweet Nothing: Taylor Swift & William Bowery
13. Mastermind: Taylor Swift & Jack Antonoff
The special Lavender Edition, exclusive to Target, will have three bonus tracks: "Hits Different," "You're On Your Own, Kid (Strings Remix)," and "Sweet Nothing (Piano Remix)."
The 3am Edition includes the following seven bonus tracks: "The Great War," "Bigger Than The Whole Sky," "Paris," "High Infidelity," "Glitch," "Would've, Could've, Should've," and "Dear Reader."
Is there going to be a tour?
Despite the endless amount of blind items about an upcoming megatour, Swift hasn't made any announcements … yet.
This post has been updated.