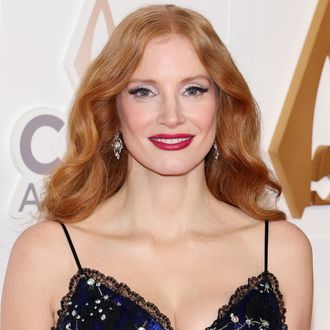 Jessica Chastain, BWay star.
Photo: Jason Kempin/Getty Images
The front-facing camera has a light haze, but it is unmistakably Oscar winner Jessica Chastain wearing a green button-down and a black baseball cap while leaning her elbow against a window. There is a brief silence. Then the eyebrows raise and the voice goes up: "So it's Wednesday!" A deep inhale. Quickly: "I promised you guys a very cool announcement, something I'm very excited about." The "about" ends with an incredibly pronounced "t," which reveals her Juilliard training. Now, with a newfound vocal fry and facial expressions that recall Miranda Sings: "Guess who's coming back to Broadway, baby." A squeal — "ME!" — accompanied by a point at her own face. "[Deep inhale.] I was gonna do A Doll's House on the West End and I was very excited for it, and then the world and the pandemic had [another inhale] other plans for us."
"And I spent a lot of the quarantine walking around New York City, my heart breaking for the Theater District," she says, looking out the window she is leaning on. With a glance back into the camera, she says, "The lights were off," but turns back to the window before continuing: "I was thinking about all my neighbors and my friends and artists and that whole community that struggled during that time." Now, with a hint of a smile because the resolution of this story is near, she shares that after "talkin' to the incredible Jamie Lloyd, I asked him if it was possible to do it in New York."
Jumpcut! (??)
"I am so excited to be working on this play in the city that formed me. New York's my hometown, and I hope to see you all there," she says with sudden vigor. "You guys can follow @ADollsHouseBWay to get more information on the show. I'm really excited!" She's so brave for uttering "Bee-way," something no human has ever attempted.
For those (like us) who were intrigued by this video, she's trying to say Henrik Ibsen's A Doll's House is making its way back to Broadway, starring Chastain as Nora and with Jamie Lloyd directing. The version that will play the Great White Way will actually be a new iteration of Ibsen's original play by Amy Herzog. Dates and original casting have yet to be announced, but we're pretty sure Chastain's excited to do it.