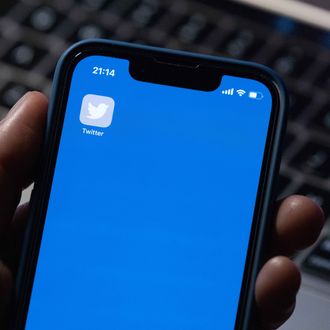 The bird app is still flapping … for now.
Photo-Illustration: Stanislav Kogiku/SOPA Images/LightRocket via Getty Images
As of publication time, the bird app is not dead yet, but that hasn't stopped people from mourning all night. According to multiple reports, hundreds of key Twitter employees quit on November 17 in response to Elon Musk's ultimatum to either leave or commit to working long, intense hours. This exodus comes after previous rounds of layoffs at the company, and an unnamed source told Reuters that the public version of the app was at risk of breaking on Thursday evening. Up until the news broke, the internet had been preoccupied with coming after Ticketmaster for its handling of Taylor Swift's Eras Tour. But as #RIPTwitter, #GoodByeTwiter, and #TwitterDown started to trend, Twitter quickly began panicking about the possible end of a different kind of era. Now, the reactions could very well be premature; after all, Jimmy Fallon remains very alive despite his death trending on Twitter earlier this week. But users couldn't resist posting memes and jokes about the situation just in case this was really the end. Who could resist one last chance to go viral for being funny? Below, here are some of the best ways people coped with the idea that Twitter might finally stop flapping its wings.
Our hearts will go on.
You gotta let people know where to find you.
Ava would be this upset about #RIPTwitter.
Time to get the knee pads out, king.
Tumblr later said it crashed because of how many new users signed up.
Doesn't seem like Pinterest crashed, though.
Remember PictoChat?
Because that went so well for Tesla.
Look, they just wanted the people to know that Motomami won.
History doesn't repeat itself, but it often rhymes.
It's certainly been … a run.
What else is there to say?