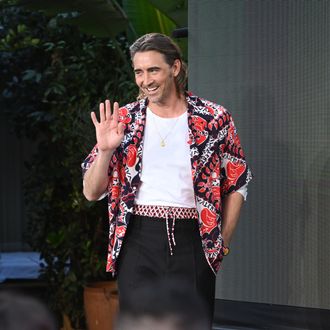 Photo: Getty Images/Getty Images
The changing of the leaves can mean only one thing — it's time for Vulture Festival to touch down in Los Angeles once again. This year, Vulture's two-day residency at the Hollywood Roosevelt included panels featuring Jamie Lee Curtis, Lee Pace, and Sheryl Lee Ralph as well as two reunions (Super Troopers and Happy Endings), plus two buzzy exclusive screenings of White Lotus season two and Tulsa King from Paramount+.
Ahead, check out all the highlights from this year's sunny festival.
Saturday
➽ Jamie Lee Curtis kicked off the festival by revealing that she invented Instagram. No, really! She isn't a liar, and she promises she beat Instagram to the punch when she launched her Blogspot called "iphoneys," on which photographers could share their own snaps using their iPhone cameras. A woman of many, many talents.
➽ Curtis also celebrated her "Beatles birthday" (turning 64) with a surprise cake and birthday serenade from the crowd.
➽ Super Troopers stars Jay Chandrasekhar, Kevin Heffernan, Steve Lemme, Paul Soter, and Erik Stolhanske hit the Parking Lot stage to reunite and talk about the cult-classic films. The gang also reflected on all the people Heffernan hated at one point in time, notably Super Troopers co-stars Lemme and comedian Jim Gaffigan. They're cool now.
➽ During a live taping of Vulture's podcast Into It, Sam Sanders reintroduced Sheryl Lee Ralph's other gig: her career as a musician, notably her ageless song "In the Evening." She is actually very big in Australia, she said. Next up? Hosting the Emmys!! (Manifesting.)
➽Need a last minute gift idea? Order a Cameo from the Abbott Elementary star…She takes them very seriously! The one she made for Sanders made him emotional!
➽ One of the perks of attending Vulture Fest IRL (which you should!) is getting treats from our sponsors. We have alcohol, we have sweets, and this year, we had ice-cold milk. Here's one of our friendly milkmen serving it up to a crowd before our Welcome to Chippendale's event.
➽ The hosts of StraightioLab, George Civeris and Sam Taggart, brought audiences inside their world: the exclusive, elite, and unbelievable realm of podcasting.
➽ Did someone ask Rian Johnson to play "Fuck, Marry, Kill," famous fictional detectives edition? Yes. And that someone was Vulture critic Alison Willmore. Johnson's answers did not disappoint.
➽ The festival crowd heard an exclusive performance of "O Holy Night" from Meghann Fahy during Matt Rogers's Christmas special. And then the world demanded Meghan and Matt be cast as siblings in a rom-com.
➽ The rumors are so true: The cast of All Creatures Great and Small are great!
➽ Vulture Fest attendee Paloma hit the high note at the end of Mariah Carey's "All I Want for Christmas Is You."
➽ The two most joyful people in the world crossed paths.
➽ Kumail did this.
Sunday
➽ The original cast of The Proud Family reunited at Vulture and serenaded us with a song that might have defined your childhood.
➽ During a live taping of Switched on Pop, Kali Uchis walked audiences through her soothing sounds and signature tracks. The Colombian singer said she loves to sing along to emo music alone in her car because she's an emotional girl! Shout-out to all the Cancers out there.
➽ The Proud Family creator Bruce W. Smith talked about pitching the characters to a bunch of white executives.
➽ We're waiting for picture confirmation.
➽ The newest addition to Gangs of London, Waleed Zuaiter, showed up to our panel wearing white Hugo Boss sneakers with a cobra-skin pattern, an ode to his new character, Koba.
➽ Things got weird at the Happy Endings cast reunion (its fourth), which is why we host a Happy Endings reunion (its fourth). Casey Wilson and Adam Pally also teased their upcoming podcast about the show (title TBD), which will only be one season.
➽ The new cast of Grey's Anatomy sat down for some serious medical trivia. Props were included.
➽ 101 Places to Party Before You Die stars Adam Perry and Jon Gabrus know how to party.
➽ Abbi Jacobson interviewed her friend Natasha Lyonne in front of some of their closest friends (the Vulture Fest attendees). The two talked Lyonne's 40th-birthday party, being artists, and a lot of Russian Doll.
➽ Shangela, Bob the Drag Queen, and Eureka O'Hara wanted to have a kiki … so we got them here to have a kiki!!
➽ One of Vulture's funniest panels is always "Comedians You Should Know." And guess what? Now you know them. You're welcome. Christina Catherine Martinez, Sheng Wang, and Jamie Loftus.
➽ Congratulations to all our winners.
➽ One of the best parts of the festival is seeing the friends reunite.