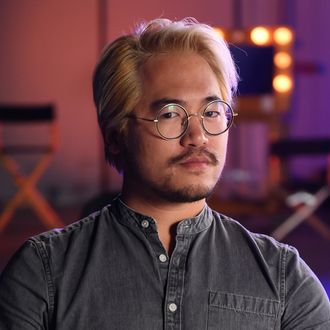 He's side-eying the toxic discourse.
Photo: Michael Yada/ABC via Getty Images
Everything Everywhere All at Once co-director Daniel Kwan has channeled the spirit of Waymond Wang and bravely asked Film Twitter, "Please! Please! Can we … can we just stop fighting?" On Thursday, Kwan tweeted a lengthy thread in response to screenshots of fans lambasting critics for not including his A24 hit on their year-end movie lists. "The algorithm pushed this onto my timeline, and as one of the people who made the film, this aggression will not stand, man," Kwan tweeted. "I know the end of year discourse on film twitter can be toxic af with all of the 'Best of' lists that come out, but this really needs to stop. The act of ranking any piece of art is so absurd and should only be seen as an incredibly personal and subjective endeavor."
To Kwan, these types of lists are a great way to introduce people to films that need more publicity, money, and praise — but he already feels like he's "drowning in validation." Everything Everywhere All at Once, which stars Michelle Yeoh, Ke Huy Quan, and Stephanie Hsu, recently topped the Gotham Awards. "I am so grateful to the fans who love this film and have made it their own," Kwan wrote. "I know for many, this story and characters mean a lot so any slight towards the film feels like a personal attack, but lashing out does everyone a disservice (and is counteractive to the film's message)." He added that he wants to see "absolutely no bullies, no meanies, no buttheads acting out on behalf of our film" during Oscars season. (For what it's worth, Vulture predicts the movie will be in contention for Best Picture.) Kwan concluded his 11-tweet thread by gently suggesting that angry fans ask themselves, What would Waymond do? Hey, maybe logging off of the bird app is an action so strange and wild that it could allow us to verse-jump into a kinder version of reality.