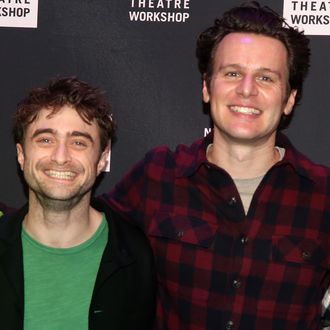 Daniel Radcliffe and Jonathan Groff.
Photo: Bruce Glikas/WireImage
New York Theatre Workshop is pretty sure it has a good thing going, so it will be transferring its current production of Merrily We Roll Along to Broadway. With a score by Stephen Sondheim and a book by George Furth, Merrily tells the story of a group of artist friends gaining prominence and falling apart — except it does so in reverse, starting with middle-aged brokenness and ending with youthful optimism. The new production stars Jonathan Groff as the callous Frank, Daniel Radcliffe as his often-overlooked writing partner, Charley, and Tony winner Lindsay Mendez as the acerbically witty Mary. Merrily runs through January 22 at NYTW and will open on the Great White Way in fall 2023.
The show opened on Broadway in 1981 and was considered a promisingly scored disaster. "Mr. Sondheim has given this evening a half-dozen songs that are crushing and beautiful — that soar and linger and hurt," New York Times theater critic Frank Rich said upon the show's opening. "But the show that contains them is a shambles." Merrily closed after 16 performances. Since then, there have been multiple attempts to "fix" Merrily, including a 1985 production at La Jolla, a 1994 Off Broadway revival, a 2012 staged concert at Encores!, and a 2012 West End Revival, which won the Olivier Award for Best Musical and was directed by Maria Friedman, who also directed the current NYTW production. This version will be the show's first time on Broadway since 1981. Get ready, everybody, because it's Merrily's time. Breathe it in.