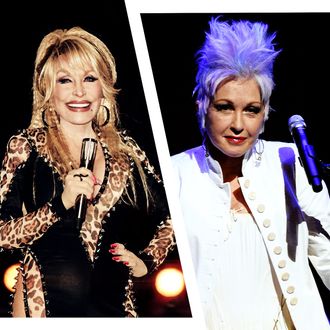 Photo-Illustration: Vulture. Photos: Getty Images
80 for Brady, a comedy about four women in their 80s who decide to watch Tom Brady at his last Super Bowl for the New England Patriots starring Jane Fonda, Lily Tomlin, Rita Moreno, and Sally Field, is already a win for representation. All of these women are actually in or hovering around their 80s. (Moreno is 91 and Field is 76.) Like most movies, 80 for Brady features an original song, and, like many of those movie songs, this one was written by super-composer Diane Warren, 66. She doesn't sing her own songs, so Warren tapped a murderers' row of musicians to make this one happen, "We Are the World"–style. And instead of, say, picking musicians in their 80s, Warren assembled a team of musicians from the 1980s.
"Gonna Be You," out January 20, is performed by Dolly Parton, Cyndi Lauper, Gloria Estefan, Debbie Harry of Blondie, and Belinda Carlisle of the Go-Go's. The closest of those women to 80 is Harry, at 77; in fact, most of them are in their 60s! "Since 80 was in the title I got a crazy idea, why not get some of the most iconic singers from the 80s, who are still amazing and always will be, to all sing it?!!!!" Warren explained in a statement, with that many exclamation points. Indeed, that is a crazy idea, because the '80s have little to do with our titular 80-year-olds (or Tom Brady, for that matter!), other than that they were alive then. But hey, if this is Warren's Hail Mary to the Oscars, nothing's gonna stop her.