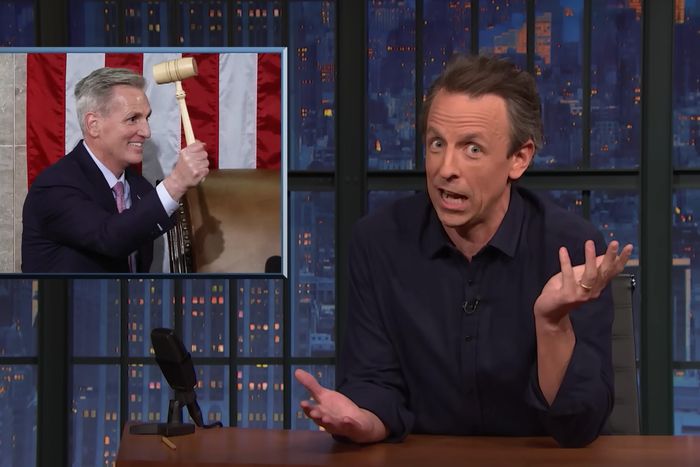 Welcome back, late-night viewers! Most of the late-night shows have returned from the holiday break with ski tans and itchy sweaters from their moms. The Daily Show will begin its rotating-host era with Leslie Jones next week. And both The Amber Ruffin Show and Ziwe closed out episode orders in December. Ruffin did a Christmas show, and Ziwe (being iconoclastic as per usual) did a Juneteenth-in-December show instead. Fun!
Here's something that's bugging me in this early weeks of 2023: Too many shows double-dipping on guests. The talk-show wars were bad — we don't need Helen Kushnick banning people for going on Letterman again — but maybe don't hit two shows in the same week? Allison Williams, Bella Ramsey, Tom Hanks, and Meghann Fahy all appeared on two talk shows apiece. And Prince Harry was on every goddamned surface you can broadcast upon. Weren't all these shows on hiatus? Shouldn't there be a backlog of folks waiting to plug their shit on TV? Despite the double bookings, there were still cute moments across the late-night world. Let's take a look.
5. Harry's House
Prince Harry has been, as we say on this side of the pond, On One. His Spare tour has taken him to ITV, 60 Minutes, Good Morning America, and lastly, The Late Show With Stephen Colbert. We've heard about his frostbitten dick, we've heard about Camilla's use of the press (she's really the Blair Waldorf of the Palace), and we've heard about his beef with his bro. But what Harry's appearance gave us that these other appearances didn't was a Harry who riffs. He was having fun with an audience, something his family members can't really do. Get him on a Harold team; he's got some improv potential!
4. Leslie Jones Says "Grow Up!"
Leslie Jones is going to bring a very fun energy to The Daily Show when she guest-hosts. Jones did a lot of "Update" desk pieces during her SNL tenure, and she always had great energy, but she flubbed lines a lot. Hopefully she'll be able to be more off-the-cuff on TDS like she was on The Tonight Show this week. Jones somehow started yelling at the audience that Santa Claus isn't real. Why? Unclear — she was promoting her podcast. But it was really fun to watch. Let Leslie Jones yell at people!
3. WWHL's Dysfunctional Family Vibe
The relationship between Brandi Glanville and Andy Cohen is long and complicated. Glanville is great TV, always saying the first thing that comes to her mind and damn the consequences. But that probably makes her a somewhat difficult friend to have. Cohen seemed irked at Glanville throughout her WWHL appearance, though at times also delighted. And Michelle Buteau was just hanging on for dear life. Glanville was giving "Girl You Wish You Hadn't Started a Conversation With at a Party," and Buteau was matching that energy.
2. Jenny Zigrino Does Late Late Stand-up
Jenny Zigrino brought a lot of vibe to The Late Late Show. It was a good match for the last show of the night. Lots of dating jokes, lots of interacting with the audience. It was a party atmosphere. My favorite joke of the set was her impression of a baby boomer hiding behind that "baby" moniker while crashing the housing market. How could a baby do that?!
1. Seth Meyers Acquiesces
As we discussed earlier in this column, late night is a mix of reading cue cards and riffing. You have to be good at both. But you can save a poor performance of the former with a surplus of the latter. Seth Meyers did just that on Monday's "A Closer Look," when he popped off on whatever monologue writer put the word "acquiesce" in far too many times. "God forbid we give in and find a synonym for 'acquiesced'! Oh no, Sal wouldn't cave!" Going off-book is really important. Late night is about (at least the appearance of) spontaneity. It's "mods are asleep" hours, you know? Being able to riff well is what separates actual late-night comedy from, like, those newsreaders you see on a TV at the gas-station pump. P.S.: There was also a pretty fun riff on the tenth Doctor from Doctor Who. (Did you hear he's coming back?)