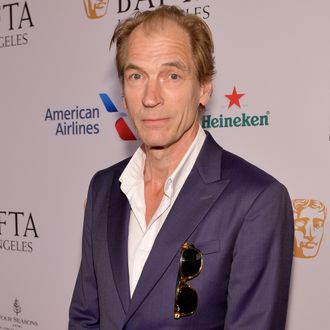 Photo: Matt Winkelmeyer/BAFTA LA/Getty Images for BAFTA LA
Update January 20: The BBC is reporting that air searches for actor Julian Sands have resumed. Ground searches, however, are still paused due to poor road conditions weeks of rain. Cell phone pings showed Sands' phone moving two days after being reported missing. His car was found near where he was last seen. Officials say there is "no hard deadline" for when they will call off the search.
Original story follows.
Julian Sands, star of Room with a View, Warlock and Arachnophobia, has been identified as one of two hikers who were declared missing Friday, January 13. He is believed to have been hiking on the Baldy Bowl Trail in the San Gabriel Mountains, per KTLA. "Due to the severe weather and alpine conditions, the search has been difficult and the use of air resources was limited over the weekend," the San Bernardino County Sheriff's Office said in a statement. "The search is continuing with air resources and further updates will be given when available." California has been hit with record storms this January, including a bomb cyclone and what NBC News called a "parade of storms." Police say the conditions on Mount Baldy continue to be "adverse and extremely dangerous," and recommend against hiking at this time. "The snow has turned to ice, making hiking extremely dangerous," the sheriff's department said.
California is experiencing all sorts of record weather phenomena. According to NPR, this past year saw the driest July on record followed by the snowiest December. Search-and-rescue teams have had to respond to 14 rescues on Mount Baldy in the past month. "Unfortunately, during these past four weeks, two hikers did not survive after falling and injuring themselves," San Bernardino County Sheriff's Search and Rescue Teams said on Facebook Wednesday.