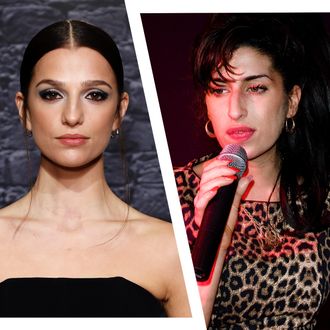 Marisa Abela and Amy Winehouse.
Photo-Illustration: Vulture. Photos: Getty Images
Back to Black has found its Amy. The upcoming Amy Winehouse biopic will star Industry breakout Marisa Abela, Deadline reported on January 12. Focus Features and Monumental Pictures are partnering with Studiocanal on the movie, with filming set to begin January 16 in London. Several Winehouse biopics have been developed since her death, but none have come to fruition. Winehouse's family agreed to a biopic deal with Monumental Pictures in 2018 to have her life story adapted by Kinky Boots writer Geoff Deane. Lotus Entertainment cast Noomi Rapace as Winehouse in 2015, with Kirsten Sheridan directing, but that project ultimately did not get made. In late 2021, another biopic, Saving Amy, was reportedly in the works from Halcyon Studios, despite Winehouse's father's objections. While the Winehouse hologram waits in the wings for her big break, here's all the cast, plot, and release-date details for Back to Black.
Who's in the cast?
Variety reported in July 2022 that the upcoming Amy Winehouse biopic was in talks with Marisa Abela, who currently plays hyperqualified Yasmin on Industry, to portray the late singer, adding that Abela "is a frontrunner" and there were "a small group of other actors" still vying for the role. Deadline confirmed the news on January 13, three days before filming. Abela fits a lot of what the team — including director Sam Taylor-Johnson, a friend of Winehouse's, and Mitch Winehouse, Amy's father — is allegedly looking for. Per Variety, Abela's Jewish background is important, as is the 25-year-old's just-burgeoning fame. Mitch told the Sun in 2018 that he wanted "an unknown, young, English — London, Cockney — actress who looks a bit like Amy" to play his daughter as opposed to a massive star like Lady Gaga. As for matching Winehouse's legendary vocals, Abela has never sung onscreen, although her profile on the Royal Academy of Dramatic Art lists singing as a skill. Surely, the team would've said no, no, no to someone without the vocal chops, right? Wrong!
Per Deadline, Unbroken star Jack O'Connell will star as Blake Fielder-Civil, whom Winehouse divorced in 2009 after a famously rocky marriage. Eddie Marsan (The World's End) will play Winehouse's father, while The Crown's Lesley Manville will fill the family tree out as Winehouse's maternal grandmother. Additional cast members have yet to be announced.
What's the plot?
There has been plenty of talk of a biopic since Amy Winehouse's death; studios left and right are trying to make a film about the late singer's life, especially after the Amy documentary won the Oscar in 2015. While many have not made it past development, there is a new candidate that might make it into theaters. With Sam Taylor-Johnson (Fifty Shades of Grey) directing a script written by Matt Greenhalgh, the film will look at the London singer's life up until her death in 2011. In a recent press release, the film was described as "a journey that took her from the craziness and color of 90's Camden High Street to global adoration — and back again." The Amy Winehouse estate is reportedly supporting the film, despite recent objections to other adaptations of Winehouse's life.
When will Back to Black be released?
Not anytime soon. The film begins shooting January 16.
This post has been updated.