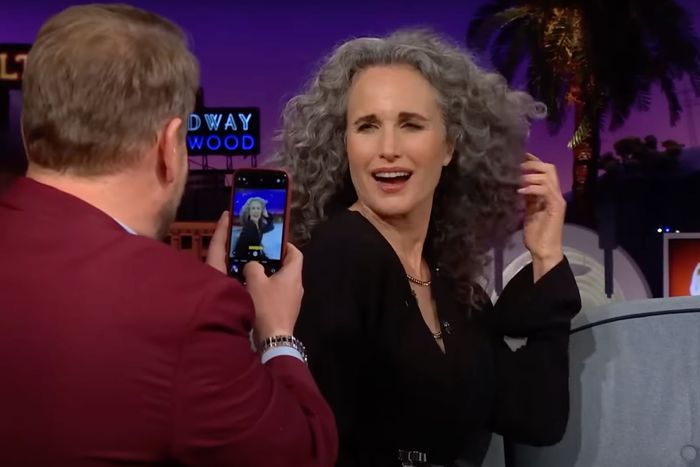 The big to-do this week was the 20th anniversary of Jimmy Kimmel Live! Twenty years of that exclamation point really doing a number on autocorrect. Kimmel celebrated in an entirely normal fashion by having a heart-to-heart with his deepfake past self. Sorry, it was weird! But also fun, because people vibing with their doppelgängers has been fun to watch since George Méliès's The Man With the Rubber Head — the Avatar: The Way of Water of 1901. Bet you thought I was gonna say The Parent Trap. Nope, went fancier!
Beyond that, it was a week of oversharing for the celebrities. Keke Palmer casually did a gender reveal on The Tonight Show. Julia Louis-Dreyfus told Kimmel that she watched her son fuck on The Sex Lives of College Girls. And Emma Roberts went from praising Lea Michele in Funny Girl to fanning the flames of the illiteracy rumor on WWHL. "Well, we have not been in book club together," she told Andy Cohen. I don't know what was going on astrologically to make all these stars go off-message, but it made for a fun and unpredictable week in late night.
5. Natasha Lyonne Is Mother
This is huge for the Weird Girl community. Natasha Lyonne said on The Tonight Show that she went to SNL to support "the baby," Aubrey Plaza. Finally, someone has acknowledged the lineage of Lyonne to Plaza. If Aubrey Plaza is the baby, that makes Natasha Lyonne mother. Which is correct. Lyonne's new show, Poker Face, is a howcatchem, just like Columbo. And Lyonne's talk-show appearances are giving Peter Falk, as well they should.
4. Nikki Bella Names That Twin on WWHL
Something about this game on WWHL — that asked Nikki Bella to identify whether an extremely zoomed-in photo was of her or twin sister Brie — scratched a dystopian itch in my brain. It seemed like a game someone would watch on RoboCop before destroying the TV with a sawed-off shotgun, only it would be clones and not twins in that version. It was also impressive to see Nikki carve a sense of self from her dissociated flesh, identifying her own body by moles like a corpse in a morgue. And when Nikki said that Brie's toes were yelling at her? Genuinely funny. I'd buy that for a dollar!
3. Baby Choreo on The Late Late Show
Someone on The Late Late Show staff saw that video of the baby ski raver, didn't they? James Corden and guest Billy Porter copied the moves of a good dozen toddlers Tuesday night. But since the show films in L.A., some of these toddlers actually had moves. Whether it's poise or sheer exuberance, it's cute to watch kids dance. And it's funny to see grown folks pretend to be babies. No notes!
2. Sam Morrison Trolls With His Glucose Monitor
Glucose-monitor implants are so new that we haven't fully explored their potential for prop comedy. That is, until Sam Morrison got grief-induced diabetes. Morrison's set on Late Night With Seth Meyers touched on how the glucose monitor can be used to troll, getting dick at the grief-support group and beating the sugar-baby accusations the weirdest way it's ever been done.
1. Andie MacDowell Joins Raya
Sorry to double-dip on the same episode of The Late Late Show, but this is all late-night television should be: famous people acting dumb like they're at a party. Andie MacDowell interrupted her own scheduled programming about getting back into the dating scene by suggesting James Corden and Billy Porter help her take a profile pic for celeb-only dating app Raya. Sorry, that shit's funny. Corden commanded Porter to get a breeze going so that MacDowell's hair could look just so, and they spent half a segment making sure everyone knows Andie MacDowell can get it. That's important! The people need to know that Andie MacDowell can always get it.