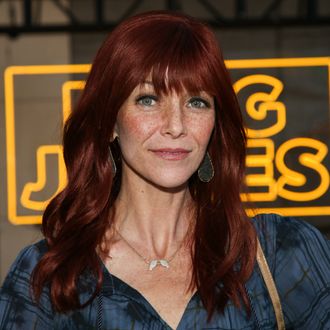 Photo: Paul Archuleta/Getty Images
Annie Wersching, the actress who starred as Renee Walker on 24, died of cancer on Sunday. She was 45. Stephen Full, her husband and the father of her three sons, confirmed the news in a statement to Deadline. "There is a cavernous hole in the soul of this family today," he said. "But she left us the tools to fill it. She found wonder in the simplest moment. She didn't require music to dance. She taught us not to wait for adventure to find you. 'Go find it. It's everywhere.' And find it we shall." Wersching's extensive TV credits include roles on shows such as Timeless, Bosch, Supernatural, Frasier, General Hospital, Castle, and more. She was also the voice actor and motion-capture performer for the character Tess in The Last of Us video game. "Just found out my dear friend, Annie Wersching, passed away," video-game creator Neil Druckmann tweeted. "We just lost a beautiful artist and human being. My heart is shattered. Thoughts are with her loved ones."
According to a GoFundMe launched on behalf of her family, Wersching was first diagnosed with cancer in the summer of 2020. "She's a private person by nature, and the diagnosis made her even more so," Ever Carradine, who starred with her on Marvel's Runaways, wrote in the GoFundMe description. "She wanted to protect her boys. She wanted to get better so she could continue working." Wersching kept acting after her diagnosis, starring in roles including the Borg Queen in CBS's Star Trek: Picard and Rosalind Dyer in ABC's The Rookie. 
Abigail Spencer, Wersching's friend and Timeless co-star, was one of the first to share the news of her death on social media. "This is a devastating loss to our community," Spencer wrote on Instagram. "She was the backbone of many of your favorite shows & ours. The ringer. When you needed someone to come in and kick ass or elevate a story line or your life line: call Annie." 24 director and producer Jon Cassar echoed the sentiment in a statement to Deadline. "Annie became more than a workmate, she became a real friend to me, my family and every cast and crew member that worked with her," he said. "She'll be truly missed by them and the fans she always found time to interact with. Annie you'll be missed, you left your mark, and we're all the better for it."
This post has been updated.